Most Analysts have not exactly been positive on RIMM, especially in recent months, as Apple's (NASDAQ:AAPL) iPhone has been dominating the smartphone market. RIMM's shares have fallen from around $75 in March to now $60. Today after the market, RIMM will report its earnings. Also today, however, AAPL is releasing its iPhone 4. Investors and analysts alike, have been waiting for RIMM's answer to iPhones.
On Monday, RIMM took a 3.58% fall to test $58.5 on heavy selling. Wednesday, it managed to recuperate some of that loss, up +1.65%. What's unusual is the huge volumes of RIMM calls traded. Take a look at this table on RIMM's July options: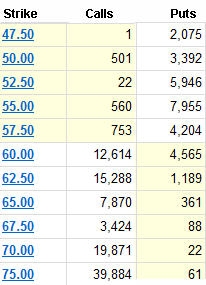 RIMM traded around $60 yesterday and closed at $59.64. The "at-the-money" strike, 60, had 12,614 contracts of calls traded vs. only 4,565 contracts on the puts, about a 3 to 1 ratio. The highest volume on the puts was the 55 strike, which traded about 8,000 contracts yesterday. The 55 strike puts are only about $5 out of the money. The highest volume on the calls was the 75 strike, which traded almost 40,000 contracts; and, this strike is $15 out of the money. Collectively, from strikes 47.5 to 75, the calls traded 100,788 contracts, while the puts traded 29,858. That's more than 3 times as many calls traded as puts yesterday.
Current average estimates are looking for revenue to be $4.35 billion (up 27% year over year and 7% quarter over quarter) with EPS of $1.34 (high estimate is $1.38). In March, RIMM reported a revenue of $4.1 billion (up 18% year over year and 4% quarter over quarter) with EPS of $1.27 which missed the average estimate by 1 cent.
More than just the numbers, analysts and investors will be looking for an answer for more versatile phones, not just ones that text. "Apps" are the hottest things for smartphones right now. Besides AAPL, GOOG is quickly catching shares of the market, unveiling 2 new Droid phone with Verizon (NYSE:VZ) yesterday.
Whether or not RIMM will finally deliver new models that can rival iPhones and Droid phones, from the number of contracts traded on RIMM calls and how far "out-of-money" strikes are being bought, it seems like many investors are still bullish on RIMM.