Let's compare Nike (NYSE:NKE) with its close competitor Adidas (OTCQX:ADDYY) and talk of the town Under Armour (NYSE:UA) to get a glimpse of what the shoe and athletic apparel industry has to offer.
We won't focus as much on their specific products because that is easily seen and heard from in the news. Instead, let's try to project their fighting abilities right now based on their cash flow position.
The chart below shows the cash flow for investing activities of the three stocks in question.
Source : ycharts.com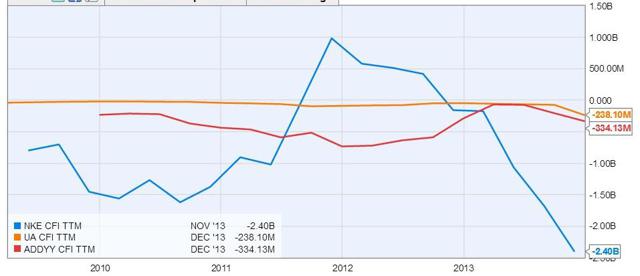 Click to enlarge
All three companies are continuously investing in land, building and equipment to sustain their growth.
Under Armour is also spending considerable amounts but it looks like nothing in the graph since its scale is too small compared to that of Nike.
The one below shows the chart for "financing cash flow" activities.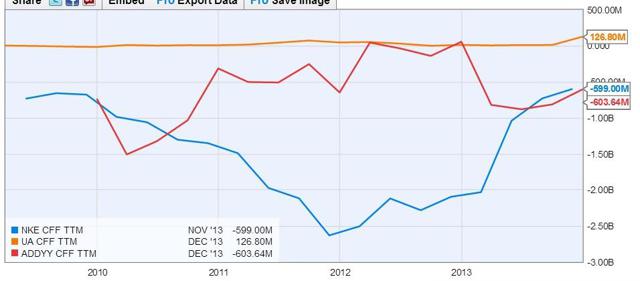 Click to enlarge
It is very interesting to note that Under Armour is the only one with positive cash flow for financing items.
If you look at the chart for investing, Nike was heavily investing before 2012 and after 2012. It is clear that after Nike has paid off a lot of dividends and debts in 2012, they started investing heavily again in 2013.
You can see from the two cash flow charts above that Nike is very friendly to shareholders and aggressive as well. They are doing a good job defending their leadership position.
Under Armour on the other hand, doesn't seem to do anything major in terms of investing compared to the two giants. All of that, however, is just the effect of the graph's scale, as Under Armour is too small in size.
It is harder to see fluctuations in the range of few millions compared to the billions Nike and Adidas are making.
To make it very clear, please look at the chart below for cash from financing coming from Under Armour alone, to get a better idea of its financing activities. You should be able to get a closer look at all the fluctuations since the chart is focused solely on Under Armour.
Under Armour Cash Flow from Financing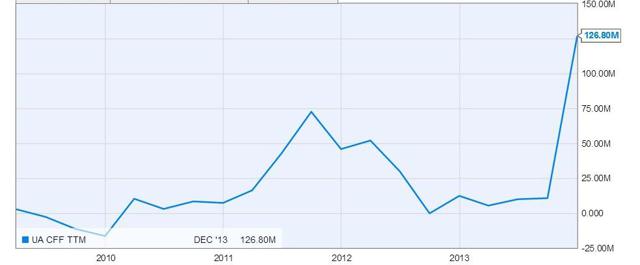 Click to enlarge
It is clear that Under Armour has raised a lot of capital very recently to be used for investing purposes. They are not in the position like Nike to pay debts or issue dividends as they are still a very small challenger to the gorilla in the room.
The chart below shows the cash flow from operations of the three companies.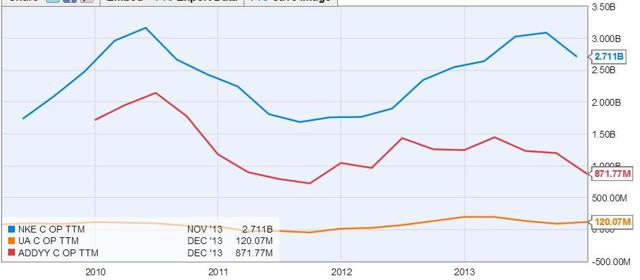 Click to enlarge
Let's just disregard the numbers and the size of cash from operations since the three companies are not equal in size after all.
The important point here however, is the trend they display over the years. It is very interesting to note that only Under Armour seems to have steady cash flow compared to Nike and Adidas.
The top two companies on the other hand exhibited very similar cash flow trends over a time range of 5 years. It might be because the two are engaged in a very close fight but Under Armour is not noticed by the other two in their struggle.
In reality, Under Armour has been impressively growing at a pace of almost 100% starting from 2010 as the base figure. Roughly said, Under Armour increased their net income by $25 million each year starting from 2010 with $25 million as their starting point. That is very aggressive and impressive growth whichever way you look at it.
To summarize the struggle of these three companies, Nike and Adidas seem to be mirroring each other as they are very close in terms of size and capacity.
Under Armour on the other hand, is steadily growing at an explosive pace, simply because they are still a small company compared to the other two.
We reach the conclusion that these three are truly in a very close fight, with all of them doing the right things. All of them are steadily expanding and creating new products to defend their positions and improve profitability all the time.
Marketing and Innovation Comparison
Nike has introduced its self-lacing shoes and Flyknit technology.
Under Armour has started to focus on female customers and its SpeedForm Shoe as well. Its coldgear apparels are of course the main reason for its explosive growth even with direct competition from Nike and Adidas.
Adidas on the other hand has nothing specific to be distinguished from Nike but they are not far behind in terms of everything. Adidas may be second place but they are also making all the right moves like their competitor in terms of innovation, new product development and constant expansion where possible.
Comparing all Three...
The simplistic view would be, all three are actually good businesses. All that is left is for each individual investor to determine whether the price for getting a position in one of them is worth it.
In my humble opinion, Under Armour is impressive in its growth but the stock price is simply too expensive. It can't be helped that everybody noticed how amazing their growth is and what lies ahead.
Nike on the other hand, might not excite investors like Under Armour does, but it makes more sense as its P/E ratio is at least near sensible levels. It is a bit pricey with a P/E ratio of around 25 but still better compared to Under Armour with a P/E ratio of 77 something.
Adidas isn't exactly a bad choice, but not the best choice. Also, its revenues fluctuated wildly last 2013, and its growth isn't as smooth as that of Under Armour.
Conclusion
If we are to look at them from a battlefield standpoint, Nike as the leader is defending well.
Adidas as challenger in the second place, is doing its best to attack Nike in all fronts. Nothing concrete as advantage, but it is confronting the leader directly to the best of its ability.
Under Armour is targeting new areas and geographical locations that Nike and Adidas haven't saturated yet.
It is indeed a very logical move for a smaller sized entity still in the process of growing and accumulating power. It is very possible that Under Armour might be able to overtake Nike someday but that won't happen anytime soon. In the meantime, they are doing well with their resources and current strength.
For those who don't have a position yet, I humbly suggest that you buy Nike for the safety factored within its share price.
Although it isn't at an ideal level right now, it's still better than Under Armour in terms of better bang for the buck.
You might want to buy Under Armour if you want to bet on the continued optimism despite it being too overpriced at this point.
Also, you might consider buying Adidas just to make sure you make money either way even if it's second place. Getting both Nike and Adidas mean you are getting your fingers represented well in this shoe and athletic apparel industry.
Disclosure: I am long NKE. I wrote this article myself, and it expresses my own opinions. I am not receiving compensation for it (other than from Seeking Alpha). I have no business relationship with any company whose stock is mentioned in this article.