U.S. Census Bureau report (.pdf) for new house sales in May shocked all the experts except for some investors, who sold off home builders' stocks over the past two months producing price declines of 20% to 50% and the people who trade lumber who sold off the CME lumber contract (LB) by nearly 43% in the same time period. See Tuesday's article.
Calculated Risk published the following graph which shows that the latest data establishes a new record low for new home sales since the data base was started almost 50 years ago.
For larger image, click here.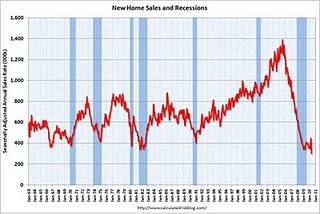 The data looks somewhat different (and more damaging economically) when new home sales are normalized by total population. This is done in the following graph, which shows the limiting upper and lower values for sales prior to the housing bubble.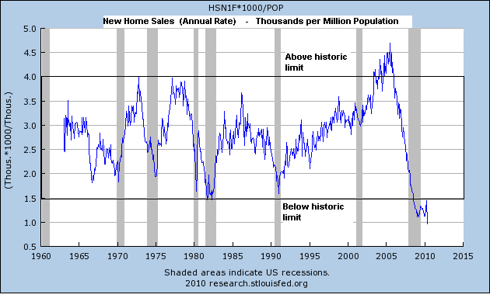 For those that like symmetries, note that we have now exceeded the previous lows by an amount nearly as large as the previous highs were exceeded. Is that an indication that we are approaching a sales volume low? It will depend on two factors:
1. How far ahead the housing market has sold. If future demand has been diminished for only 2-3 months forward, we should be near a bottom (depending on the second factor). If future demand has been affected for 6-12 months, we may see lower sales rates.
2. How strong the economy is in the next couple of quarters. Home purchases will be deferred if the economy weakens, especially if GDP growth approaches zero (or goes negative). Without further economic strength, employment will not increase and demand for home purchases will suffer, especially for new homes. We must have continued economic strength with increased employment or current levels will not prove to be near the bottom.
In early January, 2009, I wrote my first comprehensive analysis of the U.S. housing market, Housing: Where is the Bottom. The discussion of new single family homes had the following graph which indicated a target bottom for sales at an annual rate: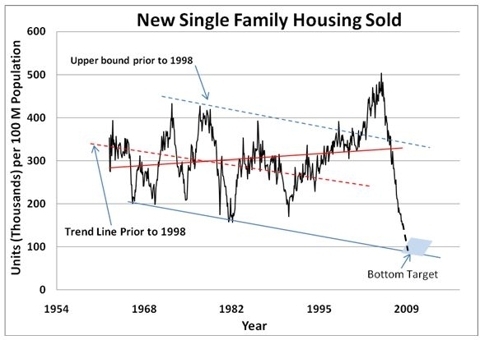 In January, 2009 I wrote:
We have indicated a target for the bottom of this cycle, at about 90,000 units per 100 million of population. This is about 275,000 units at the bottom projected to occur between late 2009 and 2011.
We are clearly in my target bottom box. The only question I have now is whether the economy will weaken further this summer and take the annual rate for single family new home sales below an annual rate of 275,000. I do not expect that to happen, but if anything has been learned in the past couple of years it is that we should all be thinking in terms of probabilities and not in absolutes. So, be ready for anything.
Homebuilders rallied strongly yesterday after initially dropping sharply right after the new homes sales data announcement. Selected stocks: Pulte Homes (PHM) +2.2%, D.R. Horton (DHI) +2.3%, Toll Brothers (TOL) +2.5%, Hovnavian (HOV) +3.3%, Lennar (LEN) +3.9%, and KB Home (KBH) +4.0%. The home builder ETF (XHB) was up 1.6%. Clearly this is more proof that investors in home builders were nor surprised by the data. If the home builders' stocks remain strong in the coming weeks that will indicate that investors are betting with their dollars that the bottom is close, if not in.
Caveat: Investors made similar bets last summer as the homebuilder ETF XHB rose 50% from July to September, 2009 and again from February to April this year when the ETF rose by 20%. In both cases the new home market failed to follow through on attempts to improve and fell back toward or below previous lows.
It is likely that recovery for new home sales will be very gradual once the final bottom is in because of the continued influx of distressed sales properties (foreclosures and short sales). These are likely to continue to impact the market through 2011 and possibly 2012.
There is one thing I saw today that gives me pause. The 5 Min. Forecast posted the following graph: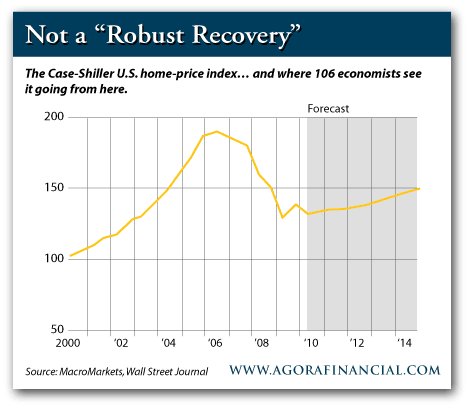 I can think of few things more unreliable than a consensus forecast from a group of over 100 economists. For an example of how well economists as a group can forecast, see this.
Disclosure: No positions