As the King's failed IPO last week took center stage, ZNGA took a backseat and a 10.5% drubbing on the Nasdaq, on top of the prior week's sell-off of 9.4%. In all, Zynga, Inc. (NASDAQ:ZNGA) dropped $1.37 per share, or 23.7%, since the Mar. 12 rally high of $5.79.
Given the 58% move higher from the Jan. 28 low of $3.39, the stock had gotten way ahead of itself on drunken optimism stemming from Zynga CEO Don Mattrick's turnaround strategy announcement of Jan. 30. The inevitable hangover has taken ZNGA back to the Jan. 31 breakout and, coincidentally, the 200-day exponential moving average (NYSEMKT:EMA).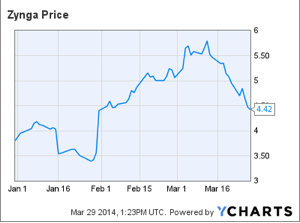 Now trading at $4.42, nervous shorts seeking protection from a rebound in the stock, along with speculative longs positioning for a possible quick buck, fled to the options market, according to Analyst Ratings Network, which reported a spike of 77,357 call options in ZNGA for the week.
But, for those planning to hold ZNGA for more than a few hours or a few days, we highly anticipate that they will be rewarded in 2014 and beyond, facilitated by experienced and focused management, executing and re-delivering a proven inventory of lasting winners, as well as a high-probability chance of inventing future winners in the digital games space.
What we see at Jason Bond Picks is a Zynga that has grown up to the reality of the fast-changing marketplace, by, first, deploying three solid and consistent money-maker games to a customer that has moved from one platform to another - an oversight made by the previous CEO that damaged the company's revenue growth momentum. But for a company with a billion dollars in the bank, it hasn't been nearly fatal.
China, S. Korea and Japan Will 'Grow-and-Sustain' Revenue
By de-emphasizing the Facebook platform and relocating the company's games to Apple and Android apps stores, not only is ZNGA not paying rent to an increasingly 'uncool' enterprise among the young, the company should begin to stabilize sagging revenue by the Q3 as it delivers its proven successful games FarmVille, Poker and Words With Friends to where the action is.
Farmville 2 and Zynga Poker will be available on mobile by the end of Q2, according to Mattrick.
ZNGA's move to mobile, though late, has hurt investors of the past, but provides opportunities to those investors new to the stock. ZNGA provides a second chance at a much lower capitalization.
Essentially, investors will ride a company that's somewhat akin to a successful product line that continues to milk an early to mid-20th century downtown store location (Facebook) while expanding the business to where shoppers had migrated to by the 1970s - the malls (mobile).
But in the case of ZNGA, the move to mobile could render my analogy amusingly silly in comparison after several months of exposure to the Asian market passes.
According to UBM Tech's website, Gamasutra.com, Investment banking services firm, Digi-Capital, issued a report early last year about online and mobile gaming, noting that China, South Korea and Japan will make up approximately 52% of worldwide revenue.
"[i]f you look in Japan, Korea and China, people are spending 3x to 5x in terms of revenue and time interacting with entertainment, and games fortunately is the number one use case scenario on smartphones and tablets," Mattrick explained to attendees of the Morgan Stanley Technology, Media and Telecom Conference.
"[W]e doubled down on the grow-and-sustain part of our business. Creating those products on mobile platforms is an obvious next step," Mattrick said.
Since Electronic Arts (NASDAQ:EA) has shown the durability of games lasting many years, we're confident that the Farmville, Poker and Words With Friends games have much more life in them, at the least, and may surprise to the upside in coming years as the number of mobile users is expected to reach nearly 5 billion by 2018, globally, according to Cisco Systems (NASDAQ:CSCO).
Incidentally, hedge fund "titan" Steven Cohen has also doubled down, on ZNGA, with more than 5% of the company's stock now held by SAC Capital, up from 2.2%, according to Bloomberg's Business Week.
ZNGA, No One-Trick Pony Anymore
Additionally, with the past success of those "evergreen franchises," as Mattrick calls them, ZNGA's diversification of games may turn out to be an under-appreciated asset by previously-burned investors during the company's turnaround.
As witnessed by King Digital Entertainment's (BATS:KING) disappointing IPO on Wednesday and continued slide to end the week down more than 20% from the $22.50 IPO price, the market is on to the risks endemic to the space.
"If you look at King's numbers, just by itself, they had a billion-eight, or nine, revenue last year and $800 million in EBITDA," former Atari CEO, Jeff Lapin, told CNBC. "Those are fantastic numbers; so why is it [KING] not behaving right [poor IPO]? Probably because the world thinks it has one game; it's a one-trick pony."
A one-trick pony on the revenue side can be disastrous as the Wall Street Journal reminds investors, comparing KING's vulnerability to ZNGA's old vulnerability of 2011, when ZNGA's IPO included a one-trick pony, FarmVille, and the platform on which it was monetized, FaceBook.
"I'll tell you that every gaming company started off on the backs of one or two hits. So, every company I've been with started that way, and all of the companies started that way," Lapin added. "So the question is: Can you take the proceeds from your hit and leverage that into something else?"
Lapin makes a very good point, a point which takes us to the reasoning behind ZNGA's purchase of London-based NaturalMotion and its Euphoria technologies.
NaturalMotion's Mission to 'Enhance Capabilities' of ZNGA Games
"We believe their cutting edge technology - called Euphoria - will light up the future of our industry on mobile," Mattrick told VentureBeat in a Jan. 2014 interview. "Their proven simulation technologies have powered some of the biggest entertainment properties across gaming - showing up in titles such as Grand Theft Auto 5 as well as the iconic movies like Lord of the Rings."
Though some analysts have suggested that NaturalMotion's $527 million price tag was rather steep, we believe the purchase will, in retrospect, be viewed as quite reasonable and necessary. The competition for maintaining relevancy in a market of nearly 5 billion mobile-device users (by 2018) is too big of a market to squabble too much about the price of critical technology to ZNGA's competitive advantage, especially after considering NaturalMotion's research and development time exceeded 12 years, compared with ZNGA's $412 million spent on research and development in 2013, alone.
And when the stakes are as high as a possible revenue stream of $600 million per annum, as is the case of the revenue generated from King's Candy Crush Saga, we don't view the price tag as inappropriate given the revenue potential of another Candy Crush Saga easily surpassing $600 million in the much larger market of the future.
We suggest that NaturalMotion will arm ZNGA with the needed edge against the competition, as NaturalMotion's state-of-the-art graphics will supplant today's graphics technology and eventually become a baseline for the industry.
Conclusion
So far, Mattrick's turnaround strategy moves forward. His plan seems not only reasonable, but logical and prudent. The 50-year-old CEO comes with 30 years of experience directly related to the task at hand. It's unreasonable to think that Mattrick cannot execute on a plan or compete in a marketplace that has never beaten him before, with the most-recent milestone of turning around Microsoft's Xbox as demonstrable proof of the cut of his jib.
Tying ZNGA's revenue to mobile is a no-brainer, and carries with it nearly no risk.
However, future creations, driven by NaturalMotion, does carry some risk, of course. Creations are always, by definition, subjective, until the proof comes by way of revenue. But, given the company's demonstrable track record of success, the folks at NaturalMotion appear to be up to the task, as well.
To our way of thinking, ZNGA is most definitely a stock worth your due diligence.
Disclosure: I am long ZNGA. I wrote this article myself, and it expresses my own opinions. I am not receiving compensation for it (other than from Seeking Alpha). I have no business relationship with any company whose stock is mentioned in this article.