What a trading day last Friday was. After BlackBerry (NASDAQ:BBRY) released fourth quarter and full-year results on March 28, 2014, shares of the smartphone maker shot up quickly in pre-market trading. With a smaller-than-expected loss and a larger-than-expected revenue drop, BlackBerry sent mixed results to investors who eagerly awaited an update about BlackBerry's turnaround progress. At the end of the day, BlackBerry reversed all its gains and closed at $8.41 -- a decline of 7.1%.
(Source: Yahoo Finance)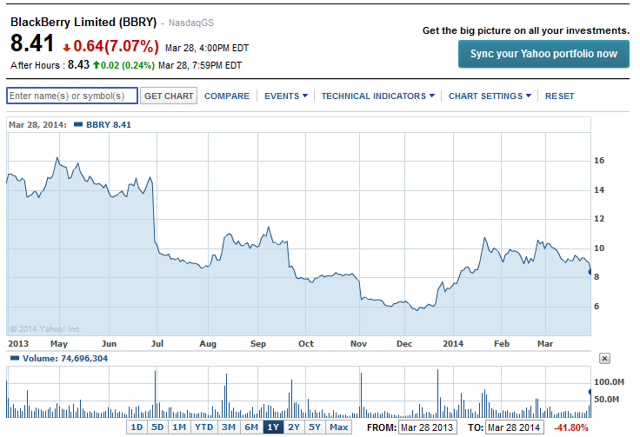 Fourth quarter results
The nasty take-away from BlackBerry's fourth quarter results was, that revenues decreased 64% to $976 million from $2.68 billion in the year ago quarter and 18% from $1.19 billion in the previous quarter. Analysts had expected fourth quarter revenues of $1.11 billion. BlackBerry's fourth quarter net loss came in at $423 million ($0.80 per share) which compares against net income of $98 million ($0.19 per share) in the year ago quarter and against the extraordinarily large net loss of $4.40 billion ($8.37 per share) in the third quarter of fiscal year 2014.
The current GAAP loss included certain non-cash and one-off items including a $148 million restructuring charge stemming from the Cost Optimization and Resource Efficiency program, a $382 million debenture fair value adjustment and $149 million in inventory recovery.
On an adjusted basis, BlackBerry delivered a handsome earnings beat: The fourth quarter 2014 adjusted loss stood at $0.08 per share which compares against analyst estimates of $0.57 per share.
Turning to cost reductions
With a sliding revenue base and ongoing restructuring charges, BlackBerry turned to cost reductions in the fourth quarter: Research and Development expensed decreased 24% to $246 million compared to $322 million in the third quarter of fiscal 2014 and 36% compared to $383 million in the year ago quarter. Selling, marketing and administration expenses came in at $355 million in the most recent quarter: Down 35% sequentially and 32% y-o-y.
Solid balance sheet and cash/investment value
BlackBerry maintained a solid balance sheet: At the end of the fiscal year, BlackBerry held $1,579 million in cash and $950 million in short-term investments on its balance sheet bringing the total up to $2,529 million. With 526.6 million shares outstanding, this translates into approximately $4.80 per share in cash and short-term investment value. If investors also considered $129 million in long-term investments, BlackBerry's cash/investment value per share would stand at $5.05 -- equivalent to 60% of BlackBerry's market capitalization as of Friday March 28, 2014.
Positive news flow right before results release
On March 27, 2014, just a day before the company released its highly anticipated performance results, BlackBerry announced that it received Full Operational Capability status from the Department of Defense:
Waterloo, Ontario - BlackBerry Limited (NASDAQ: BBRY; TSX: BB), a world leader in mobile communications, today announced that BlackBerry® 10 has become the first mobility solution to receive Full Operational Capability to run on U.S. Department of Defense networks from the U.S. Defense Information Systems Agency. The designation follows the Company's Authority to Operate certification and enables government users with a BlackBerry 10 smartphone connected with BlackBerry® Enterprise Service 10 (BES10) to securely access email, data, apps and other DoD network resources.

BlackBerry was the first Mobile Device Management provider to earn ATO and becomes the only vendor with FOC. The granting of FOC completes BlackBerry's security certification process with the DoD.
Certification will allow BlackBerry to solidify its position as preferred mobile solutions provider in the lucrative business with government agencies.
Conclusion
BlackBerry traded quite erratically on Friday and the trading pattern is a good indicator of how the average investor's mind works: First, as results were released investors focused on the earnings beat, everything was viewed positively and the stock rose sharply in pre-market trading. A little later, investors concentrated on sliding revenues and ongoing restructuring costs and quickly started to endorse a negative view about BlackBerry. Reality, however, can probably be found somewhere in the middle: While revenues did decline, analysts and investors largely expected an erosion of BlackBerry's revenue base.
BlackBerry's balance sheet is solid and its cash/investment value of $5 per share offers investors still a significant margin of safety.
BlackBerry has said, that it expects to turn around its business by 2016 -- and that should be the ultimate yardstick. It is possible that BlackBerry achieves a return to operating cash flow profitability a quarter or so earlier than what was publicly announced, but investors need to realize that strategic re-organizations and restructuring take substantial resources and time. BlackBerry is only in the first inning of a longer-lasting turnaround story.
Disclosure: I am long BBRY. I wrote this article myself, and it expresses my own opinions. I am not receiving compensation for it (other than from Seeking Alpha). I have no business relationship with any company whose stock is mentioned in this article.