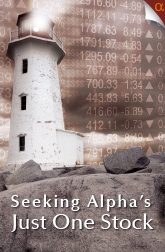 Several times a week, Seeking Alpha's Jason Aycock asks money managers about their single highest-conviction position - what they would own (or short) if they could choose just one stock or ETF.
---
Kendall Anderson has founded and managed two firms, K.J. Anderson and Co. (in 1988) and Anderson Griggs Portfolio Management (in 1996). He hosts the radio show Intelligent Investing, aired on WRHI in Rock Hill, S.C., and is vice president of the CFA Society of South Carolina.
If you could only hold one stock position in your portfolio (long or short), what would it be?
3M Co. (NYSE:MMM), a big boring blue chip company that may have accumulated more Rodney Dangerfield "I get no respect" awards than any other great American company. And I hope that this lack of respect continues.
Tell us more about the company behind the stock.
I would venture that 90% or more of those reading this have a Post-It note or roll of Scotch tape within just a few feet of where they are sitting. 3M might be universally known for these consumer products, yet those are just two of the 50,000 different items they sell. The company is truly global with operations in 65 countries, selling to people that reside in over 200 countries.
I believe if 3M described themselves, they would state that they are a company that solves problems by creating products through science and technology. For our own purposes, it is a conglomerate. The company has six operating segments including Industrial and Transportation (accounting for 30% of sales), Healthcare (16%), Display & Graphics (16%), Consumer & Office (14%), Safety, Security & Protection (13%) and Electro & Communications (11%).
A few fundamental facts may help you understand how important the company 3M is to the world. They sold over $23 billion of product last year. Of this, $14.6 billion, 63% of total sales, was to people outside the U.S. They paid $1.388 billion in taxes, spent close to $1.3 billion on research and development, paid salary and benefits to 31,500 U.S. employees and 43,300 international employees, and still had enough left over to pay approximately $1.45 billion in dividends to their owners and reinvest over $2.8 billion into the company.
How does your choice reflect your fund's investment approach?
Before I explain why 3M fits, it would be helpful to know a little about our clients. Clients of Anderson Griggs are nice, intelligent people that have a good dose of common sense and at least $100,000 available for long-term investing. We have found that intelligent people can understand the concepts and theories, but more important, they have a greater ability to control their emotions. Their common sense allows them to see through all the marketing hype and truly understand that the goal of investing is wealth creation, not game playing.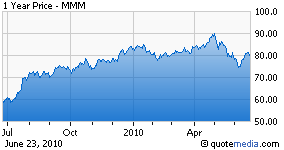 One of the advantages of being in the business for 30 years is that we can see change as it unfolds. As a portfolio manager, recognizing change creates opportunities. The real job is finding a way to benefit financially from change. So I would like you to put on your thinking cap for a minute as I walk through two major changes in the marketplace that we can use to our advantage.
The dominant theory of portfolio management for the past 20 years has been driven by a few economists out of Chicago. Most of you recognize Modern Portfolio Theory by name and you either agree with it or you don't; that is not my concern. The fact remains that the majority of large institutional investors create portfolios around this theory. The majority of financial advisors, especially independents and RIAs, have also adopted this theory. The easiest way to implement MPT is to utilize index funds to allocate assets efficiently and with lower cost. The acceptance of MPT has spawned the creation of both index funds and their offspring, Exchange Traded Funds (ETFs).
The second great change that has taken hold in the past twenty years is self-directed retirement plans, the largest being 401(k)s. If you have a 401(k) then you recognize that mutual funds tend to be the only choice for implementation you have. In fact, approximately 65% of all equity mutual funds are owned by individuals through their retirement plan.
I'm sorry, but I need to bore you just a little more. The portfolio manager of an index fund is most likely going to be a computer programmer, not a trained portfolio manager. Index funds, including the majority of ETFs, are a replication or representative portfolio of the common stocks that make up the index. Their "creation" is simply a mechanical process. Every time money flows into the fund, the programmer needs to buy additional shares of all stocks in the index related to its weight. The reverse holds true when money is withdrawn; shares are sold according to their weight in the index. This process has nothing at all to do with the investment characteristics of the individual stocks.
In an actively managed fund, the same process is applied, only there is a portfolio manager that decides what to buy or sell. Even then, when a mass purchase or mass redemption request is handed over to the manager, he or she has no choice but to buy or sell shares.
So how does it tie in?
With those thoughts in mind we will return to 3M. With a $57 billion market cap it is the 37th largest constituent of the S&P 500, one of the five largest constituents of most industrial-sector funds, and the second-highest-priced stock in the Dow Jones Industrial Average. Every time someone buys or sells an S&P 500 Index fund, an industrial-sector ETF, or a DJIA ETF, 3M shares are traded. When a mutual fund needs to buy or sell quickly, the manager will look at the most liquid holdings first. 3M fits this bill nicely. This buying and selling, independent of the fundamentals, allows each of us to buy low, which is the safest way to create wealth.
3M's price difference (from its lowest price to its highest price) in every calendar year since 2000 has averaged over 45%, with a low variation of 23% (2004) and a high of over 100% (2009). Yet the company has increased earnings nine out of those 10 years, increased its dividend every one of those 10 years, increased its shareholder equity every one of those 10 years and has reduced its common shares outstanding in eight of the last 10 years. This company has accomplished what all long-term investors seek - however, buying at the wrong price will destroy those benefits.
Today, based on earnings expectations and dividends, 3M should reasonably be priced at $108, about the midpoint of its historical valuation. At $75 on June 10, the recent selling has affected 3M to a greater degree than the averages. Could it be that index funds, ETFs and mutual fund liquidations have handed us one more opportunity to buy low? I believe so. In fact, I believe you could maintain a level of safety paying even a bit more than that.
Can you talk about the sector? How much is your selection based on 3M's industry, as opposed to a pure bottom-up pick?
For us, industry/sector weightings are incorporated in our portfolio construction process. Industrials represent approximately 10% of the overall weighting in the S&P 500. Our portfolios will maintain a range of industrial holdings from 75% to 125% of S&P weight.
Given that, every stock we own, including 3M, is selected by a bottom-up process with particular attention given to the price paid. Of course, we recognize that if this recovery is real, then industrial companies will benefit to a greater degree than others.
How is 3M positioned with regard to competitors?
It's difficult to rate the competition of 3M. They are among the leaders in many of the markets they serve. Financially 3M has a very strong balance sheet, a low amount of debt, and free cash flow that has exceeded net income for over ten years. With this firepower, 3M has been a buyer of their competition, which tends to be much smaller and more focused industrial producers.
So how does MMM's valuation compare?
Once again, a direct industry comparison is probably not meaningful. I will try and explain. The Industrial Conglomerate Sector includes 58 companies. The second largest, Tyco International (NYSE:TYC) has a market value of $18 billion, only 30% the size of 3M's. From there it goes downhill quickly with the third largest, Textron (NYSE:TXT) at $5.5 billion and the next being less than $2 billion.
So I choose to compare valuations to the weighted valuation of the S&P 500 industrial sector, a very broad sector that includes companies involved in industrial products, aerospace, transportation and business services besides conglomerates. The price/book value of the sector is 3.6x whereas 3M's is 4.16x. Book value growth has averaged 10.05% for the sector, while 3M's is 7.15%; return on equity has averaged 20.5% for industrials and 3M's is greater than 30% with a dividend yield that is 20% higher than the sector. As you can see, we give a little more weight to return on equity and dividends than a valuation based on book value.
Does your view differ from the consensus sentiment on 3M?
It's hard not to like 3M, and that's apparent from the views of the sell-side analysts. Currently, of those that we monitor, there are 11 strong buys, one buy, two holds, and one sell. Consensus estimates from these analysts are projecting earnings of $5.59 in 2010 with a range from $5.40 to $5.85. The 2011 consensus estimates are $6.21 per share with a range of $5.85 to $6.50.
My view is highly dependent on the price paid, and at the recent price 3M offers a compelling opportunity with limited downside risk.
Does 3M's management play a role in your selection?
As an owner of a company, management is your employee and the best way to judge a management team is by results. Results of a public company are easily measured through their annual reports. But these reports only give you the past, not what to expect in the future. We recognize this and use a few other methods to judge management, including the board of directors.
For many years Fortune magazine has taken surveys in search of the world's most admired companies. The survey is the result of questions put forth to company suppliers, employees, competitors, and analysts that know the inside workings of these global organizations. This year the survey resulted in 346 Most Admired Companies in the World. 3M ranked 17th overall. In addition, 3M's board of directors is composed of some of the most respected business people with histories of building and maintaining world-class companies. They include former CEOs of Lockheed Martin, United Parcel Service, Illinois Tool Works, Ingersoll-Rand, Target, and Alvarado Construction, as well as the current CEO of 3M (George W. Buckley), plus a partner in the firm Clayton, Dubilier & Rice, LLC. And the retired partner of Gibson, Dunn & Crutcher LLP. What a team!
What catalysts, near-term or long-term, could move MMM significantly?
Given the size and diversification of 3M's business, the typical catalyst that can move a particular stock price in the near term such as an analyst upgrade, a merger or acquisition or a new product introduction is limited. However, a return of the individual investor to the marketplace, or a new round of funding for pension and profit-sharing plans could have a long-term impact.
This more realistic opportunity comes from the forced buying and selling of index funds, ETFs and mutual funds, driven by both individual and institutional investors' cash flow requirements. During fear-driven selling, they have no choice but to sell. Someone has to be on the opposite side of the trade. If you wait, they will sell you their shares at a very attractive price.
You mention the fluctuations in the price coming from fund trades - yet with 63% of sales coming outside the U.S. (and 29% from emerging markets) can 3M immunize itself to some extent from single-country business cycles, if it can build out its supply chain?
The price fluctuations are a result of the mechanics of index funds, and to a lesser degree the liquidity requirements of actively managed funds, independent of company fundamentals. To emphasize this, let's look to the father of index funds, Jack Bogle. In a recent interview with Tom Keene and Ken Prewitt of Bloomberg News, Mr. Bogle stated that the SPDR S&P 500 ETF (NYSEARCA:SPY) had a 10,000% turnover last year. Turnover of that magnitude has nothing to do with the fundamentals of the 500 companies within the index. Yet the mechanics of the fund require the buying and selling of all 500 companies. This is truly a case of throwing the baby out with the bathwater when selling takes place, and scrambling to buy every baby in sight when the money starts flowing back in. It is this pressure on pricing that comes from the required buying and selling that we are taking advantage of.
Just as we can minimize portfolio risk through diversification, 3M can diversify country-specific business cycle risk through multicountry operations. However, this only holds if each country's economic cycle is independent of the others. We have learned through experience that business cycles have become regional in size and thus a greater problem for all global companies. This is where the size of 3M works for them.
As you mentioned, they are emphasizing emerging markets, yet they include four regions that are remote from each other in their definition of emerging markets. The four regions are Central Eastern Europe, Middle East/Africa, Latin America, and Asia Pacific (for example, Japan, Australia and New Zealand). Very few companies have the cash flow needed to simultaneously build operations in multiple regions at one time.
One sign of good management is their recognition of a problem, paired with their attempts to both understand the causes and take the actions required to correct the problem. 3M's management is fully aware of their less-than-best supply chain operations. I have faith that a management team that has built one of the best manufacturing and distribution systems in the world can take the necessary steps needed to bring the supply chain operations up to best-in-class.
What could go wrong with your pick?
One of the real benefits of concentrating ownership into boring blue chips is that a blow-up, outside of fraud (Enron), is virtually impossible. If a company as large and powerful as 3M is today begins to experience problems, you will know. It would be everywhere. Given that blow-ups account for the majority of permanent loss of capital for individuals and institutional investors, boring blue chips can offer some protection.
Of course, 3M's size and liquidity will also expose you to the worst of the marketplace: panic-driven selling. If the world re-enters a recession, 3M will be affected. Of course 3M has tended to maintain its premium ranking because it has continued to grow. If this reverses, or if earnings continue to grow but at a much lower rate, then 3M's share price would be under pressure.
Thanks very much, Kendall, for sharing your choice with us.
Disclosure: Anderson Griggs is long MMM.
Read more Just One Stock articles »
If you are a fund manager and interested in doing an interview with us on just one stock or ETF position you'd hold, please email Rebecca Barnett.