Following a disappointing earnings report, Bridgepoint Education (NYSE:BPI) is 30% off its recent pre-earnings high of $20. There is a lot of negative emotion associated with the for-profit education sector in which BPI operates, but I am attempting to dispassionately analyze BPI's potential in light of its recent earnings to understand if there is a buying opportunity here.
BPI runs Ashford University and University of the Rockies, and at the end of December 2013 had a total enrollment of 63,624 students. The stock had seen a nice run up following the resolution of its accreditation issues with the WASC (Western Association of Schools and Colleges) through 2018, which laid to rest concerns around its eligibility for federal funding. Nevertheless, the for-profit education industry remains mired in regulatory uncertainty, which calls for applying a higher discount rate while valuing companies operating in this sector.
In order to resolve its accreditation issues with the WASC, BPI needed to invest heavily in instructional costs and services, as well as set a higher bar on the quality of students it chooses to enroll. In my opinion, these will have a permanent impact on BPI's top and bottom lines, and this is clearly borne out by a comparison of the 2011 and 2013 operating margins and revenues.
In 2011, BPI had over 86 thousand students enrolled, with a revenue per student of around $10,800. This resulted in net sales of $933M. It spent around $300M each on instructional services and marketing. In 2013, following the accreditation issues, enrollment was at 63,624; a decline of 27% in two years. This resulted in net sales of $769M, a reduction of 18%. Investment in instructional costs and services increased from $304M to $396M, or more than 50% of revenues. In order to maintain profitability in the face of reduced enrollments, the company cut resources in marketing from $298M to $235M. This resulted in a drastic drop in net income, from $173M in 2011 to only $41M in 2013 (see chart - source: BPI 10K)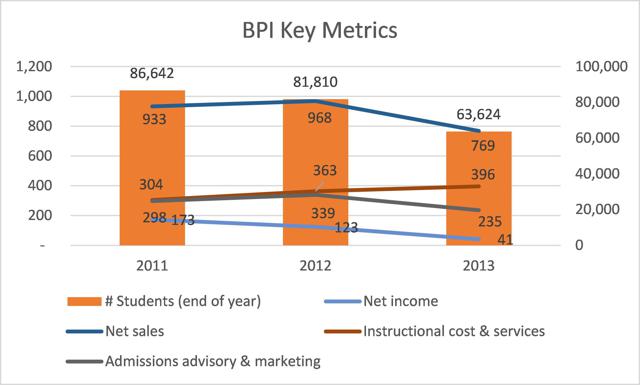 Click to enlarge
To value BPI, the key assumptions are enrollment growth and the costs to support that enrollment in terms of marketing and instructional costs. For the purposes of the analysis, I am assuming a stable regulatory environment, and that the institutions that BPI runs will continue to maintain WASC accreditation. To account for these factors, I am assuming a high discount rate of 12%. Of course, if BPI is unsuccessful in maintaining accreditation, all bets are off.
Financial Analysis
Below is the financial model underpinning my analysis. BPI's management provided guidance for positive enrollment growth in 2014 (source: BPI earnings call). Hence, I used a fairly modest assumption of 2.5% enrollment growth from 2014 through 2020. Under this scenario, enrollment at the end of 2020 will be 75,629; which is still 10,000 below the all-time high enrollment numbers reached in 2011. I believe this level is achievable, since BPI's universities are very competitively priced relative to the competition (see chart below; source: BPI presentation at JPMorgan conference).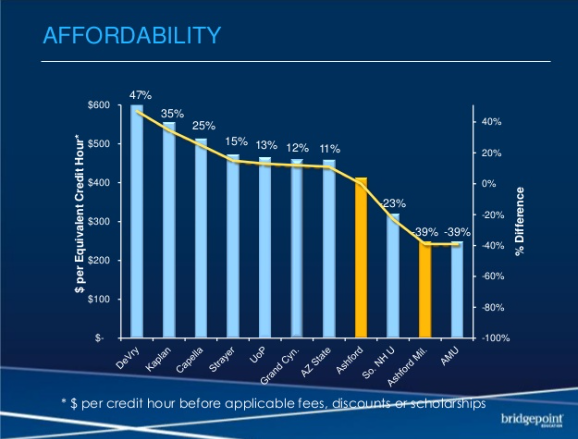 I am assuming that revenue/student grows at 2.5% per year as well - this is conservative as BPI raised tuition 2.75% last year, and well below college education inflation of 5-6% per annum.
I am assuming that instructional costs and marketing costs increase 2.5% per annum in line with student enrollment. This is also conservative in my opinion, because there is an opportunity to achieve scale economies on these investments with increased enrollment. For G&A, I took out the one-time $9M settlement costs in 2013 and assumed 3% increases per annum from 2014 on. Tax rates and other income have remained relatively stable for BPI and I expect this to continue going forward. For the terminal value calculation, I assume a discount rate of 12% and a terminal growth rate of 1%.
Valuation:
BPI had cash and cash equivalents of $356M at the end of 2013. Using the discounted cash flow model yields a total value of $1B for BPI, against the current market cap of $790M. This implies a per-share value of $18.2, which represents an upside of 27% to the current price. Interestingly, even if enrollment is flat (along with flat marketing and instruction costs), the per-share value drops to $17.7, still implying 17% upside to current prices.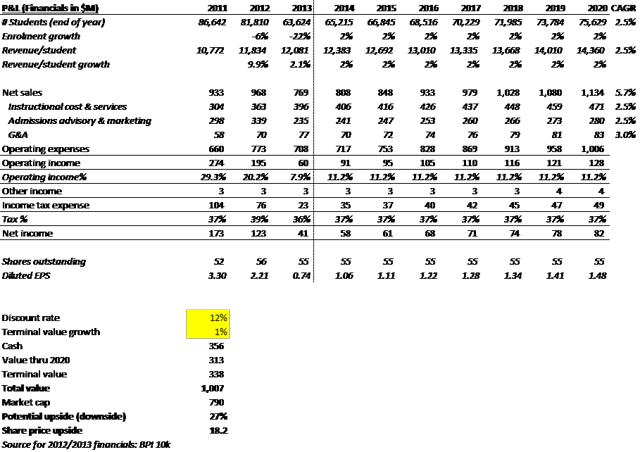 Click to enlarge
Conclusion
BPI might not be everyone's favorite company, and the for-profit education has its share of detractors. However, the market seems to have overreacted to one quarter of poor earnings. Enrollments appear to have stabilized, and the company has invested significantly to maintain its accreditation. Even with really conservative assumptions, shares appear to be materially undervalued. BPI is a strong buy.
Disclosure: I am long BPI. I wrote this article myself, and it expresses my own opinions. I am not receiving compensation for it (other than from Seeking Alpha). I have no business relationship with any company whose stock is mentioned in this article.