I missed the money train on Tesla (NASDAQ:TSLA) last year. The GigaFactory news feed from SA perked my interest again over Elon Musk's baby. Cheaper lithium-ion cell batteries from GigaFactory means the GEN III can be a real mass-market electric vehicle.
I regret not buying TSLA last November/December 2013. I'm a tight-aggressive investor but betting on this volatile high-flying ticker may just help me quickly increase my 2016 election campaign fund. My failure to ride the +460% one year return of Tesla is a painful reminder that sometimes less prudence and more daring gives triple digit returns.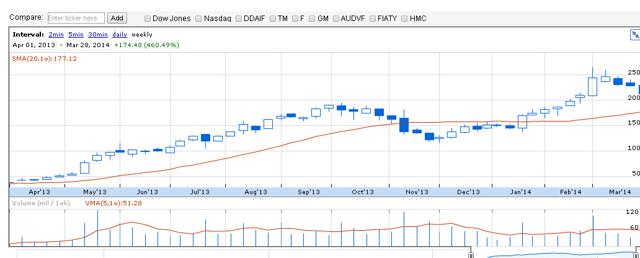 Source: Google Finance
High Risk, High Reward
I looked at the fundamentals chart of Tesla and it worries me that TSLA is now more hyper-overvalued than my darling 3D Systems (NYSE:DDD). Tesla has reached bubble stock category - very high Price/Sales (12.96) and Price/Book ratios (39.11). The estimated forward P/E of 54.68 is also intimidating.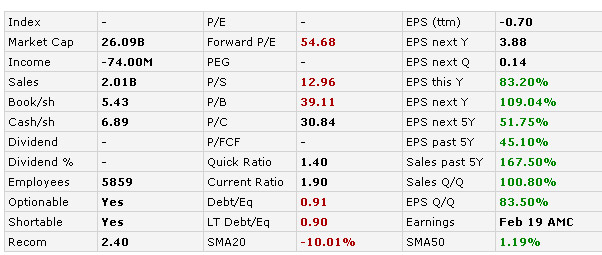 Source: Finviz
Tesla Motors's stratospheric valuation has also provoked short specialists. Investors should take note of the high short interest on this ticker. Tesla is a battleground between savvy day traders. Expect propaganda to be abused by both sell-side and buy-side factions. Don't get caught on the crossfire. Judicious swing trading or options gambling can produce short-term gains.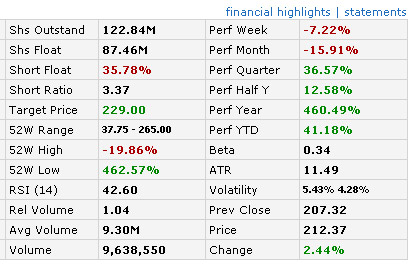 Source: Finviz
Look at those green numbers in the chart above, I envy investors who bought Tesla early last year. While I do not expect Tesla to do another 400% rally this year, I'm hoping Musk can get enough financing to start his GigaFactory project soon. Should this happen, I believe TSLA can beat its 52-week high of $265.
My near term outlook for Tesla is that it will continue its downward movement because Elon's desire for more affordable Tesla cars is in jeopardy. The company's Gigafactory project is facing serious headwind. The hype over Tesla will die if the company fails to deliver cheaper models.
The $70,000 price tag of Model S means the company will remain a niche player, and it may even die once GM, Ford (NYSE:F) and other car makers start shipping entry-level (sub-$30,000) electric vehicles.
GM has recently reduced the price of the 2014 Chevy Volt by $5,000 so it will now only retail for $34,995. The Nissan Leaf is also retailing for just $29,650. Tesla's future is in peril if it doesn't come up with a $35,000 electric car soon.
Gigafactory was supposed to help Tesla produce 30% cheaper lithium ion batteries for up to 500,000 Gen III electric cars that the company wants to release starting 2017. The cheaper batteries from the gigafactory are important for the company to keep the GEN III car's price tag at around $35,000.
Winning Panasonic's Support Is Top Priority
The market pullback is largely due to Musk's failure to win a commitment from Panasonic. The GigaFactory's estimated $5 billion financing is in trouble if Panasonic is not on board. Kazuhiro Tsuga, president of Panasonic, told reporters in Tokyo that joining Musk's Gigafactory venture entails significant investment risk.
Tesla has managed to raise $2 billion from selling convertible bonds but it is not enough to fund the GigaFactory project. Tsuga said Panasonic's lithium-ion sales depend on Tesla sales. However, Panasonic is still not committing itself to the GigaFactory venture.
This bad news is more noise for the shorts to continue their attack on Tesla. The recent report that Tesla won a decision to continue direct sales of its cars in New York fell on deaf ears already. Since I dream of a cheaper TSLA, this development is also music to my ears. I'm rooting for the shorts to give me a nice buy-in window, $160 to $180 looks good to me. Trefis only values Tesla at $151 but I'm more optimistic than them.
Conclusion
Unless Elon comes with another $3 billion soon, the GigaFactory implementation might be too late for the planned 2017 release of the GEN III. Panasonic's support, even if they only put up $1 billion now, will let Tesla commence the GigaFactory as soon as possible.
No Panasonic support, no GigaFactory, no cheap GEN III. No cheap Tesla car = slow but sure death for TSLA.
Google (NASDAQ:GOOG) has extra cash from the Motorola sale to Lenovo (OTCPK:LNVGY). The Tesla car is in line with Google's futuristic bets on robotics and the Internet of Things. Elon Musk ought to have dinner with Larry Page and Sergey Brin soon. The robots will benefit a lot from cheaper batteries which the GigaFactory can provide.
I cannot afford a $70,000 Model S but I'll be happy to buy a $20,000 Tesla car in the future. Trefis predicted $4 billion revenue for 2014 which is higher than the $3.64 billion estimate from Yahoo Finance.
The disparity doesn't really matter - Tesla speculators will send the stock to a new high if the company again delivers better than expected numbers for the next two quarters. I'm just waiting for the shorts to bring down TSLA to below $180 before I make my bet.
Good luck gambling on TSLA.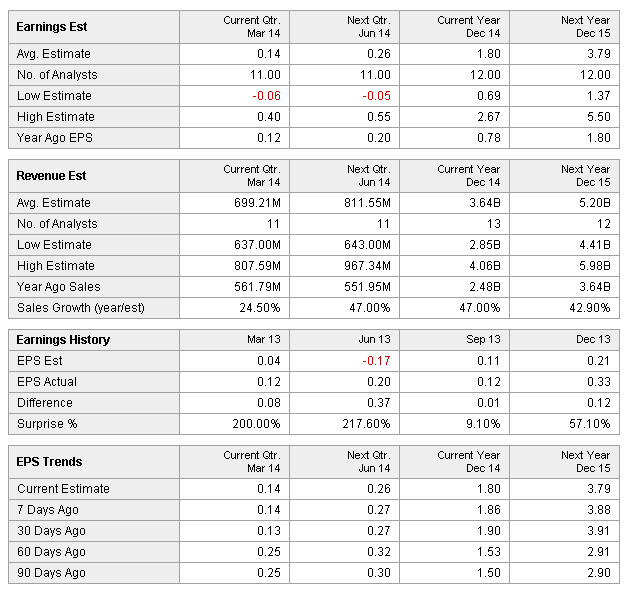 Source: Yahoo Finance
Disclosure: I have no positions in any stocks mentioned, and no plans to initiate any positions within the next 72 hours. I wrote this article myself, and it expresses my own opinions. I am not receiving compensation for it (other than from Seeking Alpha). I have no business relationship with any company whose stock is mentioned in this article.