Opening:
There has been a lot of talk surrounding the events between VirnetX (NYSEMKT:VHC) and Apple (NASDAQ:AAPL). For a background on the story, my articles can be viewed here. More articles dealing with important and specific appeal-related items will be linked later on in this article. One item that has been pushed off of the news shelf is the raw estimates concerning what Apple would owe VirnetX, ceteris paribus.
Backstory Is Pertinent:
There has been a lot of news information regarding Apple and VirnetX that has been misconstrued. This article will deal specifically with what Apple will have to pay VirnetX, if left unchanged. For accurate and extensive coverage on why VirnetX is in a much better position than the last linked article portrays, these two articles are worth a read (I,II). Also, a look at Judge Davis's 0% reversal rate on appeal with linked cases can be viewed here. Why the 0.98% rate is so significant can be viewed here.
The Raw Numbers:
VirnetX received a final order in its damages case against Apple for past infringement on February 27, 2013. This $368M award also included daily damages of $330,201 and daily interest of $33,561.
VirnetX's new royalty 0.98% award over Apple's products, products not more than colorably different than those argued at trial, are included:
ZEPHYR COVE, Nevada.,- March 6, 2014 - VirnetX™ Holding Corporation, an Internet security software and technology company, announced today that in the Company's pending litigation against Apple Inc. in the United States District Court for the Eastern District of Texas, Tyler Division, the court has issued a public version of the order previously issued under seal on March 3, 2014, awarding the Company an ongoing royalty of 0.98% on adjudicated products and products not more than colorably different from those adjudicated at trial that incorporate any of the FaceTime or VPN on Demand features found to infringe at trial. (Source, bolded for emphasis)
Interestingly, this 0.98% royalty rate (order can be viewed here) picks up where the trial for past damages left off, or February 27, 2013. Apple's newer iPhones, iPads and iPods, including the iPhone 5, 5S and 5C all incorporate FaceTime and VPN on demand and are therefore subject to this royalty rate. The iPhone 5S and 5C are not incorporated into the below estimates due to their release dates.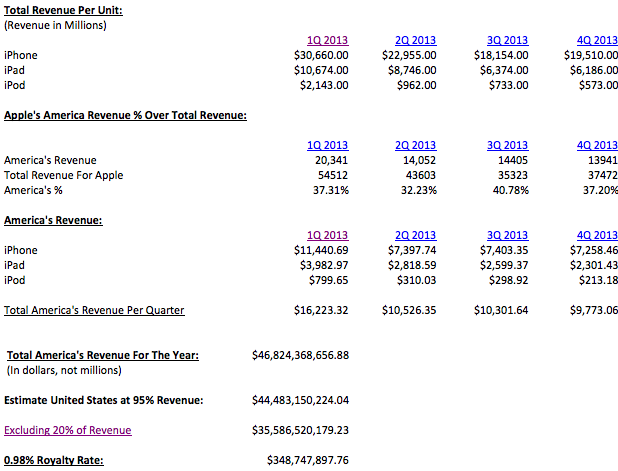 These numbers are found by using Apple's earnings data, while building the model off of the final order by Judge Davis. Apple breaks down their sales by geographical region, although the assumption that 95% of America's revenue comes from the United States is assumed by myself. This also excludes 20% of the sales from Apple's devices, as per the included text in the court order. This 20% number is taken directly from the court order, with regard to the amount of Apple's sales that are excluded. At the end, this equates to an average annual income for VirnetX of $348,747,897.76.
This annual projection does not include sales of the iPhone 5S and 5C, so as Apple continues to sell devices with these applications, the royalty amount to VirnetX can rise.
As for past damages, VirnetX was awarded $368M in November, 2012. Included in this amount was $330,201 in daily damages for infringement up to the final judgment and $33,561 in daily interest up to final judgment. This daily damages rate went up until February 28, 2013. These dates are included in Apple's motion for entry of judgment. Including the end date, this is a 114 day time span.
Using 114 days, the daily damages for infringement amounts to $37,642,914 and daily interest amounts to $3,825,952. In total, the past judgment for damages amounts to $409,468,868.
Total Due From Apple for 0.98% awarded in 2013 plus past damages equals $758,216,765.76.
What Is This Excluding:
Apple's newer products, such as the iPhone 5S and 5C.
All infringing products (iPhones, iPads, iPods) that were sold beyond Apple's sales data covering the 4Q of 2013, such as the 1Q of 2014.
These do not include Apple's global sales; VHC has not asserted Apple on a global basis. Although if it comes down to the negotiation table, this can play a key factor - especially with large iPhone sales abroad and in China.
This does not include royalties or awards from any prior defendants who have settled, the chance of a retrial with Cisco (NASDAQ:CSCO), the new trial against Microsoft (NASDAQ:MSFT) or any of VirnetX's future with 4G-LTE Advanced [I] which companies will need a license for to remain compliant with 3GPP Release 10 security standards.
This is also maintaining that these rulings are not sent back to the EDTX with new jury instructions by the CAFC, although I think VHC has a good chance of the past damages ruling being maintained. (I,II,III,IIII).
Interest owed by Apple, 3.25% prime rate compounded quarterly.
Apple does not develop a viable workaround, detailed more below.
Caveats:
These numbers are assuming that Apple does not have a viable workaround. After tweaking FaceTime to attempt a workaround, my assumption, Apple got hit with over 500,000 reported complaints. This was due to a degradation of the quality of service with FaceTime. Also workaround servers do not follow the secure-sip model that VirnetX's technology allows for, so you would have to enter your password much more often. Moreover, Apple misrepresented the viability of a workaround server platform at trial, leading to an enhanced ongoing royalty award.
While Apple has taken steps to mitigate its infringement, Apple grossly misrepresented its ability to implement a non-infringing alternative to the jury. The huge disparity between Apple's position at trial and Apple's position post-judgment also warrants increasing the implied royalty rate. (Source)
Expenses and Potential Income:
In its original agreement with SAIC, VirnetX owes 25% of the past damages ruling to SAIC. SAIC does not get a portion of any forward royalty amounts. On the past damages as well, VirnetX owes McKool Smith, the company's law firm, 8% of the judgment as well. Assuming 33% is paid out, this amounts to $135,124,726.44 paid out. This still leaves a substantial $274,344,141.56 in past damages owed.
Taxes still have to be kept in mind, and VirnetX will have to pay 35% on all of its income. Adding our new past damages amount to our total estimated income for 2013 brings us to $623,092,039. Since we are in 2014, and the damages and ongoing royalty amounts for 2013 are owed, we can also add an estimate for 2014 to our model.
Apple may have slower growth until September when the new iPhone 6 is projected to launch, but this is still in 2014. Others feel that Apple will continue to grow, and their ecosystem will drive increased sales. Assuming an 8% growth rate for Apple's revenues of infringing products, our royalty model can be extrapolated for 2015 and 2016. Assuming 8% growth in our royalty model for 2014 brings us to $376,647,729.59 for 2014. We can now add this to past damages owed for 2013 and our RR model for 2013 to arrive at a number for 2014 in total.
2014: $999,739,768.58
2015: $406,779,547.96
2016: $439,321,911.79
2017: $474,467,664.73
After subtracting taxes of 35%, we arrive at more modest income numbers for each year.
2014: $649,830,849.56
2015: $264,406,706.17
2016: $285,559,242.66
2017: $308,403,982.08
For 2013, VHC has 51,188,006 diluted shares outstanding. As of December 31, 2013 the company had options and restricted stock units to purchase an additional 5,225,764 shares - of which, 4,410,411 are vested and exercisable. Adding the latter brings us to a potential 55,598,417 shares, a number that will be used here to be conservative in our estimates.
2014 EPS: $11.69
2015 EPS: $4.76
2016 EPS: $5.14
2017 EPS: $5.55
Further applying a conservative P/E ratio can make these estimates quite exciting.
Conclusion:
There is a significant amount of money on the line for both sides of the battle. Apple's options are drawing to a close. This is not cynical, as Apple could have settled during the parties' multiple meditation periods, prior to trial or at anytime. VirnetX is in a very attractive position moving forward, especially at the recent share price.
Investors are always reminded to do their own comprehensive due diligence and understand all of the risks involved. Apple is just a piece of the pie, and VirnetX continues to move forward.
Disclosure: I am long VHC. I wrote this article myself, and it expresses my own opinions. I am not receiving compensation for it (other than from Seeking Alpha). I have no business relationship with any company whose stock is mentioned in this article.
Additional disclosure: Investors are always reminded to contact a financial professional and comprehensive due diligence before executing any trades. This article is informational and is in my own personal opinion.