Nike Inc.'s (NYSE:NKE) share price went up 45% in one year. This is impressive and justified, since the company finally threw Adidas out of the top spot in the European sports goods market, as evident in its third quarter results that were announced recently. While this was in Q3, the company's strong performance and stable future prospects were behind the share rise the company has been continuously enjoying.
In this article, we will discuss what was special during Nike's last quarter. We will then turn our attention to how the company keeps gaining momentum that is likely to continue bringing future returns for investors.
The Quarter

Source: Earnings Release
It looks as if Nike left no stone unturned when it came to grabbing revenue from consumers in the industry. Revenue rose 13% globally during the third quarter thanks to strong global demand for its athletic apparel. The better news was the fact that growth came from all geographic regions and key categories that included the double-digit sales figure in the company's largest categories of sportswear: running and basketball.
A pleasant online experience through digital investment and clever merchandising paid off as higher traffic, conversion, and average orders on Nike.com caused the company to grow its online sales by 57%. Even the direct-to-consumer sales were impressive, and reported a growth of 23%, with a comparable store figure at a relatively modest 10%.
Events such as the Winter Olympics and the Superbowl played their part in attracting revenue, but on a wider note, most of the growth was due to the innovation Nike brings on a continuous basis to the sports field. This is the sustaining factor that will maintain the company's lead in sales in the industry.
The gross margin stretched 30 bps to 44.5%. This was explained by higher average prices and constant growth in the higher margin direct-to-consumer business that was partially offset by higher product input costs, unfavorable foreign exchange rates, and greater discounts, reflecting actions taken by Nike to clear excess inventory in some less rewarding markets.
Selling and administrative expenses increased 16% to $2.2 billion, and a major part, $733 million, of that was due to demand creation that grew 18% year over year. The cause of this were marketing activities initiated for key product launches in support of the upcoming World Cup and investments in retail product presentations for wholesale accounts.
These costs are necessary, since they bring top line growth when actual sports events happen and allow brands to retain their image. The benefit collected is usually larger than what is paid, so the net effect is realized in the future by immediately hurting margins.
Operating overhead expense increased 15% to $1.4 billion due to investments in infrastructure, digital innovations, and higher direct-to-consumer costs driven by comparable store sales growth and new store openings. Again, the 23% growth in DTC revenue explained that these costs were well utilized by the company.
While the usual "demand creation" expenses were supposed to take a toll on the bottom line, diluted EPS actually grew 4% to $0.76, exceeding our analyst consensus of $0.72. This was a period of remarkable performance by the company, and it is preparing to reap even better results when the soccer tournament starts.
Even sales in China continued to show improvement; this was once a failing area for Nike. Sales in China fell for five straight quarters before this drop was halted in Q2 of 2014, and the company posted 4% growth. This quarter, that figure was higher at 7%, with footwear now gaining a near half billion share of the Chinese market. Globally, the company's footwear share is also on the rise (see graph below).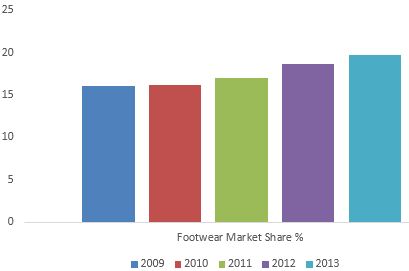 Source: Trefis
This share will continue rising since the company continues to bring useful innovation for athletes. Nike debuted its Vapor Carbon Elite Cleat in Q3 as a successor to the Vapor Laser Talon that allowed players to run faster in a certain direction. This new shoe, which is designed for speed and quick cuts in all directions, was launched in the market during the right time to reap the benefits from the Super Bowl. The company will be expanding the transformative payback of 3D printing that it used on the shoes across multiple areas of its business, since the new manufacturing process is proving widely accepted and beneficial.
The upcoming World Cup will be an enormous advantage together with the demand creation activities that the company has involved itself in. These advantages will help in creating further volume growth and also command a premium charge as consumers understand the price value relationship. This statement was actually highlighted by the company's president, Mark Parker, who said he has seen an increase in the move towards premium products and limited resistance towards charging higher prices.
Bottom Line
This consumer company relationship is behind the return on equity that Nike has generated for investors in the past. In the last twelve months, ROE stood at 26.7% higher than the industry's 21.7% as did net margin and returns generated on assets. With early preparations and a huge event ahead, these figures are likely to be sustained. Given what value the numbers hold for investors, I give the company a strong buy rating.
Disclosure: I have no positions in any stocks mentioned, and no plans to initiate any positions within the next 72 hours. I wrote this article myself, and it expresses my own opinions. I am not receiving compensation for it (other than from Seeking Alpha). I have no business relationship with any company whose stock is mentioned in this article.