The Story So Far…
Indonesia, the world's 3rd most populous democracy is gearing for Presidential elections in July 2014. The parliamentary election for 560 seats in DPR (Lower House of Parliament) is scheduled to be held on 9th April, 2014. There are 12 major parties in the fray dominated by the current ruling DP (Demokrat), PDI-P (Indonesian Democratic Party of Struggle) and the Golkar party.
How the Electoral System Works in Indonesia?
The current constitution allows parties/coalitions with a minimum of at least i) 20% seats in DPR or ii) 25% of national votes eligible to nominate candidates for the final presidential election (scheduled on 9th July, 2014). There would be a second round of presidential elections in September 2014, if no candidate manages to secure more than 50% votes share. This would be followed by the new President taking office on 20th October, 2014.
Markets Excited Over Jokowi's Nomination
The big news as of now is the long-anticipated announcement of Joko Widodo, the erstwhile Jakarta Governor as the Presidential candidate representing Democratic Party of Struggle (PDI-P).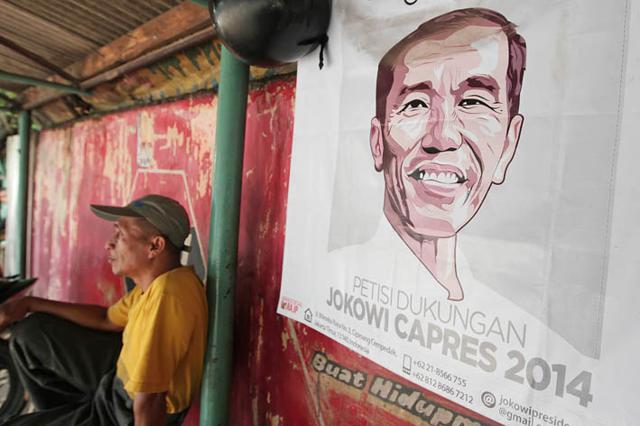 Source: Jakarta Post
Universally known as "Jokowi" among Indonesians, he is by all means the most popular for all presidential candidates that include a series of retired generals, and party apparatchiks.

Source: GS Portfolio Strategy Research
Widodo's nomination sparked the Jakarta index's biggest gain since September and spurred foreign investors to invest more money into the nation's stock market. Shares in Southeast Asia's biggest economy have bucked a 6.2% decline in the MSCI Emerging Markets Index this year amid accelerating economic growth, a shrinking current-account deficit and better-than-estimated earnings. Indonesia's rupiah rose to 19-week high and overseas investors ploughed in $656 mn to holdings of Indonesian equities. The current-account deficit narrowed down to 2.5% of GDP (vs. 3.3% in 2013). Moreover, inflation is predicted to slow down to 4.9% by year end (vs. 8.2% in January).
Jokowi… Both A Reformist and Socialist
Investors look at Jokowi as both a reformist and socialist. His reformist plan includes the strengthening of the much needed infrastructure and putting a lid on corruption. As a socialist, he was responsible for the increase in minimum wage while holding the position of Jakarta Governorship. He also vehemently opposed the fuel price hike.
How Do Equity Markets, Foreign Inflows & Volatility Trend Before Elections?
Historically, the Indonesian equity markets (NYSEARCA:EIDO) have performed well leading up to the elections. Elections are avenues for political parties to showcase their policy stance on structural reforms to boost investments.

Source: GS Portfolio Strategy Research
The pre-election rally is normally dominated by cyclical sectors like banks, industrials and autos, while consumer staples and utilities have lagged. Given the news flow and political uncertainty, volatility tends to rise in the run-up to elections.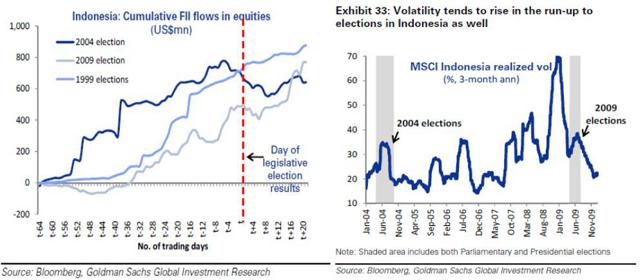 Source: GS Portfolio Strategy Research
Drawing Parallel with Other Regional Election Rallies Leaves Room for More Upside
Noynoy Aquino, the President of the Philippines was successful in clamping down corruption and boost Infrastructure sector despite being populist. It should also be noted that the Presidential powers in the Philippines are also greater than those in decentralised Indonesia. Now let us focus on the likely effect on equity markets by comparing with Noynoy Aquino's Presidential victory. We will now look into a research done by Credit Suisse. During the period of nomination and subsequent election of Noynoy Aquino, the Philippines market movement went through three phases- i) the initial euphoria period with falling risk premiums, ii) reality check phase where some of that enthusiasm gets diluted, and iii) subsequent market rally with the implementation of promised reforms. In the final stage, risk premiums fell 100 bps to 4.5%.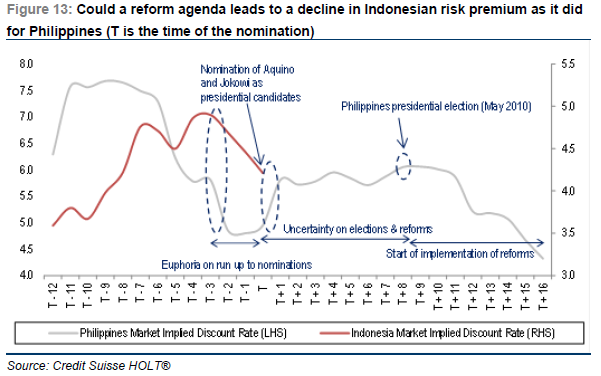 For Indonesia, the first two stages could be the same, after which investors would focus on reforms progress. Equity markets have risen 10% on average, with valuations expanding by 11%.

Source: GS Portfolio Strategy Research
How to play the Jokowi Presidential Nomination Theme?
In my previous article "Emerging Markets: Is It 1997 All Over Again?", I have written why Indonesia fares well over other EM countries. The nomination of Jokowi as Presidential candidate would further support allocation to Indonesia. One can get a broad based exposure to Indonesia using these ETFs and funds: Aberdeen Indonesia Fund (NYSEMKT:IF), iShares MSCI Indonesia ETF, Market Vectors Indonesia Index ETF (NYSEARCA:IDX) and Market Vectors Indonesia Small Cap Index ETF (NYSEARCA:IDXJ).
Retail investors in US can also look into the following companies with exposure to investment spending.
1. Infrastructure: Despite government increasing infrastructure spending by 2x over the past 3 years to $17 bn, there is more room to grow as it represents only 2% of GDP (vs. 4-5% for other ASEAN counterparts). The election of Jokowi would see increased private sector investments as any reforms on the land acquisition front would help start the stalled projects. Stocks that stand to benefit from infrastructure activity include
2. Banking: Pick up in the gross fixed capital formation as % of GDP from the current level of 7% (vs. decade average of 22%) bodes well for banking stock with exposure to investment led corporate borrowers. Top picks include Bank Mandiri (OTCPK:PPERY) and Bank Central Asia (OTC:PBCRF).
3. Industrial estate: Kawasan Industri (OTC:PTKWF) would benefit from any change to FDI rules and regulations.
Disclosure: I have no positions in any stocks mentioned, and no plans to initiate any positions within the next 72 hours. I wrote this article myself, and it expresses my own opinions. I am not receiving compensation for it (other than from Seeking Alpha). I have no business relationship with any company whose stock is mentioned in this article.
Editor's Note: This article covers a stock trading at less than $1 per share and/or with less than a $100 million market cap. Please be aware of the risks associated with these stocks.
Editor's Note: This article covers one or more stocks trading at less than $1 per share and/or with less than a $100 million market cap. Please be aware of the risks associated with these stocks.