I've recently suggested Statoil (NYSE:STO) as a good investment within the oil industry; its low geopolitical risk exposure is one of the most positive factors. Another interesting opportunity may be available in ConocoPhillips (NYSE:COP), which has also low exposure to political risk, as most of its assets are based in developed countries. Its dividend yield is similar to Statoil at around 4%, and its valuation is relatively undemanding, making it attractive for income investors. ConocoPhillips has a market capitalization of $86 billion and trades on the New York Stock Exchange
Company Overview
ConocoPhillips is the world's largest independent exploration and production [E&P] company, based on proved reserves and production of liquids and natural gas. ConocoPhillips has operations in 27 countries around the world, having more than 18,000 employees. The company faces significant competition across business segments; its main competitors are other global upstream oil and gas majors, like Exxon Mobil (NYSE:XOM), Chevron (NYSE:CVX), or Royal Dutch Shell [(NYSE:RDS.A), (NYSE:RDS.B)].
For the past few years, ConocoPhillips has been engaged in the transformation of its business profile. ConocoPhillips was created through the merger of Conoco Inc. and the Phillips Petroleum in 2002. Following a decade of growing mainly through acquisitions, the company began to optimize its assets focusing on its core strengths. A major step came during 2012, with the spin-off of its downstream operations to a stand-alone company, Phillips 66 (NYSE:PSX).
This changed the company's profile significantly, from an integrated oil & gas company to a pure E&P company. Although this is not unique within the industry, as Statoil has also sold its downstream operations, it is rare among major oil companies. In the U.S., other companies have also opted to separate or shutter downstream operations, such as Hess Corporation (NYSE:HES), but are all much smaller companies than ConocoPhillips. The company was an integrated oil & gas company since 1917, as Philips Petroleum Company, so this change really sets a new business model. On the negative side, this change leaves the company more vulnerable to the volatility in commodity prices, and therefore its earnings may be less predictable going forward.
In 2013, ConocoPhillips produced around 1.5 million barrels of oil equivalent [boe] per day and had about 8.9 billion boe of proven reserves. For 2014, it expects to grow its production by 3-5% excluding Libya, where it continues to face some headwinds. Its production is spread around the world, with international operations accounting for about 58% of the total production, while the remaining comes from the U.S. It has a well-balanced production mix, with liquids responsible for 56% of its production and natural gas accounting for 44%. Its investment program is focused on increasing its production toward liquids, which enjoy higher margins than natural gas. For the past three years, its organic reserve replacement ratio was, on average, close to 150%, which is quite impressive for a major oil company.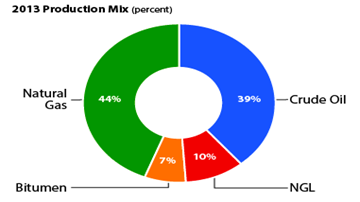 Source: ConocoPhillips
ConocoPhillips has both mature assets that boost cash flow, but also unconventional assets that can deliver growth. The company's asset portfolio is well-diversified, and not heavily exposed to any one product type, geology, or geography. Its major operating regions include the U.S., European North Sea, Canada, and Asia. The company pursues mainly organic growth. Its goal is to achieve, over the intermediate to long-term, 3% to 5% compounded annual production growth rate, through drilling programs in its legacy assets and sanctioned major projects globally. The company is also well-positioned to benefit from the shale revolution, as seen by its impressive growth in Eagle Ford and Bakken during 2013, achieving a combined production growth rate of 60% year over year.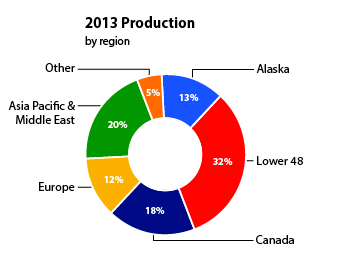 Source: ConocoPhillips
In addition to its relatively attractive growth profile for a major oil company, ConocoPhillips' political risk is also lower than average across its industry. The company's assets are mainly located in stable countries, with about 83% of its reserves being located in OECD countries. Therefore, the company is much less exposed to political risk, and its production should not be significantly disrupted by political and social instability. This makes ConocoPhillips' operations safer than that of other oil companies more exposed to riskier geographies like the Middle East or North Africa. This better risk profile justifies a higher multiple for ConocoPhillips than the industry's average, which are also supported by better growth prospects over the medium-term.
In 2013, ConocoPhillips' revenues amounted to $58.2 billion, representing a decrease of 6% from the previous year. This fall is justified mainly by asset sales, but also from lower oil prices and declining production on mature assets. Its net profit was above $9 billion, or $6.43 per share. Its net profit margin was 15%, while its return-on-equity was 17%, which is above the ROE of the majority of the oil majors. The company's target is to improve its overall margins 3%-5% annually at flat commodity prices. As the company divests some lower-margin assets and shifts its production mix to higher-value products, margins should expand compared to current ones over the next few years. Going forward, its revenues are expected to increase to more than $64 billion in 2016, and its operating margin should improve to 24%, leading to higher capacity to return cash to its shareholders.
Dividend
ConocoPhillips' dividend history is relatively good, even though its growth has not been impressive over the past few years. After a few quarters of an unchanged dividend of $0.66 per share, the company increased its dividend by 4.5% to $0.69 in mid-2013. Its annual dividend is therefore $2.67 per share, representing currently a dividend yield of about 4%. This yield is higher than for its U.S. peers Chevron or Exxon Mobil, but is below most of its foreign peers like Total (NYSE:TOT) or Shell.
As a mature company, ConocoPhillips seeks to return a significant portion of its cash flow to shareholders, principally through dividends targeting consistent dividend growth over the long-term. Furthermore, ConocoPhillips' shareholder returns were also boosted over the past few years by its share buyback program, which has now expired, but may be resumed in the medium-term.
Its dividend seems clearly to be safe based on earnings, given that its dividend payout ratio was only 42% in 2013. However, when looking at cash flow, the picture is different, as ConocoPhillips' investment program is clearly demanding. ConocoPhillips' cash flow generation is very good, but the company is in the midst of a huge capital investment program that has seen its capital expenditures [capex] up significantly over the past few years.
It spent almost $17 billion in 2013, an increase of 31% from its 2011 levels, and $15.7 billion in 2012. During the past two years, its capex wasn't covered by cash flow from operations, leading top cash flow deficits, which have largely been funded by proceeds from its asset divestiture program. ConocoPhillips has received more than $12 billion from asset sales from 2012 through to late 2013, and it expects to complete the announced non-core sales during 2014 to partly finance anticipated free cash flow deficits. Its capex should be about $16 billion annually over the next three years, but the company's management expects cash flow generation to improve by about $6 billion from 2013 to 2017. This means its cash flow from operations should increase to more than $21 billion in 2017, which is more than enough to finance its capex and a growing dividend in the coming years.
Furthermore, ConocoPhillips' dividend is also supported by its strong balance sheet, which means that despite its negative free cash flow expected over the next couple of years, it should easily have access to capital markets for its funding needs. Its net debt is about $15 billion, representing a very low leverage ratio (net debt/EBITDA) of 0.7 times.
Conclusion
Even though ConocoPhillips is going through a massive investment phase which results in negative free cash flow generation, this should change in the next few years, as more assets become operational. The company's free cash flow should become positive in the next couple of years, enabling it to both finance its growth and deliver attractive returns for shareholders. Therefore, its dividend seems to be sustainable and has good growth prospects, making it a compelling income investment. In addition, its valuation is relatively undemanding considering the company's growth prospects, given that it is trading at only 11.2x forward earnings and 4.5x EV/EBITDA.
Disclosure: I have no positions in any stocks mentioned, and no plans to initiate any positions within the next 72 hours. I wrote this article myself, and it expresses my own opinions. I am not receiving compensation for it (other than from Seeking Alpha). I have no business relationship with any company whose stock is mentioned in this article.