LinkedIn is a Niche
LinkedIn (NYSE:LNKD) has a total of 277 million members as of their February 6th quaterly report, but is no doubt a niche product and because of its very nature and aims, will remain as such. The fact is that the market for business professionals who aim to network and connect is simply not that huge. This is strikingly obvious in the demographic breakdown of its users.
According to QuantCast, an internet metrics company that measures LinkedIn's use among other websites, the average LinkedIn user is a white male, aged 25-34, who holds a graduate education and who makes more than $150,000 each year. I feel there is no need to start digging into US Census data, for using a bit of common sense we can agree that this is a particularly small bit of the US population. Globally, LinkedIn has still yet to gain much traction as evidenced by the fact that 33.8% of all people who have visited LinkedIn in the past month are US residents. Furthermore, and finally on the point that this is a niche product, a staggering 44% of all global visits to the site were conducted by a mere 2% of LinkedIn users-likely the 25-34 year old Americans pointed out above who actually have a need for a product such as LinkedIn.
Being a niche product is by no means necessarily a bad thing, but I think LinkedIn has captured all it can from its core demographic.
Usage Decrease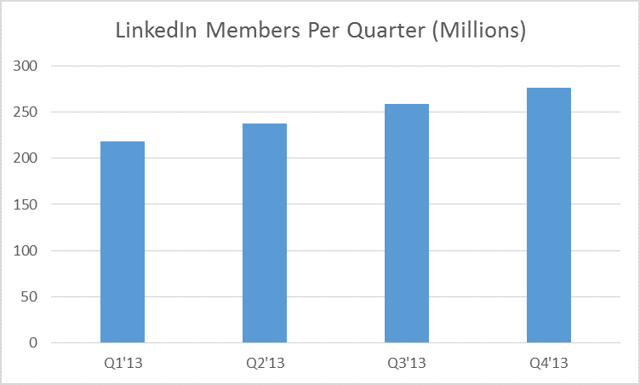 Even if LinkedIn is able to sign up a bunch of Chinese customers in leveraging their acquisition of Bright, there has been a confidence sapping decrease in LinkedIn usage. For example, in the first 14 days of January 2013 LinkedIn had 218 million members averaging about 101.5 million global page views per day. In the first two weeks of January 2014, with 277 million users (59 million more members), only 89.4 million page views were being made (12.1 million less). The general decrease in page views can be seen in the chart below. This decrease signifies a strong downturn in the use of LinkedIn and will likely be reflected in lower advertising revenue moving forward. If I was currently long this stock, this drop in usage despite a huge rise in membership would concern me greatly.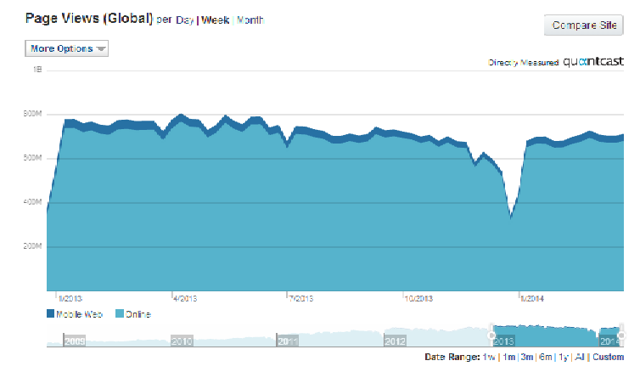 Attributing the Decreased Usage
The reason I think page views have recently decreased despite the large rise of membership is twofold.
On one hand I think it's because people like college students are driving the increased membership rates but are not using the profiles they create. For some reason, perhaps because of some incentive from LinkedIn, my university's career services office peddles LinkedIn to everyone on campus. About a year ago I finally created a profile, spent ten minutes looking around the site, and have not had any reason to return to it since (except to revisit before writing this piece). It's a social network for professionals that the demographic has no real use for. In asking around for this article, I have heard a few other reasons why college age students don't use LinkedIn regularly. Their main gripes were that they cannot "creep" on people because those people will receive a notification saying they viewed their profile, because the professionals on the site and idea of networking is intimidating, and because the content people post doesn't apply to them.
The second reason for lower usage is because LinkedIn isn't really needed by people unless they are looking to hire someone or are looking to find a job. It tries to be a social network, but really it's just job search redefined and with people finding employment, unemployment is currently at 6.7%, the vast majority of people are not compelled to network with other professionals.
Why China Won't Help
With average GDP per person of just $9,800, most estimates of Chinese people with internet access ranging from 40% to 45.8%, and China being a largely agricultural and manufacturing centric economy, the tool of LinkedIn just doesn't seem like something the vast majority of Chinese would have the disposable income to pay for a premium subscription or have a need or desire to use for free in the first place. Unlike the US and Europe where white collar jobs are aplenty and networking is a legitimate concern, China is mainly a labor economy where networking is unnecessary.
The Stock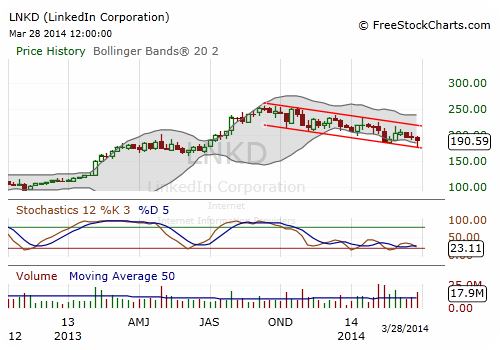 LinkedIn has been grinding out new lows since peaking in mid-September 2013 at $257.56. With continuing sideways or downwards trading from the overall markets, I can't see investors getting excited about this stock to be willing to load up on enough shares to force price action outside of the long standing downward channel.
The forward PE of LinkedIn is 75.93 while Facebook's (NASDAQ:FB) is less than half at 35.72. Facebook, I think, actually has some compelling future prospects in monetizing WhatsApp and applying Oculus in a plethora of applications such as to augment online learning. To add some backwards perspective, LinkedIn's trailing PE is a skyscraping 854.66 while Facebook's is about 9 times less at 98.22. By these measures and in comparison to Facebook, LinkedIn is still extremely overvalued despite being down 26% from its high in September.
I envision the stock price to continue to drop in the next month or two to the next main technical support at $150. From March 28th's close, this would represent a decrease of 21%. As of now, I would be looking to short the next pop as a low risk entry to make something of the grind downward. I think a fair trading range for this stock is between $150 and $100.
LinkedIn reports first quarter earnings for 2014 on Thursday May 1st 2014. This event has the potential to give reason to end the down trend or send the stock even lower, so careful consideration should be put on how to trade this event as it comes nearer. Earnings would need to be a massive blowout by an order of magnitude to the upside to give credence to LinkedIn being valued greater than $130. Right now the consensus is for earnings of a measly two cents per share. A stock cannot trade on dreams of the future for too long- the reality of a quarterly EPS of two cents for a greater-than one-hundred dollar stock will inevitably set it.
Conclusion
Because LinkedIn is a niche product that has already captured as much of its market as I believe it can within the next year, because despite a rise in membership there has been a decrease in overall usage and page views, and because there is a firm downtrend that is set to continue until the stock approaches fairer value, it's my opinion that LinkedIn's stock will continue to depreciate for the majority of the remaining months in 2014.
Disclosure: I have no positions in any stocks mentioned, and no plans to initiate any positions within the next 72 hours. I wrote this article myself, and it expresses my own opinions. I am not receiving compensation for it (other than from Seeking Alpha). I have no business relationship with any company whose stock is mentioned in this article.