Just in time we are pleased to present the March edition of our analyst watch series for base metal miners. As always we will be summarizing share price movements, analyst targets and recommendations for selected base metal mining companies. Additionally we will provide some comparisons to data reported in last month's edition.
We were especially interested in this month's analyst take on the copper miners considering the recent severe drop in price for the red metal.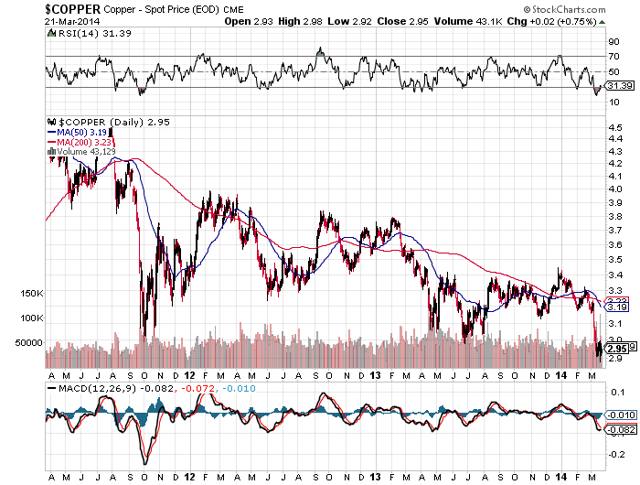 Most companies mentioned in this article have more analysts following their progress than considered in our database. This difference is due to the fact that not all analysts release their predictions to Yahoo.com, which is the source of the presented data.
Unchanged from last edition we are considering the following companies in alphabetical order: Augusta Resource (NYSEMKT:AZC), Capstone Mining (OTCPK:CSFFF), Copper Mountain Mining (OTCPK:CPPMF), First Quantum Minerals (OTCPK:FQVLF), Freeport-McMoRan (NYSE:FCX), Hudbay Minerals (NYSE:HBM), Imperial Metals (OTCPK:IPMLF), Nevsun Resources (NYSEMKT:NSU), Southern Copper (NYSE:SCCO), Taseko Mines (NYSEMKT:TGB), Teck Resources (TCK), Thompson Creek Metals (TC), Turquoise Hill Resources (NYSE:TRQ).
And starting this month we are also monitoring analyst data for Nevada Copper (OTC:NEVDF), Oz Minerals (OTCPK:OZMLF) and Sandfire Resources (OTC:SFRRF).
Our data for these stocks is summarized in the table below. Grey columns represent data sourced directly from Yahoo.com, and light green colored columns represent processed data derived from this source data.
The first three columns list the company names, ticker symbols and share prices at the time of writing, followed by the change in share price since the last edition.
Price targets (low, median and high) are listed in the following three columns. These targets are followed by a column giving the number of analysts providing data to Yahoo.com and the mean recommendations given by these analysts ranging from 1.0 (strong buy) to 5.0 (sell). This concludes the data sourced directly from Yahoo.com.
The remaining columns list data points computed as percentages of the share prices at the time of writing as given in the third column. The column titled "median-price" gives the differences between the share prices and the median target prices. The column titled "high-low" gives the differences between the high and the low targets. The last four columns titled "target change" document the changes in price targets since the February report, with the last column giving the average changes over the low, median and high price targets.

N.B. Price targets for Imperial Metals, Copper Mountain Mining, First Quantum Mineral, Capstone Mining and Nevada Copper are provided to us in Canadian Dollars and we have used a conversion rate of 1 Can$ = 0.90 US$.
N.B. Price targets for Oz Minerals and Sandfire Resources are provided to us in Australian Dollars and we have used a conversion rate of 1 A$ = 0.93 US$.
The chart below illustrates the share price development over the past month. On average share prices have gone down by 7.2% following the severe drop in copper price.
Copper Mountain Mining is the only company in our watch list with a share price increase (10.8%) in the past month. All other base metal miners in our watch list have lost in value, most notably Thompson Creek Metals (-24.3%), Imperial Metals (-20.6%) and Nevsun Resources (-14%).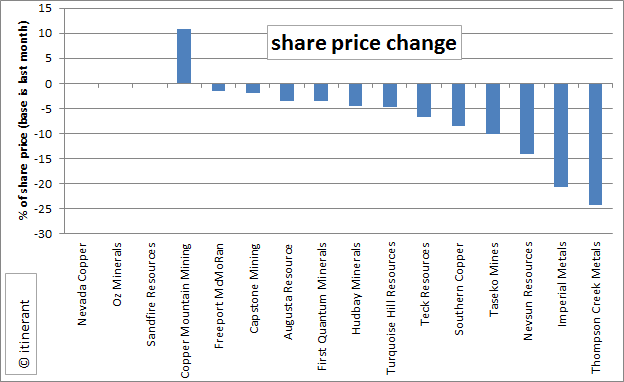 The difference between the current share price and the median price target is listed in column "median-price" and visualized in the diagram below. Under normal circumstances we would view a large value in this column as an indicator for the potential of disproportionate gains over the coming year.
New entry to our watch list Nevada Copper has jumped to the top of this list, and we have stated our own bullish stance on this mine developer in no uncertain terms here.
Aussie copper miner Sandfire Resources is actually trading above the median price target, and several others including First Quantum Minerals, Southern Copper and Oz Minerals are trading very close to the median price target which suggests very little, if any, upside for these companies.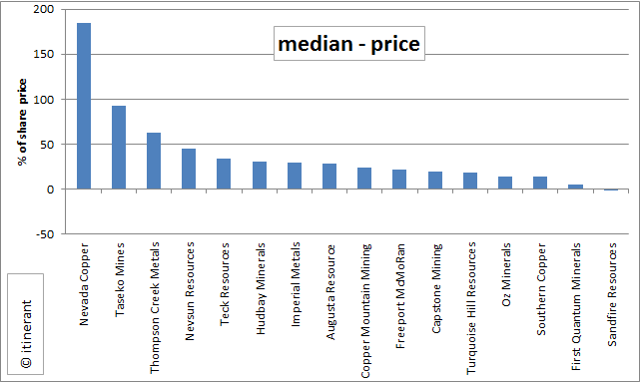 Column "high-low" measures the divergence in analyst opinions. The results from this column in the table at the top of this article are visualized in the next diagram.
Taseko Mines and Copper Mountain Mining remain at the top of this ranking, and target divergence is the greatest for these two companies.
A much greater deal of agreement (or a target range of less than 50% of the current share price) among analysts is achieved for price targets for Southern Copper, Nevsun Resources and Augusta Resource among others. The takeover drama for Augusta Resource is playing out and is governing the share price expectations at the moment.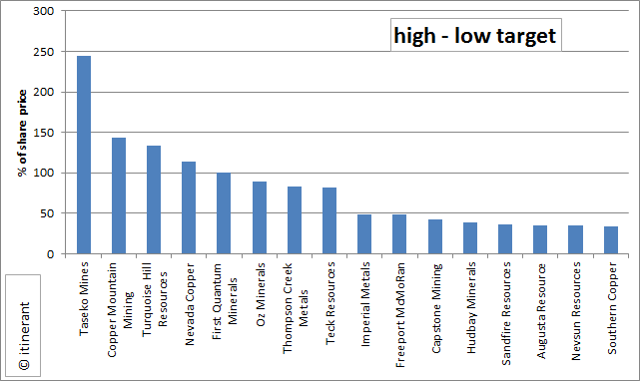 Monthly changes in price targets as listed in the table above are visualized in the diagram below.
Target cuts were in the majority during the past month. On average price targets decreased yet again by -1.9% for the companies contained in our watch list.
Price targets for Copper Mountain Mining were raised by 5.4% during the past month; and price targets for Turquoise Hill Resources have continued their roller coaster, this time dropping by -18.5%. Targets for Taseko Mines were cut by -8.7%, presumably as a result of disappointing news on the licensing of the New Prosperity mine.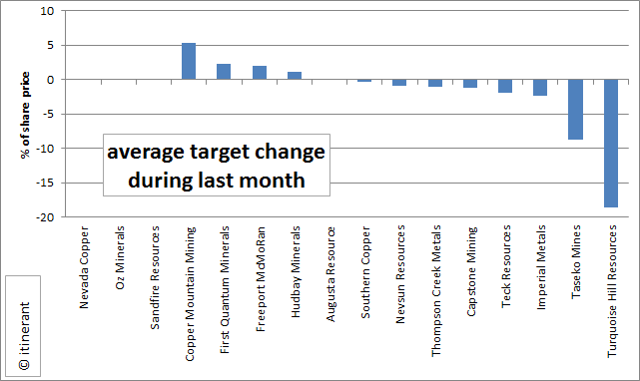 The final diagram visualizes analysts' recommendation ratings. The small red bars indicate changes in the recommendation score since last month.
Nevsun Resources has had its recommendation cut and has lost its top position to newcomer Nevada Copper. Thompson Creek Metals continues to be viewed most unfavorably by analysts.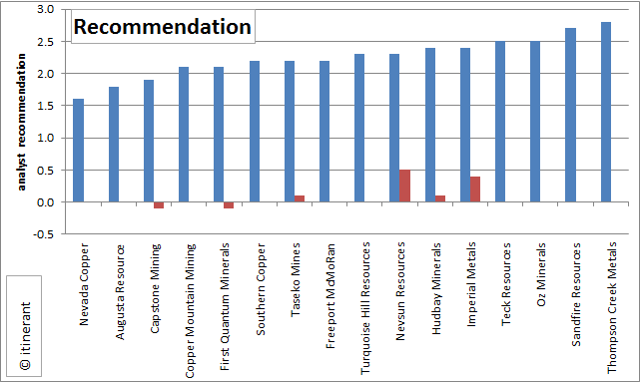 N.B. Investors finding the data presentation in this article helpful might wish to visit our latest analyst watch articles on gold miners, silver miners, uranium miners and metal streaming companies.
Disclosure: I am long NEVDF, CSFFF. I wrote this article myself, and it expresses my own opinions. I am not receiving compensation for it (other than from Seeking Alpha). I have no business relationship with any company whose stock is mentioned in this article.