So just how important is the iPhone to Apple's (NASDAQ:AAPL) financial health, and is all this media attention on a cell phone really that warranted? The short answer: Yes, the iPhone is extremely important, and the media attention- very much warranted in this case. In fact, the iPhone has been Apple's lead revenue driver for three quarters running. That's huge considering the fact that the iPod usually dominates Apple's Christmas quarter, and considering the fact that Apple holds the second largest market cap among U.S.-publicly traded companies (soon to be #1). As the iPhone 4 hits consumer hands Thursday, I think it's important for investors to step back and analyze the significance of the iPhone to Apple's past, present and future earnings.

After doing some analysis that I'm going to publish very soon, I'm projecting record iPhone sales for Q3 and Q4 which will propel Apple to nearly 50% revenue growth in 2010. For Q3, I'm looking for Apple to sell 9.3 million iPhones, adding nearly $5.58 billion in revenue. For Q4, I expect Apple to post sales of 11.5 million iPhones making Q4 2010 the first quarter that Apple has sold over 10 million units in any one quarter. The two charts below are an overview of Apple's iPhone unit sales and revenue since the release of the device in 2007. Please note that Q3 and Q4 are merely projections, and actual results may change quite markedly. Also, feel free to click on charts to get full-sized images as Google apparently has major problems making a viable blogging platform. Never use blogger!
Click to enlarge: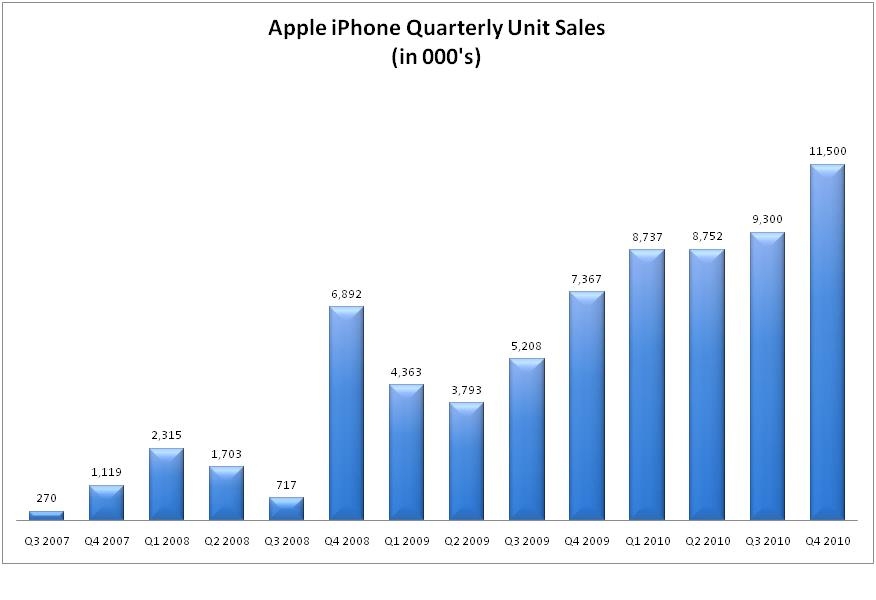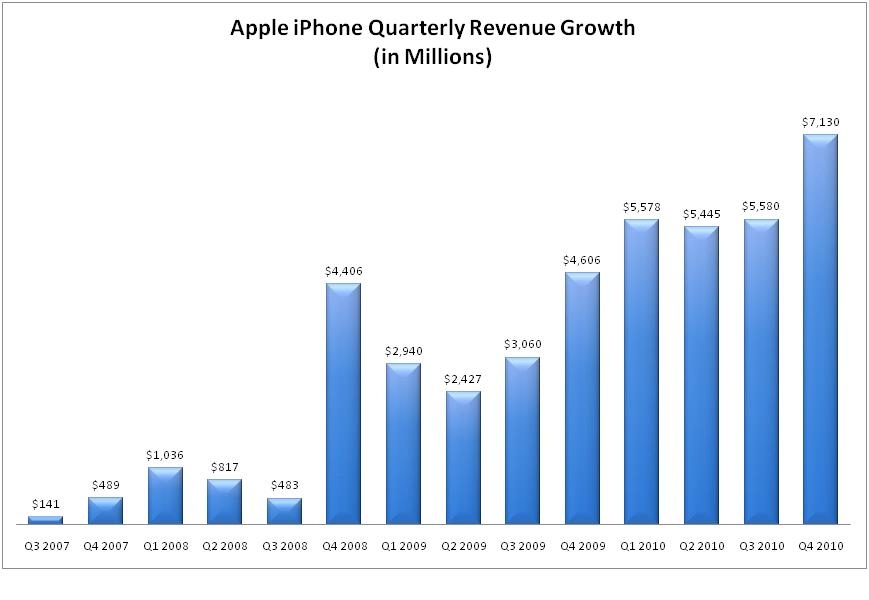 Starting in Fiscal Q1 of 2010, iPhone unit sales have absolutely exploded with little sign of turning back. Revenues from the device have propelled Apple's last few quarters to growth unseen since the early years of the iPod.
Just to get an idea of how dominant the iPhone has become in terms of a percentage of Apple's overall revenues: In 2007 the iPhone only accounted for 2.5% of Apple's total revenue. Even in 2008 where the 3G iPhone had half of the year to dominate, it still only accounted for 17.9% of total revenues behind the iPod (24.4%) and Apple's Macintosh Computers (38.3%). The iPhone 3GS (30.1%) helped the device to push past the iPod (18.9%) to be Apple's second leading revenue driver only behind Mac sales (32.3%) in 2009.
However, 2010 really marks the start of the golden age of the iPhone. So far, the iPhone has already accounted for 37.8% of Apple's total receipts towering over both iPod sales (17.9%) and Mac sales (28.1%), and when all is said and done, I'm predicting the iPhone will account for 37.4% of Apple's total revenue, nearly doubling iPod revenue for 2010. If it weren't for the release of the iPad, the iPhone would have likely accounted for 40.8% of Apple's total revenue in 2010. The chart below is a snapshot of the iPhone as a percentage of Apple's total revenue over the past few years. Notice that Q3 and Q4 are projections and actual results are likely to vary to some degree.
Click to enlarge:
To get an idea of how the iPhone stacks up against Apple's other revenue drivers, one need only to look at how negligible Apple's older huge revenue drivers now contribute to total revenue. The iPod for instance, will barely post only one-third of what the iPhone will likely record in 2010. In fact, the iPod will drop to being Apple's 4th largest revenue driver starting this quarter- behind the iPad, iPhone and Macintosh computer going forward. It has almost turned into a mere accessory when looking at the power of the iPhone.
The two charts below should offer a visual illustration of how dominant the iPhone has become, and how the iPod is slowly becoming irrelevant to Apple's earnings. These two charts not only demonstrate the power of the iPhone, but they more importantly reveal Apple's unparalleled ability to innovate and find new avenues for revenue growth in the face of maturing iPod sales (the reason Apple still exists). Please view these charts with the understanding that Q3 and Q4 of 2010 are mere projections, and that actual results may significantly vary.
Click to enlarge: