The fact is that I took a bit of a whooping on BlackBerry's (NASDAQ:BBRY) earnings - not real bad, but one that was enough to prompt one of my patented "end the week and have a beer early" style Fridays, as denoted in my StockTalks last week.

It was very interesting, because I saw the earnings as delivering a bunch of good news. Sure, no one was happy about the revenue miss, but when put in the context of what the company is trying to do right now, it wasn't a big deal. Especially when CEO John Chen is showing that he seriously knows how to rope in costs.
I spent the better part of Friday morning traveling, so I finally got around to listening to the call and checking out Chen's interview that was on CNBC following the call. I was impressed by both.
I think the single most important quote on the entire call, now that I've had a chance to read it, is the following:
Our marketing team wanted to name it Q20, I wanted to name it the Classic. We did a survey of one - me - and I won!

-John Chen, BlackBerry CEO
Why is this important? So much of my thesis on the new, Chen-led BlackBerry was that Chen was a man who was not emotionally invested in the BlackBerry name or how things were done in the past. Not having those ties emotionally to the company allows you to act with a ton of common sense. In the Heins' day, there's no doubt this phone would have been named the Q20, the Z40, the R50 or the B10 - you get the idea.
Chen pulled down the common sense goggles, saw that this hadn't worked in the past, said "screw the marketing team, they've got us to where we are now," and made an executive decision. Then, he got cheeky about it on the conference call. Good for him.
Jim Cramer was even on CNBC in the morning of the call reaffirming that $2.7 billion in cash is way more money than the company needs to turn itself around. Chen has almost managed to turn off the money sieve, and is forecasting cash flow positive operations in just a year from now.
It's important to remember that BlackBerry isn't just "BlackBerry the phone company" anymore. This is a company focused on downsizing, leveraging certain phones in certain parts of the world, but also monetizing BBM, QNX, their server software, and the BlackBerry enterprise suite in general. BlackBerry is not going to come out of this rebirth as the same company. The market, eventually, will realize that.
Chen's plan to launch the phone in emerging markets seems to be gaining some traction, as well. The Indonesians? Well, they loved it.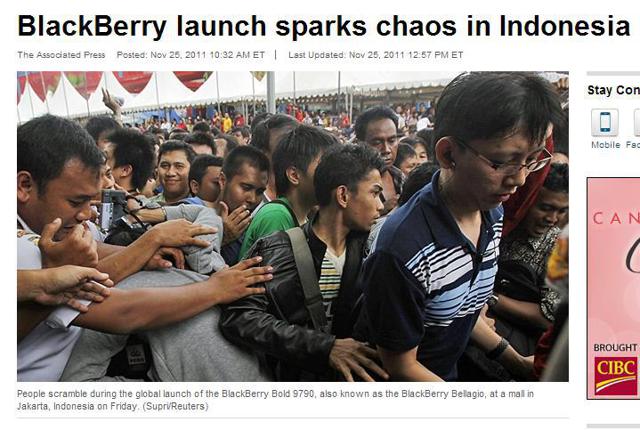 Further, BlackBerry has new plans to monetize one of their biggest assets in BlackBerry messenger:
BlackBerry is about to launch an update to its popular BlackBerry Messenger chat service that it hopes will rake in some extra coin.

The Waterloo, Ont.-based technology firm is looking to generate revenue with its BBM app through sponsorships with brand names and by launching a new BBM Shop that deals in virtual goods.

The plan delivers on a promise last year when it said BBM, which has grown to more than 85 million since the chat service became available to iPhones and Android devices, would become a money-making business,

The company has no intentions to start charging most users for the app, opting instead for various other hooks to drive

"At no point should monetization come at the expense of the user," said David Proulx, senior director of BBM Business Development at a meeting with reporters Tuesday. Revenues, from selling enhanced emoticons known as "stickers" to the eventual launch of a secure payment platform.
Stickers here in the U.S. and Canada aren't a big deal. Stickers in the Asian countries are a totally different story. This is similar to the way those Indonesians feel about BlackBerry phones versus how the American public feels about the company and its phones. BBRY stock would be at $50 in Indonesia.
At this valuation, BlackBerry is down to a market cap of 4.3 billion dollars. The company has nearly $0.50 in the bank for every dollar it sports in market cap. Its price-to-book value is now even close to 1.0 than it was in days past.
It appears the market has a 3 month forward looking period on BlackBerry and that the market is quite impatient with the company. While I realize that the company has had a string of nasty quarters, "it's only after we've lost everything that we're free to do anything."
I took a hit on Friday, not selling when I could have. But, I re-evaluated it the better part of the weekend and addressed my two options: sell out and take the loss, or buy it on the way down. With the fundamentals in great shape and Chen making tangible progress, I'm a BlackBerry buyer on Monday, no questions asked.
Disclosure: I am long BBRY. I wrote this article myself, and it expresses my own opinions. I am not receiving compensation for it (other than from Seeking Alpha). I have no business relationship with any company whose stock is mentioned in this article.