By David Nelson, CFA
March has been a difficult month for momentum stocks as the darlings of Wall Street morphed into wall flowers. Despite the sell-off in market favorites like Netflix (NASDAQ:NFLX), Facebook (NASDAQ:FB), Priceline (NASDAQ:PCLN), Amazon (NASDAQ:AMZN) and a host of biotechs, the overall market has fared well. The rotation within the S&P has caused a great deal of angst, however, it's important to note that the index sits just below all-time highs.
Growth vs. Value (Line chart moving down shows growth underperforming value)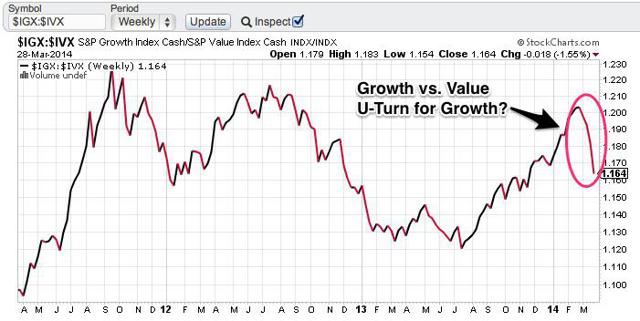 The Worm Has Turned
It looks like the worm turned just about a month ago on the heels of February's strong showing. For almost the entire month of March, growth stocks have clearly underperformed their value counterparts. The S&P Growth Index turned onto I-95 South and Value headed North with performances of (-1.7%) and +1.9%, respectively. What's clear here is that investors didn't go to cash. Rotation has been the theme to the market's version of March Madness with growth investors all asking; "Is it safe to go back in the water?"
Before I answer that question let's dig a little more deeply into the data. The spreadsheet below depicts the 20 most expensive names in the S&P 500 on a P/E forward basis*. When you look at the trailing 4 weeks, it's pretty easy to see that March hasn't been kind to high multiple stocks. 16 out of the most expensive 20 names in the S&P 500 have underperformed the market during the last 4 weeks. Remember we're looking at relative performance, not absolute.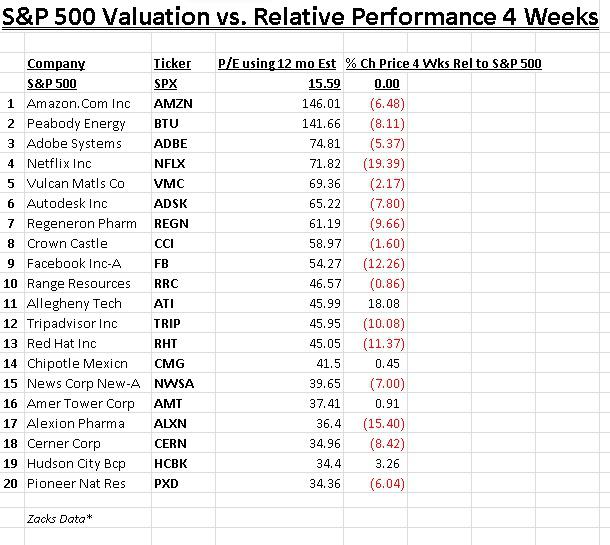 GARP vs. GAWP
Around the middle of last year, a slow but steady rotation started to occur with investors migrating to growth stocks. My own subjective theory is that with the U.S. economy on a very slow path to recovery, growth became scarce, forcing investors to pay up. Many of us would like to think of ourselves as GARP investors or Growth At the Right Price, but every so often we push the envelope too far and wake up the next morning astonished that GARP has morphed into Growth At the Wrong Price.
iShares S&P Growth (NYSEARCA:IVW) vs. iShares S&P Value (NYSEARCA:IVE) 1 yr Performance Chart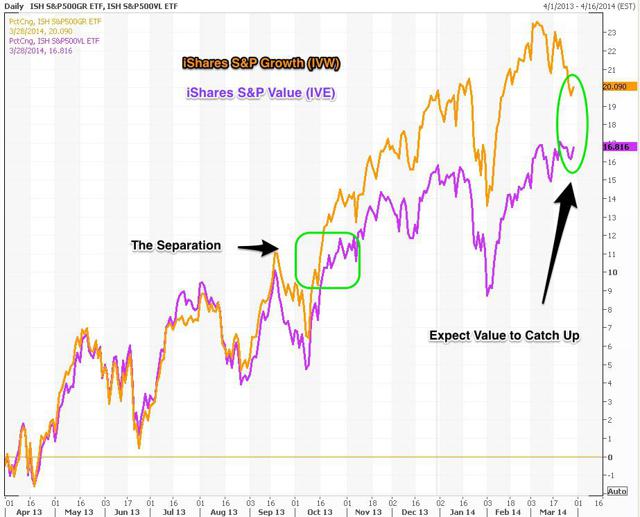 Reversion to the mean usually doesn't stop when the relative overbought condition is alleviated. Often, the pendulum swings too far and will probably be the case here. As you can see, at least in the one year performance chart, value still has some catch up ahead. The trend toward value will likely continue until at the very least, the spread between growth and value performance on a trailing one year basis is zero.
SPDR Biotech (NYSEARCA:XBI)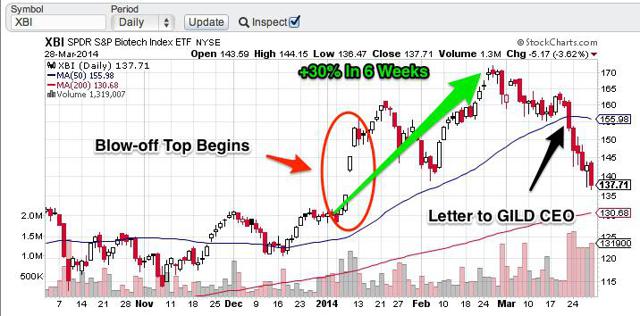 Nowhere has the carnage in growth stocks been more acute than the biotech sector. The acceleration downward was triggered by a single event, which I discussed during media interviews with CNBC and Canada's BNN. A letter sent by a House Sub-Committee to the CEO of Gilead (NASDAQ:GILD) questioned the pricing of its very popular and expensive drug Sovaldi. The regimen comes in at about $84,000 per patient for this unique Hepatitis C treatment. The case can certainly be made that $84,000 is a lot cheaper than fighting the potential liver cancer or eventual liver transplant. However, this large headline number is an easy target as it becomes a political football heading into the mid-term elections. Even if all they do is brow beat the CEO into making some concessions, it's an enormous sentiment shift that can't be ignored.
In the case of Biotech stocks, even with a likely rip your face off bounce back rally, the sector remains dangerous. I think we forget how extended the sector was just a few weeks ago. By the end of February, less than 8 weeks into the year, it was up over 30% in a market that was struggling to keep its head above water. In hindsight, the massive gap up move in January was the beginning of a blow-off top.
Gut Check
CNBC anchors Brian Sullivan and Amanda Drury questioned me last week about the momentum stock sell-off, and I had the following to say:
"This is a Gut-Check for investors. It's important to ask yourself why you bought some of these high flyers. Was it because the fundamentals demanded it or was it because you fell in love with the price action."
The recent news surrounding the crisis in the Ukraine could easily support an end of month rally in the high beta stocks that have been pummeled all month. However, once the dust settles, I believe the worm will continue on course.
Price momentum alone is like a relationship based on nothing but sexual attraction. Eventually, you wake up one morning wanting something more.
Funds managed by David Nelson are long shares in AMGN.
Information is based on Zacks Investment Research Data. The 12 month forward P/E may not match other data sources as each of the venders uses different criteria in measuring consensus estimates.
Disclosure: I have no positions in any stocks mentioned, and no plans to initiate any positions within the next 72 hours. I wrote this article myself, and it expresses my own opinions. I am not receiving compensation for it. I have no business relationship with any company whose stock is mentioned in this article.