"A truly great business must have an enduring 'moat' that protects excellent returns on invested capital." - Warren Buffett
Many investors consider Exelon (NYSE:EXC) to be a wide moat company. Exelon happens to be the largest holding in Morningstar's MOAT ETF (NYSEARCA:MOAT) which seeks to invest in undervalued wide moat companies.
For those not familiar with Warren Buffett's terminology of moat, please refer to Investopedia's definition. A wide moat company has an intrinsic operating advantage that prevents others from chipping away at its profitability. This article will discuss five categories of economic moat, and how Exelon stacks up in each category.
Efficiencies of Scale
One of Exelon's strengths is the efficiency of scale achieved by operating multi-unit generating stations. Efficiency of scale is not gained simply by owning a lot of nuclear plants. Efficiencies (in the nuclear industry) are gained by resource sharing, and that can only be done effectively if plants are co-located geographically and constructed of similar design. The chart below shows that 9 of Exelon's 13 sites are dual unit sites.
| | | |
| --- | --- | --- |
| Site | Units | Type |
| Braidwood | 2 | PWR - Westinghouse |
| Byron | 2 | PWR - Westinghouse |
| Calvert Cliffs* | 2 | PWR - Combustion Engineering |
| Clinton | 1 | BWR - GE Type 6 |
| Dresden | 2 | BWR - GE Type 3 |
| Ginna* | 1 | PWR - Westinghouse |
| La Salle | 2 | BWR - GE Type 5 |
| Limerick | 2 | BWR - GE Type 4 |
| Nine Mile Point* | 2 | BWR - GE Type 2 |
| Oyster Creek | 1 | BWR - GE Type 2 |
| Peach Bottom | 2 | BWR - GE Type 4 |
| Quad Cities | 2 | BWR - GE Type 3 |
| Three Mile Island | 1 | PWR - Babcock and Wilcox |
"*" denotes Constellation Energy site
In addition, the Braidwood, Byron, Dresden, and La Salle sites are all within a 200 mile radius of each other.
These efficiencies of scale allow Exelon to operate its nuclear fleet at a lower cost and higher capacity rate than most other nuclear operators. It's important to realize that Exelon's efficiency of scale is graded against other nuclear operators, not all other utilities. Exelon is not the de-facto low cost producer because external factors determine whether or not other energy providers can produce less expensive electricity. For this reason, Exelon receives a 4 (above average) rating in Efficiencies of Scale.
Grade (1-5): 4 - above average
Low Cost Provider
In a deregulated environment, electricity is bought and sold as a commodity. If the producer of a commodity is not the low-cost producer, then they are at a competitive disadvantage. It is possible for Exelon's nuclear fleet to be a low cost provider if operating conditions are right. Inexpensive natural gas and government subsidies for renewable energy have made it difficult for nuclear operators to compete on price.
The chart below demonstrates Exelon's recent struggle to maintain a high profit margin when natural gas is below $5 per MMBTU.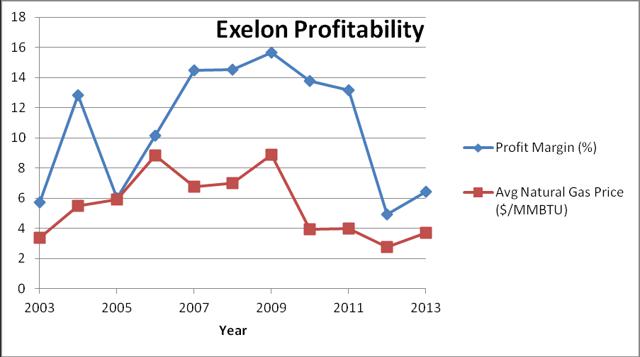 Source: Morningstar and EIA.gov
Investors and analysts may argue that natural gas prices are on the rise, and this concern will soon be in the rear-view mirror. It's easy for investors to forget that Exelon has little control over commodity prices, government regulations, or market prices. Any attempt to predict how these factors will positively or negatively affect Exelon in the future is speculation and should be realized by investors as such.
Grade (1-5): 2 - below average
Switching Cost
Switching cost is typically concerned with the financial or emotional cost of switching companies for a product. Utility customers typically do not select a company, but rather collectively vote for the source of their electricity.
New plants are difficult to build because they are expensive, difficult to license, and difficult to gain local support for a controversial fuel source. Small modular reactors may help to eliminate cost as a barrier to entry, but the reality is that it doesn't matter.
Nuclear operators are in constant competition with coal, natural gas, and renewable energy. Nuclear plants will be shut down for economic reasons if they are not able to operate profitably.
Future competitiveness for nuclear energy is less certain than it was 10 years ago. Nuclear power will likely regain its competitiveness in the near future, but investors should not assume that existing nuclear plants are impossible to replace for economic reasons.
Grade (1-5): 3 - average
Intangible Assets
The category of intangible assets includes assets which are difficult to quantify such as brand, mind share, patents, or other licenses that grant the owner some sort of monopoly. A company's employees should also be considered an intangible asset, especially if the talent level is a differentiating factor for the company.
Exelon has proven to be a top nuclear operator; at least according to the Institute of Nuclear Power Operations (INPO). Of the 100 U.S nuclear plants graded by INPO, 18 of Exelon's 22 plants are top quartile performers. The overall high performance of Exelon's nuclear fleet is attributed to the employees operating and maintaining the plants.
It should not be overlooked that Exelon not only owns 22 nuclear plants, but also owns licenses to operate those plants. A license to operate a nuclear plant should not be taken lightly as new licenses are expensive and require meeting NRC regulations to maintain. License renewals for existing plants are also relatively expensive and may require costly plant upgrades to meet license renewal requirements.
The chart below details the expiration date for each of Exelon's reactors:
| | |
| --- | --- |
| Site | License Expiration |
| Braidwood 1 | 10/17/2026 |
| Braidwood 2 | 12/18/2027 |
| Byron 1 | 10/31/2024 |
| Byron 2 | 11/6/2026 |
| Calvert Cliffs 1 | 7/31/2034 |
| Calvert Cliffs 1 | 8/13/2036 |
| Clinton | 9/29/2026 |
| Dresden 2 | 12/22/2029 |
| Dresden 3 | 1/12/2031 |
| Ginna* | 9/18/2029 |
| La Salle 1 | 4/17/2022 |
| La Salle 2 | 12/16/2023 |
| Limerick 1 | 10/26/2024 |
| Limerick 2 | 6/22/2029 |
| Nine Mile Point 1 | 8/22/2029 |
| Nine Mile Point 2 | 10/31/2046 |
| Oyster Creek | 4/9/2029 |
| Peach Bottom 2 | 8/8/2033 |
| Peach Bottom 3 | 7/2/2034 |
| Quad Cities 1 | 12/14/2032 |
| Quad Cities 2 | 12/14/2032 |
| Three Mile Island | 4/19/2034 |
source: NRC.gov
The average expiration of all licenses is in the year 2030. Investors should consider this constraint for discounted cash flow analysis.
Grade (1-5) : 4 - above average
Network Effect
Network effect is the strength of a company's product based on strength in numbers. For example, eBay has a competitive advantage over other online auction sites because eBay has the largest number of users. Exelon does not have any advantage over any other utility due to network effect.
Grade (1-5) : 3 - average
Conclusion
The term "economic moat" is overused by investors and analysts. Similar to common sense, economic moats are not so common.
The average of Exelon's moat grade based on this article is 3.2 (average). Exelon's return on equity should be sustained at a high level if the company had a durable competitive advantage. Exelon is capable of achieving above average return on equity, but only when operating conditions are favorable. True wide moat companies are not so reliant on variables which they cannot control such as government regulation, government subsidies, and commodity prices. It seems even Morningstar's opinion of Exelon may be changing.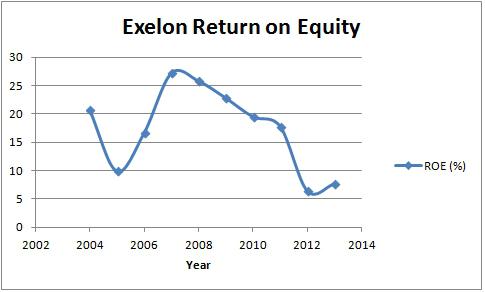 source: Morningstar
Exelon's dividend yield, at current prices, makes the stock compelling for some. However, as a value investor looking for a company with a wide moat Exelon is still a pass.
Disclosure: I have no positions in any stocks mentioned, and no plans to initiate any positions within the next 72 hours. I wrote this article myself, and it expresses my own opinions. I am not receiving compensation for it (other than from Seeking Alpha). I have no business relationship with any company whose stock is mentioned in this article.