I've always been a firm believer that while there are many reasons a corporate insider would sell their shares, there's only one reason why they buy them... They believe the stock is undervalued. Insider buying is a great additional filter when using a stock screen but I believe it alone could be a quick way to filter a short list of stocks that the ultimate analysts (insiders) believe are solid buys. When you couple this with a deep dive into the company's financials there tends to be a few greats deals for investors looking to gain from an out-of-favor company or even sector.
With so many great stock screening applications out there, it's not hard to find one that has "Insider Transactions" as a metric. I was able to find, in a screen of stocks with over $500MM in market cap and more than 1MM net insider buys, 5 stocks that could prove to be a great pick with a high enough market cap to warrant stability in the stock price.
One of the resulting stocks happened to stick out: Office Depot (NYSE:ODP). Granted some people are more comfortable investing in stocks that they understand at a commercial level, Office Depot could be a great addition to one's portfolio after some due diligence is done.
Insider Transactions
According to Fidelity, the following insiders purchased a decent chunk of ODP during the month of March; shortly after it announced its full year 2013 financial results.
Jeffery Smith (Director) ~ $13,598,000
Nigel Travis (Director) ~ $248,000
Roland Smith (Chairman) ~ $230,000
Joseph Vassalluzzo (Director) ~ $69,000
Warren Bryant (Director) ~ $28,000
This kind of trading shows that there are some moving pieces the average investor may not be able to pick up on.
OfficeMax Merger
On November 5, 2013, Office Depot merged with OfficeMax and the financial results have been incorporated into the 2013 report. Although they reported losses in Q4 2013, the company preached the fact that this merger is projected to produce around $400 million in cost synergies by 2016; this is something that company insiders would have a significant line-of-sight into and could be a driver into their buying actions, especially after earnings call in late February.
Financial Results and Fundamental Analysis
Office Depot's release to the Street this February was a big surprise, and not in the good way. The company's stock plunged 15% the day of results as many people saw the loss of business to Amazon and e-retailers to be a huge hurdle. The company's insiders clearly didn't, and as noted above a significant amount of shares were bought after this huge dip.
As it stands, there is a clear disconnect between how Wall Street views Office Depot's future and how the company views it. After comparing some of the fundamentals, including my favorites like P/CF and P/B, it's clear that the company is undervalued from a comparable ratios perspective. Looking at the bigger picture of its financials, one can see that there is great growth potential with the addition of OfficeMax and the synergies that the merger will create. Although the company posted loss in 2013, rendering the P/E and other return-based ratios useless, the other fundamental ratios and some other findings in the 2013 Annual Report seem to be in line with an "undervalued" rating for Office Depot.
I'd like to point out that ODP's ratio compared to the industry average is much lower. I also noticed that when I charted the price and P/B on a fundamental chart, the price broke out above the P/B ratio. If history repeats itself, this type of move could be a signal of a rally in the future and is definitely worth noting.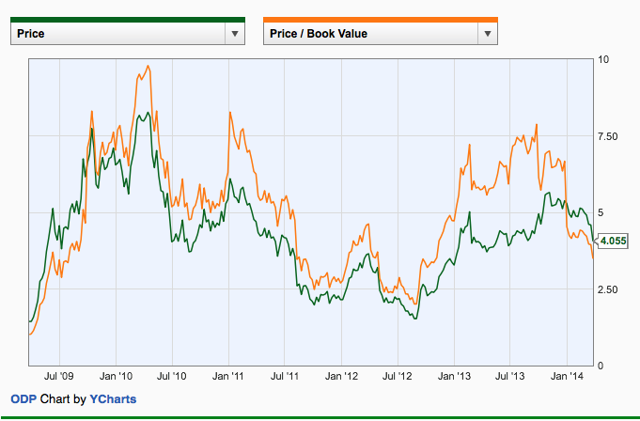 In addition to the financial ratios mentioned above, there are some key findings in the financial results that may help make Office Depot's case even stronger.
First, the company has managed to increase revenue year-over-year by around 5% while lowering SG&A by around 19%; this speaks to the synergies created by the merger and is definitely a solid sign for the company's future and the overall health of the merger.
Another note that is worth mentioning is the significant increase in taxes for the company in 2013. This stems primarily from the sale of their investment in Office Depot de Mexico, totally $140 million in tax expenses, as well as some Goodwill impairments and also expenses from the merger that aren't tax deductible. When you look at the breakdown of the company's income statement, these foreign taxes stick out like a sore thumb and are a main driver in the company's financial losses for 2013. It's important to note that these are non-continuing charges and thus the long-term financial stability should not be impacted.
Finally, Office Depot's stock has been outperforming the S&P 500 index over the past year up until its earnings release. As the economy continues to improve, we can expect Office Depot's numbers to continue to get better and begin to outperform the market again once investors and analysts begin to see the benefits to the merger and a more realistic financial picture without the income tax noise that we saw in 2013.
It's always a tough call when it comes to a stock that has a negative outlook from Wall Street analysts, but these are facts that cannot be ignored. When you look beyond the shock factor the Street got from the surprise EPS loss coupled with insider buying, it's very difficult to argue that the stock isn't worth a little time or an investment to see where it goes. When it comes to Office Depot, I believe that there is some real potential for the stock and I will be keeping an eye on its Q1 2014 earnings to see if I should take action.
Disclosure: I have no positions in any stocks mentioned, and no plans to initiate any positions within the next 72 hours. I wrote this article myself, and it expresses my own opinions. I am not receiving compensation for it (other than from Seeking Alpha). I have no business relationship with any company whose stock is mentioned in this article.