Can Krill Oil Nurse Nestle's Slowing Growth?
According to the latest earnings release, Nestle (OTCPK:NSRGY) has experienced "soft" growth in emerging markets and "minimal to no growth at all" in developed markets. As a result, Nestle has shifted strategic direction towards nutrition, health and wellness which comprise of stronger margins and an opportunity to become a platform of future growth. Given my position in Neptune (NASDAQ:NEPT) and their earlier relations with Nestle, I decided to speculate on the possibility of these two companies working together again. Who knows, perhaps Neptune's goal to promote the health benefits of krill oil may be the future growth catalyst Nestle is seeking in the health sector.
Stuck in a growth rut
Nestle is considered to be the world's largest food company, however, the giant has guided growth near the low end of its target in 2014 after reporting the smallest annual sales growth (2.72%) in four years. CEO Paul Buckle informed that after a challenging 2013, 2014 "will likely be the same" pointing to growth weakness in Europe and North America. He further confirmed that, overall performance will be "similar to last year". He pointed out that Europe is considered to be a no-growth environment for Nestle and not expected to get any better as consumers remain cost-conscious.
In response to the slower growth, Nestle has been taking steps to reorganize from traditional foods and beverages and towards wellness products. CEO Buckle has pointed out, "Reinforcing our strategic direction that is all about Nutrition, Health and Wellness". Accordingly, Nestle believes new healthcare product and medicinal foods (Pamlab acquisition) will bring higher margins and greater growth prospects, which would be key in developing a competitive advantage.
Nutrition, health and wellness sector present a tremendous opportunity for Nestle as the aging demographic in developed nations reaches the golden ages. Catering to this population will, in turn, restore growth and stretch margins. Additionally, awareness around nutritional benefits is being magnified in developing nations which are seeing the maturity of a middle class in those countries.
Latest move towards healthcare
Earlier in February, Nestle announced a €6B ($8.87B) deal to buy the remaining 50% stake in skin care maker Galderma (making it fully Nestle's) off L'Oreal and €3.4bn in exchange for 8% of L'Oreal's stock. Galderma's portfolio ranges from prescription drugs and wrinkle treatments to over the counter skin, hair and nail products. This dermatology specialist provides Nestle, a company traditionally focused on nutrition, with a more diversified offering and a projection of strategic shifts that may shape future of Nestle.
Nestle's slowing growth and shift towards healthcare suggests further deals in the space are likely. Though Galderma could end up becoming a springboard for more healthcare acquisitions, given Nestle's business of food and beverage, a medical nutrition route seems like the strategic parallel expansion move. Medical foods, such as nutraceuticals, don't face the same stringent tests as pharmaceuticals do since phase 3 of FDA approval is not required for products sold over the counter. Rising population age and recognition of special diets to deal with ailments will drive demand for these medical foods. In addition, barriers to entry into these products are also higher than normal foods.
Neptune: Pioneer of Up and Coming Nutraceutical
Neptune is the pioneer of the omega-3 krill oil market, one which the company single handedly created more than a decade ago. The krill oil market has experienced a tremendous increase in consumer awareness due to the added health benefits from consuming omega-3 from krill oil.
Neptune Krill Oil (NKO) is marine oil consisting of omega-3, phospholipids, and antioxidants. Phospholipids are known to be the gatekeepers of human cells that play an important role in keeping cells healthy and protected. More importantly, NKO is absorbed 2.5x quicker than conventional fish oils. In addition, Neptune's krill oil contains a very powerful antioxidant (called astaxanthin) that protects from harmful free radicals, and has shown to be up to 300x more powerful than Vitamin E. These unique characteristics provide significant health benefits such as maintaining normal cholesterol levels (see below) and improving joint flexibility.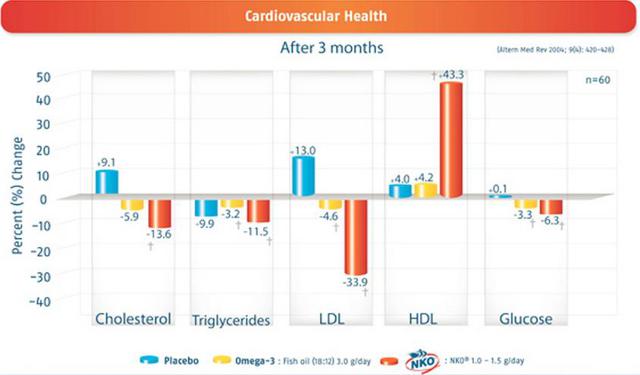 Source: Berry Naturals
As awareness of krill oil's benefits spread, so does the potential for profits. This trend has attracted much competition to Neptune. Neptune, however, has responded by leveraging its intellectual property portfolio in courts. Over the last several years, Neptune's patents have been infringed by other krill oil manufacturers repeatedly. For the most part, Neptune has reached infringement settlements (see below) with Neptune to receive royalty payments for krill oil products sold. If any company that wants to sell krill oil, they must allocate a part of its own profits to Neptune, who sits at the helm of krill oil industry.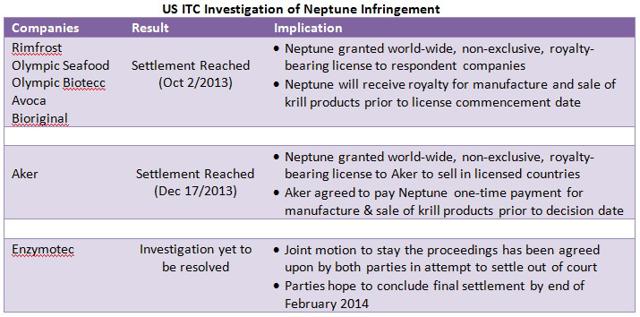 Source: Company website
Neptune expects their newly reconstructed plant to be operational any day now after the tragic explosion in 2012. In a recent press release, Neptune has confirmed that this plant would be fully operational by April 7, 2014. In-house production of Neptune's premium product will eliminate any capacity restraints that they have being experiencing, thus permitting company to meet any oncoming demand. The shortage of NKO supply caused by the 2012 facility explosion resulted in a major backlog for the company which will be satisfied once the Sherbrooke plant becomes operational. As production is restored to pre-incident levels, Neptune should see traction in their top line figure. The recent press release has shown that the new plant would be able produce more than 150 metric tons of krill oil annually, and the plant has the required space to allow for a doubling of production capacity in the future.
The launch of plant will be accompanied by a subsequent marketing campaign that set 2015 as a breakthrough year for Neptune. The public offering to raise a net $20M will capitalize Neptune for the foreseeable future as the company now has approximately $25M in their cash balance. Neptune has ensured all the necessary resources for the preparation of NKO re-launch.
Neptune on Nestle's Shopping List?
Global retail sales of omega-3 products are expected to reach $34.7B by 2016 (presenting a CAGR of 6.4%). Increased awareness of krill oil benefits should make this supplement one of the fastest growing omega-3 products in the sector.
Given Nestle's dire need for a stimulant to its growth and strategic positioning towards medical foods, collaboration with Neptune would be ideal. Neptune's growing dominance in the krill oil market would provide Nestle with access to a scientifically superior omega-3 product and potential growth catalyst. Additionally, nutrition is a large part of Nestle's offering, so integrating krill oil would be a natural fit to the product portfolio.
For Neptune, partnering with a global leader offers financial and experienced assistance in manufacturing while providing an established distribution infrastructure. Nestle's participation would advance the krill oil awareness due to the giants marketing influence backed by a deep pocket. Any funding received would cover development costs to commercialize NKO successfully which in turn reduced financing risk for shareholders. Most of all, however, the most beneficial aspect would be the validation and investor confidence Neptune would receive from partnering with a global industry leader.
To support this speculation, there has been previous research collaboration between Nestle and Neptune to determine effects of NKO on prevalent conditions affecting the worldwide adult population. It seems that NKO has been on Nestle's radar since several years ago. The two jointly participated in clinical studies to develop a functional food product that has strong medical health benefit claims. Results, which were expected sometime near the end of 2012, coincided with the plant explosion which set Neptune back. Unfortunately, the specific ailments Nestle and Neptune were working on were never revealed to the public.
Neptune's 100% fully-owned subsidiary NeuroBioPharm is developing a prescription drug candidate with neurological applications. NeuroBio assumed Neptune's role and responsibilities under a R&D study with an unspecified multinational corporation. Chances are this is the same Nestle study Neptune was working on prior to the explosion. This provides indication that a collaboration may be in the near future as the plant gets back online.
Conclusion
The sluggish growth situation that Nestle has guided needs to be settled with large potential acquisitions such as krill oil. By looking to healthcare for growth, Nestle and the omega-3 krill oil industry make a suitable match. Given Nestle's past collaboration with Neptune and their possible work with subsidiary NeuroBio, reaching another deal is not farfetched. After all, Nestle prides itself as a science-driven company ready to catch the next wave in health trend. With krill oil, Nestle would be making a huge catch.
Disclosure: I am long NEPT. I wrote this article myself, and it expresses my own opinions. I am not receiving compensation for it (other than from Seeking Alpha). I have no business relationship with any company whose stock is mentioned in this article.