Next week, Google (NASDAQ:GOOG) plans to finally split its stock nearly two years after announcing the original plan. After a relentless run beyond $1,000, the stock is actually being split for an unrelated reason that brings up corporate governance concerns.
Even the market cap reaching $376 billion and annual sales expected to reach over $70 billion this year, Google remains a fast growing technology leader. The company still obtains the majority of revenue from online search even though it continues to attempt diversification into mobile operating software and wearable devices amongst other far-flung operations.
While stock splits have no real financial impact to shareholders, the stock currently sits above $1,100 making it more difficult to own the share and less likely for shareholders to sell. After huge gains over the last couple of years, could this questionable stock split be the signal of the top after huge gains and concerning governance issues dictating the split?
Stock Split Details
Back prior to the Internet bubble, stocks were routinely split to rousing gains. Companies didn't want stocks to trade above $100, much less $1,000 to allow more widespread ownership by small investors typically required to trade in 100 share lots.
After the bubble, the reverse appears to be occurring with the stock-split shoved into the list of stuff that was wrong with the Internet bubble period. In addition, online trading platforms have reduced the costs of trading and made the trading of odd lots below 100 shares easier. Small investors priced out of $100 stocks that would require a $10,000 investment in the past can now obtain smaller lots to reduce the initial investment cost.
In reality, an investor holds the same value of stock before and after a split. The only impact is that shareholders own a different amount of shares depending on the split amount. Oh yeah, and investor psychology comes into play with more shares. Why not unload some of the shares with twice the share after the split?
In the case of Google, the company announced the Board of Directors approved a distribution of Class C capital stock as a dividend to stockholders with a record date of March 27, 2014 and a dividend payment date of April 2, 2014. In essence, shareholders will wake up on April 3 with double the shares and less voting power since Class C shares are a non-voting class.
Currently shareholders own Class A shares that carry one vote, while Larry Page and Sergey Brin own Class B shares with super-voting rights of 10 votes. This set the founders up with voting control over the company, but recent acquisitions with Class A shares have reduced the control. The split gives all shareholders a Class C share and more importantly, all new acquisitions and compensation are likely to take place with Class C shares to reduce any future impact to control by Larry and Sergey. For more details on corporate governance issues and the impacts on past stocks that issued multiple classes, readers can review the excellent article by Top Hats on the subject.
MasterCard Mega Split
Previously, high-flying MasterCard (NYSE:MA) split shares 10-for-1 in a deal that signaled the top in the stock, at least for now (see articles on the subject here). It highlights the problems with stock splits after allowing the stock to run for years to unprecedented levels. Investors go from having no reason to sell to a reason to sell along with 'extra' shares to unload. In addition, a management team that refused for years to split the stock is suddenly seeing a signal that pushes them forward with the split. Its very unlikely that in the case of MasterCard that the BOD was afraid the stock would quickly rush to $1,000 so they had better split the stock.
The troubling part about the MasterCard story is that the company soon after the split reported that Q413 earnings missed analyst estimates by $0.03. Suddenly, the darling of Wall Street was issuing warnings. Now, the company issued $1.5 billion in debt in its first bond sale on record while at the same time largest retailer is suing rival Visa (NYSE:V) for $5 billion over card swipe fees. Suddenly, MasterCard has lost all momentum.
Valuation Proposition
Looking at forward earnings estimates, Google isn't necessarily all that expensive. Along with most other stocks now considered old-tech, it sits at a comfortable valuation based on growth forecasts. On average, analysts forecast long-term earnings growth of roughly 17% with the stock trading at around 18.7x next year's estimates. In fact, the PEG ratio is a decent 1.25. In essence, the stock is valued very close to its growth rate.
As an example, fellow $1,100 plus stock Priceline.com (NASDAQ:PCLN) trades a PEG ratio of 1.16. Fellow stock splitter MasterCard trades with a PEG ratio of 1.36. Based on these numbers, Google trades in a normal range of other mega-cap, fast growing stocks.
Over the last two years, the price gains by Google were mostly inline with stock market leaders like Priceline.com and MasterCard. Only fellow competitor Apple (NASDAQ:AAPL) failed to keep up with the group during that time period.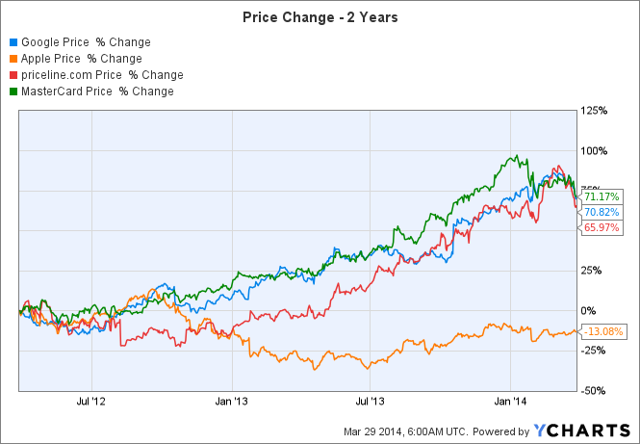 Click to enlarge
Unforeseen Threats
When MasterCard split its stock, most investors shrugged it off as no big deal, but the stock has seen unusual weakness ever since that day. In the case of Google, the stock has already lost some froth provide more cushion for any future problems. As with MasterCard, could some unforeseen issues lurk around the corner? Maybe an earnings miss or possibly a new competitor in search?
One potential headache for Google going forward is that the latest mobile ad market forecast by eMarketer forecasts Facebook (NASDAQ:FB) taking market share. While eMarketer forecasts mobile ads to surge 75% in 2014, it predicts that Facebook will increase market share to 21.7% from only 17.5% in 2013. In total, Google's market share will have dropped from 52.6% in 2012 to only 46.8% by 2014. Though still small, Twitter (NYSE:TWTR) continues to grab market share as well.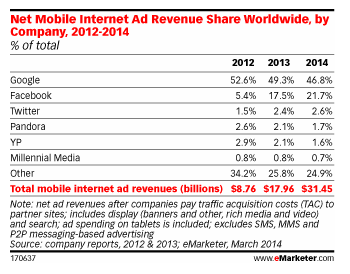 Conclusion
Unlike the MasterCard situation, Google isn't necessarily signaling a top by splitting the stock after excessive gains. The stock remains relatively attractive on an earnings basis, but the bigger issue is the lost momentum and corporate governance questions. The bigger concern is that executives have spent the last two years trying to maintain control in a move that isn't necessarily in the best interests of shareholders. As with all investments, the question is what lies around the corner and possibly this signals something that isn't so positive similar to the news that continues to hit MasterCard investors after their split.
The split might not doom the stock of Google, but it is far from a positive for shareholders.
Disclosure: I am long AAPL. I wrote this article myself, and it expresses my own opinions. I am not receiving compensation for it (other than from Seeking Alpha). I have no business relationship with any company whose stock is mentioned in this article.
Additional disclosure: The information contained herein is for informational purposes only. Nothing in this article should be taken as a solicitation to purchase or sell securities. Before buying or selling any stock you should do your own research and reach your own conclusion or consult a financial advisor. Investing includes risks, including loss of principal.