I'm now writing this piece to address the doubters who questioned my no-to-iWatch stand for this year.
I'm not going to refute that Apple is rich and talented enough to make new products concurrently this year. Tim Cook is also macho enough to produce an iPandora, iBeacon, iNetflix, iPayPal, iTesla, while concurrently boxing it out with Samsung (OTC:SSNLF), Google (NASDAQ:GOOG), HTC, Sony (NYSE:SNE), and Intel (NASDAQ:INTC).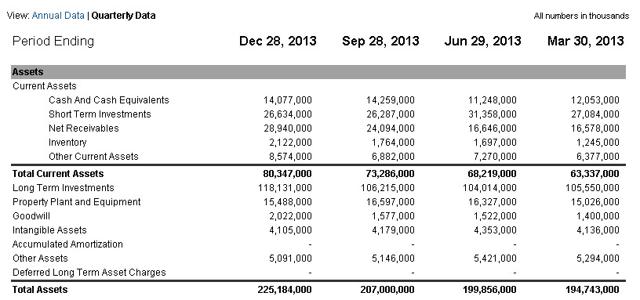 Source: Yahoo Finance
I am just saying that Apple (NASDAQ:AAPL) is better off following Mayweather's Law - fight where you can win easily. Apple, like Mayweather, became supermegarich because it focused on cherry-picking fights where it handily beat the competition. Apple should avoid the fate of Manny Pacquiao, multi-division boxing champion.
Focus On Where It Is Winning
Pacquiao got distracted and tried to become a movie actor, TV host, pop singer, and politician. Pacquiao is now a Congressman of the Philippines but he really wasted a lot of money entering politics and financing movie and music album flops.
Apple should not waste money this year on products which don't offer immediate high-margin returns like the iPhone and iPad currently do. The demand for new innovation doesn't require Tim Cook to really come up with new products. Cook can just innovate out of his current cash cows, make a bigger iPhone and make a bigger iPad.
I do not think that coming up with an iWatch this year will help AAPL break $600 again. A great iPhone 6 and a bigger iPhone 6 might do. I already explained why iPhablet (bigger iPhone) might boost phone sales in this article, please read it if you haven't done so.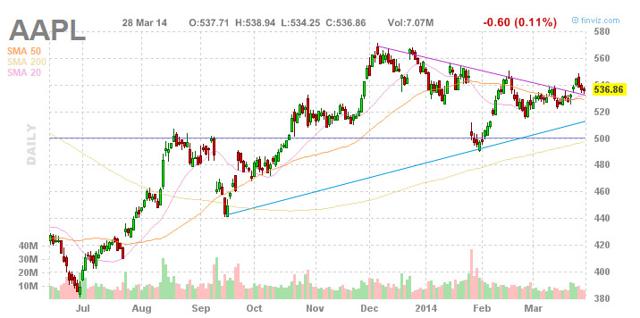 Source: Finviz
The iWatch Should Just Be A Hobby
Like the great Steve Jobs said over Apple's TV product, the rumored iWatch should also become just another low-to-no-profit hobby for the company. One SA reader said I should not be saying no to something I still don't know about.
But that's precisely why I'm saying NO. Unknown products with unknown specs, unknown features, and unknown target market, are something I'm very uncomfortable with. If somebody here can come up with an article in support of the iWatch, I'll be happy to read, analyze your views, and see if they are valid enough for me to change my no to a yes.
If you have credible information of what the iWatch will be, then by all means, share it over here at SA. Based on all the info on the propaganda pipeline, the iWatch is just a hearsay product that's supposedly a prelude to Apple's entry into wearable computing. I doubt an entry to wearables this year will help Apple again post high double digit revenue growth.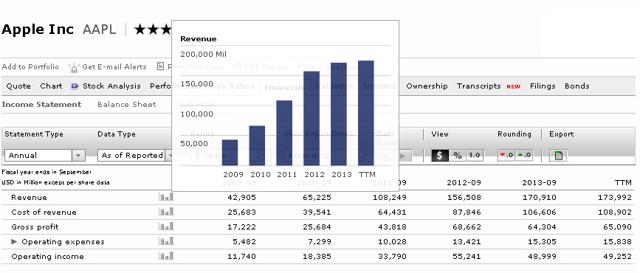 Super heavyweight fighters, Samsung, Intel, and Google have smart watch products already while Apple has yet to put its boxing gloves and mouth piece on. The latest report said Apple is recruiting Swiss watch makers, so shall I presume that the iWatch will be a high-ASP product that has mechanical parts and iOS 7 functions?
Will it be expensive enough so rich people will consider replacing their Rolex with Apple's new luxury smart watch? Nobody is really sure but I'm guesstimating that this product is either…
1. The iWatch is a mini Rolex 24k gold-plated with diamonds for rich people. It is 24karat-plated with precious stones but can also send/receive SMS and emails, play music and a pedometer. It will also monitor heartbeat and other vital signs and has Bluetooth, WiFi, GPS, and iBeacon compatibility.
2. The iWatch is low-entry $99 version of the iPhone that people put on their wrists to look cool. It can do basic smartphone functions, send/receive calls, send/receive emails, tweets, and SMS. It has spying features too, a camera, voice recorder and a pico projector too if you want to watch funny Youtube videos…
Conclusion:
I'm saying no to the iWatch this year. Yes to bigger iPhone and bigger iPad. The iWatch is a non-factor, more like a distraction for 2014. High-margin smart watch is unlikely because of competition from Samsung and Google.
I'm not infallible. Apple might even release the iWatch later this year and it could win the hearts of 200 million iLoyalists, leading to AAPL to shooting up. I'll be happy to make an apology here for giving the iWatch such a pessimistic assessment if that scenario comes true later this year.
The future is unpredictable but for the moment, I seriously doubt if iWatch and other wearable computing products will move AAPL beyond the $600 barrier this year.
I'm now an Apple bull so expect more articles from me covering this ticker. I like AAPL because it has the most beautiful valuation ratios, high profitability, and a proven moat over the competition. Here's Finviz chart again.
Apple has low TTM and Forward P/E, great P/FCF, excellent high-double digit EPS and Revenue over the past 5 years, and a sweet 21.30% profit margin. Shorts specialists are also terrified of Apple's buyback weapon so there's a negligible short float.
I'm long and strong Apple. Apple is a very cheap long-term value investment. My English is bad but I know how to read the chart below.

Disclosure: I am long AAPL. I wrote this article myself, and it expresses my own opinions. I am not receiving compensation for it (other than from Seeking Alpha). I have no business relationship with any company whose stock is mentioned in this article.