This week, a big event will occur in the stock market. Earnings season is not quite here yet, and I'm not talking about the monthly jobs report. This single stock event may be one of the most important of the year, however. I'm talking about Google's (NASDAQ:GOOG) long awaited stock split. Google will split its shares into two trading classes, but both will be included in the S&P 500. This will cause an interesting phenomenon, and will spark an interesting debate. Today, I'll discuss the implications for Google and the market.
The S&P 501?
I had a college professor who loved to ask a trick question. How many stocks are in the Wilshire 5000? When the index was created, the answer was almost 5000. Now, the number is well above that, reflecting the growth in US equity issues.
So how many stocks are in the S&P 500 (NYSEARCA:SPY)? Well, after Google's split, the answer will not be 500. There will still be 500 companies in the S&P 500, but there will be 501 components, as Google will account for two. If the split goes as planned, the two Google issues should have the combined weight that Google had pre-split.
Class A versus Class C:
I won't go into all of the details on the split here, because I've covered them extensively in the past. The current shares you see trading are Class A. For each Class A share, investors will receive a share of the new Class C stock. If you assume that the market works properly, each of these shares will trade for about $560 post split, based on Friday's close of $1,120.15.
Class C shares will have no voting rights, which is why Google is doing this. With this move, the goal is to keep co-founders Larry Page and Sergey Brin in control for a longer time period. The two own mostly Class B shares, which contain 10 times the voting power of Class A shares. A recent AP article states that the two own 56% of shareholder votes despite owning less than 15% of stock issued.
Once shares are split, Google can start using the Class C shares for compensation, acquisitions, and other dilutive items. Since these shares contain no voting power, Page and Brin won't have their voting rights reduced as quickly as they would under the old system. At the end of 2013, according to the 10-K filing, Google had 335.832 million shares outstanding, of which 279.325 million were Class A, and 56.507 million were Class B.
ETFs and mutual funds will also see a major impact:
This wouldn't be as big of a deal if Google was a small company. However, Google's market cap has risen tremendously in the past year. While shares are a bit off their recent highs, Google's market cap is over $375 billion. That's about $45 billion behind Exxon Mobil (NYSE:XOM) and $100 billion behind Apple (NASDAQ:AAPL).
As I mentioned above, the S&P 500 will change forever. Google is the third largest holding in the SPY, at around 1.91%. However, being a technology stock, Google is a much larger weight in many technology focused ETFs. The NASDAQ 100 focused PowerShares QQQ (NASDAQ:QQQ) has Google as a larger holding at nearly 8%. Google is a more than 10% holding in the iShares US Technology ETF (NYSEARCA:IYW). Google is a large holding in many technology and overall market ETFs thanks to its size. A number of mutual funds will also be affected. Here's a list of some of the top holders, of which the Fidelity Contrafund is the largest.
What happens going forward?
Obviously, this isn't your normal 2 for 1 split, where a billion shares at $100 become 2 billion shares at $50. Pricing wise at first, it will appear that way, and Google hopes that Class C shares stay at a reasonable price. There are concerns that due to a lack of voting power, investors will sell the Class C shares and buy Class A shares. That could push up the price of Class A shares, and push the price of Class C shares down. In this case, Google may have to compensate investors for the difference, and the payment could be in the billions of dollars (in either cash or more stock).
For larger holders of Google stock, holding on to the voting shares may be important. Those that want to have an influence on proxy votes may certainly sell C and buy A. I'm guessing that most smaller investors who probably don't even exercise their voting rights don't care about their votes, they only care about stock price. It will be very interesting to see how this plays out.
The other problem here is the creation of a taxable event. For those that do sell class C shares and buy Class A, you could have to pay taxes on your gains (if you have them). That could help to limit the number of C shares sold, for those looking to avoid taxes for now. But it is unclear what percentage of investors are impacted by this, and how many of them would care about the tax issue.
The post-split trading of Google will be interesting to watch, and don't forget just two weeks later the company will report earnings. One thing is certain. Volume should pick up in this name. The average volume over the last three months was just about 2.25 million shares. That's pretty light when you consider about 280 million Class A shares outstanding. Obviously, volume should pick up numerically just because the split will create more shares at a lower price. When you combine the two classes, Google could average 5 million shares or more a day, and it may be higher at first, especially if we get a flood of Class C selling and Class A buying.
Finally, the first article linked above (about the S&P 501) brings up an interesting point. Originally, the S&P indices were only going to use the Class C shares. A later decision was made to include Class A as well, which is why you'll have 501 components. As the article states, there are more than 40 companies in the S&P 500 that offer additional classes of shares. Will the index decide going forward to include extra classes for other names? This could really change how we view the market going forward.
Google has pulled back. Is it a buy? Which class?
As you can see from the chart below, Google shares have recently pulled back as part of a momentum led selloff. Google shares are more than $100 off their 52-week high, and recently bounced just above $1,102 before closing around $1,120 on Friday. Google shares are at their lowest price in about two months.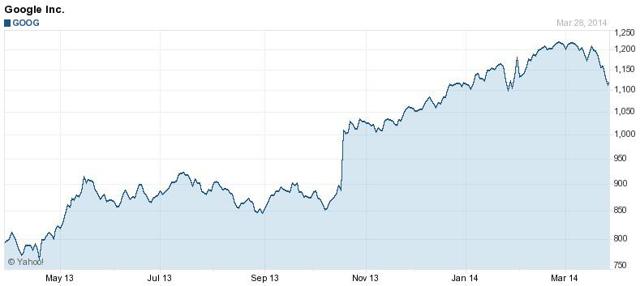 (Source: Yahoo! Finance)
The last time Google was down at these levels was around the time of Q4 earnings and the Motorola sale announcement. Despite the fact that Google missed by a sizable margin on the bottom line, there was no outrage. Investors have mostly been able to shake off a revenue and/or an earnings miss in 8 of the last 9 quarters, and Google shares raced to new highs after that Q4 report.
The reason why investors like Google is because of future growth potential. Even though the market cap has swelled, Google is still expected to grow revenues and earnings by double digits this year, next year, and perhaps for many more years to come. You won't find too many names of this size with this kind of projected growth. Even though Google trades at basically double the valuation of Apple on a sales and earnings basis, investors see potential for Google. Now that Google is shedding the Motorola business that is losing money, earnings and net income growth should really pick up. Investors will like that going forward, and they've been willing to pick up shares. For those looking to get into Google, the pullback does present an interesting opportunity.
But perhaps investors may want to wait until after the split to purchase shares. I do think the Class A shares will be preferred upfront due to the voting rights, so I could see the Class C shares trading at a discount. The important part here is what I mentioned above, and that's the potential for a taxable event. If you're only interested in one class of Google shares, wait until after the split. Otherwise, you may have a taxable event to deal with. Once shares split, you can target the class you want, and you'll also save yourself some transaction fees by not having to make three moves (original buy, sell of one class, purchase of more of the other class).
Final thoughts:
Google's split is finally about to occur, and it will have large consequences for the market going forward. First, investors and funds will have to determine which class of shares to own (if not both). Second, the S&P 500 will end up with 501 components, which opens the debate for other companies with multiple share classes. Google is using this split to protect the voting power of its co-founders, and the market will be watching closely to see how things evolve. Don't forget, Google could be on the hook for a large payment if the Class C shares trade at a discount to Class A.
So what should investors do? Well, the pullback does provide an opportunity for investors to get into the name. Given Google's potential for future growth, I do believe this is a name to own over the longer term. The average analyst price target implies more than $200 of upside from here, so analysts see the name going much higher as well. I think investors need to decide which class of shares they want to be in, and purchase those shares some time after the split occurs. This will avoid a potential taxable event and will reduce transaction costs. In the short term, I think the Class A shares will be preferred by larger market participants for the voting power, so I'd favor those for now.
Disclosure: I have no positions in any stocks mentioned, and no plans to initiate any positions within the next 72 hours. I wrote this article myself, and it expresses my own opinions. I am not receiving compensation for it (other than from Seeking Alpha). I have no business relationship with any company whose stock is mentioned in this article.
Additional disclosure: Investors are always reminded that before making any investment, you should do your own proper due diligence on any name directly or indirectly mentioned in this article. Investors should also consider seeking advice from a broker or financial adviser before making any investment decisions. Any material in this article should be considered general information, and not relied on as a formal investment recommendation.