CNN recently published an intriguing story of a 14 year old boy who claims he can save the U.S. government millions of dollars each year. The breakthrough? Changing documents' font from Times New Roman to Garamond, thereby slightly reducing the amount of ink used. When millions of documents are printed daily, that little amount of ink saved adds up. Simple as it may sound, this idea is backed up through the research of Harvard grad students, and more surprisingly, not yet thought of nor implemented by the government. It was concluded that:
"If the federal government used Garamond exclusively it could save nearly 30% -- or $136 million per year. An additional $234 million could be saved annually if state governments also jumped on board"

-Journal of Emerging Investors
Budget cuts and savings always negatively affect at least one party, and while saving $300 million of American taxpayers' money is certainly beneficial, it is coming at the expense of many companies. The most immediate one to be touched by this will probably be Office Depot (NYSE:ODP). Office Depot is the only company to supply ink and toner cartridges to the U.S. government. In their Q3 report, Office Deport said that:
"Sales improved year over year in the public sector, driven by our K-12, state and local government customer groups. With respect to product sales, we continue to experience growth in many of our solution categories, including positive sales in paper, ink and toner. Additionally, consumers are utilizing more technology and purchasing less paper, ink and toner, physical file storage and general office supplies."
Office Deport states that ink and toner sales comprises a "large part" of their technology sales. The following is a break down of its annual earnings:

Click to enlargeWith annual sales of $17 billion, a $300 million (1.7%) loss wouldn't go unnoticed. Once the government utilizes this cash-saver, schools and offices wouldn't be far behind, further hurting Office Depot.
Ink Manufacturers
Part of the Office Depot-U.S. government agreement includes supplying toner from big name brands like Canon (NYSE:CAJ), Hewlett-Packard (NYSE:HPQ) and IBM. When less ink is used, more becomes available, hence having more supply than demand.
HP leads the worldwide hardcopy peripheral market (fancy for printing and ink) with a market share of 40.5%. Sales for the printer and ink division, also contributes to more than 40% of HP's operating profit: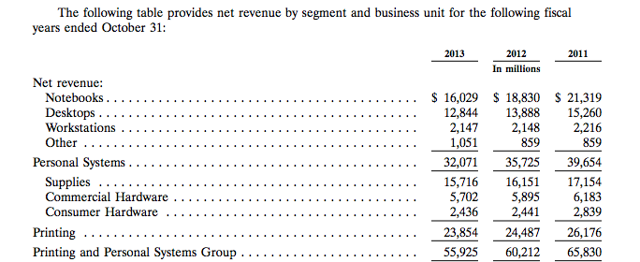 Click to enlarge
As soon as institutions and corporations follow the government's model, manufacturers, suppliers and retailers of printer ink are going to be hit by the enormous reduction of ink being used.
Disclosure: I have no positions in any stocks mentioned, and no plans to initiate any positions within the next 72 hours. I wrote this article myself, and it expresses my own opinions. I am not receiving compensation for it (other than from Seeking Alpha). I have no business relationship with any company whose stock is mentioned in this article.