In theory, investors in the Kinder Morgan group, Kinder Morgan Energy Partners (NYSE:KMP), Kinder Morgan Inc. (NYSE:KMI) and Kinder Morgan Management (NYSE:KMR), have very little to worry about. Operationally, these companies have performed very well, with DCF and distributions/dividends growing at a decent pace.
Even so, certain hedge funds and publications have had an opposing viewpoint, which has greatly increased the volatility for these stocks. However, this same volatility also offers a buying opportunity for patient investors.
The new CO2 pipeline should provide a boost by 2016
As noted in the above summary, Kinder Morgan recently announced plans to build out a $300 million, 213-mile, 16-inch diameter CO2 pipeline. This pipeline will be called the "Lobos Pipeline", and would deliver CO2 from Kinder Morgan's St. Johns source field in Apache County, Arizona, to the Cortez Pipeline in Torrance County, New Mexico. The new pipeline is slated to have an initial capacity of 300 MMCF per day, and will supply CO2 to Kinder Morgan's EOR operations in the Permian.
Besides the pipeline, Kinder Morgan will also be investing $700 million to drill wells and build out other midstream infrastructure, such as gathering, treatment and compression facilities at the St. Johns field.
Demand is strong for this service, as enhanced oil recovery techniques, or EOR, allows for the "scrubbing" of older wells, boosting production with relatively little costs. The company noted that nearly all the capacity not being used by Kinder Morgan will be under long-term contracts with various other E&Ps. This project is expected to be in service by Q3 2016.
Some have noted that Kinder Morgan should have labeled this project as "maintenance" rather than "expansion" capex. However, as I noted in a recent article, Kinder Morgan is bound to the definition of maintenance capital set forth in its partnership agreement.
"maintenance capital expenditures as capital spent to maintain an asset without increasing its capacity or throughput."
Unlike what was implied by a February 22 Barron's article, Kinder Morgan's CO2 segment is hardly dead. Indeed, with the new pipeline and wells, the company may be able to boost its DCF guidance for its CO2 segment, which was expected to decline starting in 2017.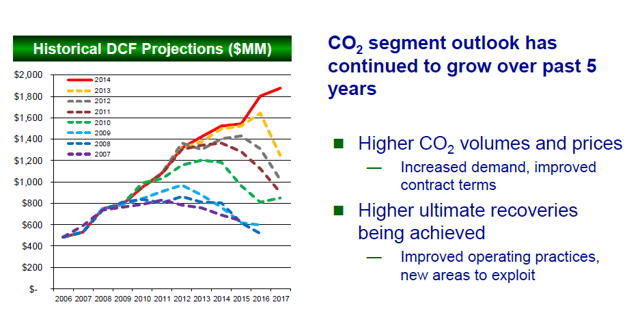 Bloomberg is bearish MLPs: How will this impact Kinder Morgan?
With Kinder Morgan's CO2 segment showing some growth, it seems odd that Bloomberg recently came out as extremely bearish on all MLPs. In the article, Bloomberg argued that investors were buying up MLPs as a source of income, sending valuations much higher. In addition, the article mentioned that investors were ignoring the risks involved with MLPs.
While the Bloomberg article does make some good points, it seems to be painting with too wide a brush. Yes, some MLPs such as Boardwalk Pipeline Partners LP (NYSE:BWP), were bad actors, downplaying their cash flows declines and spooking the market with a massive distribution cut.
However, the article totally misses the mark with Kinder Morgan. The article seems to buy into the notion that Kinder Morgan is somehow misclassifying its maintenance costs. In addition, the article downplays Rich Kinder's support for the stock, even going so far to associate him with the defunct Enron Corp.
While Mr. Kinder did indeed start out by buying Enron's pipeline businesses, Kinder Morgan has grown way beyond those humble beginnings, with the company now over 10 times larger.
Furthermore, it seems odd that Bloomberg would run such a negative article on Kinder Morgan right after the company reaffirmed its guidance for both KMI and KMP. Indeed, Kinder Morgan is now expected to generate DCF in excess of its target, largely thanks to the accretive Jones Act tanker transaction, and increase capacity on the TGP.
Conclusion
Long-term investors should focus on Kinder Morgan's actual results and ignore the day-to-day turmoil caused by Barron's, Bloomberg, etc. The company is doing well, with its guidance reaffirmed and demand for midstream services ever increasing.
In addition, given the Ukraine/Russia problems, now is the time to invest in US-based energy infrastructure and production. As noted recently by Barron's (I know, what irony), US production of oil should make this country a net exporter within the next five years. With much of that oil being produced in areas with limited demand, companies like Kinder Morgan are crucial to moving it where it is needed.
Disclaimer: The opinions in this article are for informational purposes only and should not be construed as a recommendation to buy or sell the stocks mentioned. Please do your own due diligence before making any investment decision.
Disclosure: I am long KMI. I wrote this article myself, and it expresses my own opinions. I am not receiving compensation for it (other than from Seeking Alpha). I have no business relationship with any company whose stock is mentioned in this article.