Qualcomm Inc. (NASDAQ:QCOM) is one of the leading developers of advanced wireless technologies and a major supplier of chips to leading smart devices' manufacturers including HTC (OTC:HTCCY), Samsung (OTC:SSNLF) and Sony (NYSE:SNE). Qualcomm operates through three reportable segments: Qualcomm CDMA Technologies (QCT), Qualcomm Technology Licensing (QTL) and Qualcomm Strategic Initiatives (QSI) wherein a major chunk of the total revenues (app. 70%) is attributable to the QCT segment. This article will highlight the recent performance of the company and will shed light on the changes taking place in its relevant industry.
Qualcomm Maintains a Strong Financial Position
Qualcomm's top line grew by about 10% YoY, as indicated by its recent quarter's earnings release, in an industry where growth is relatively low (5.71%). However, the bottom line did not experience the same growth. The QTL segment saw a rise in income in 2013 but negative performance was experienced in the QCT segment that accounts for a large part of the company's revenues. However, the company still maintains an edge over other market players and the QCT segment will likely regain strength in the future.
Looking at the financial standing of the company, Qualcomm maintains almost zero debt to equity ratio compared to the industry average of 8.58. This debt to equity ratio points to successful debt management on the part of the company. Moreover, it maintains a much stronger liquidity position compared to the industry as evident by its current ratio of 3.87 in an industry where 2.16 is the norm.
The company also rewards its shareholders generously through cash dividends and instituting share repurchase programs. Qualcomm's dividend yield presently stands at 1.82compared to the industry average of 1.14. The company also recently announced an increase in dividends of 20%. Moreover, Qualcomm has announced it would buy back shares worth $7.8 billion.
Patents and Growth Projection
In large part, Qualcomm's IP portfolio incorporates Code Division Multiple Access (CDMA aka 3G) and Orthogonal Frequency Division Multiple Access (OFDMA aka 4G) based technologies. Qualcomm is virtually the owner of CDMA technology which means that nearly every smart device has a Qualcomm chip fixed inside it. In fact, any company must acquire a patent from Qualcomm if it wants to launch a product that is based on CDMA technology.
The graph explains the patent distribution of 2G and 3G networks among various participants in the industry.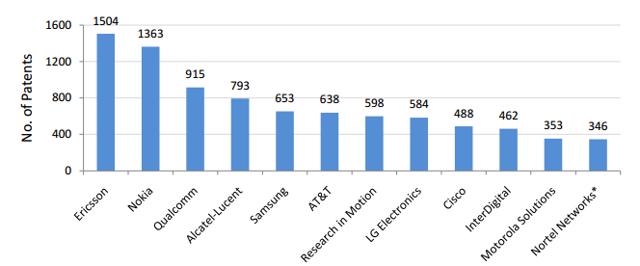 Click to enlarge
Source: iRunway, 2013
Since Qualcomm does not operate in 2G networks all of its patents mentioned above are related to 3G technology. Moreover, it was in research by iRunway that,"Nokia, LG Electronics and Qualcomm own more than 43 percent of all seminal patents". Again, since there is no 2G technology included in Qualcomm's IP portfolio, we can assume that most of the 3G technology percentage is secured by Qualcomm.
Global mobile traffic is expected to increase by 13 times by 2017compared to 2012 figures. Among these, 2G technology is losing popularity among users wile 3G and 4G technologies are expected to show robust growth into the foreseeable future. As mentioned above, Qualcomm owns a significant market share of the 3G market. These projected growth figures, combined with the fact that 3G and 4G networks form a majority of Qualcomm's IP portfolio, lead me to believe that the projection will translate directly into the top line of the company. The following figure graphically represents the growth projection of each type of technology.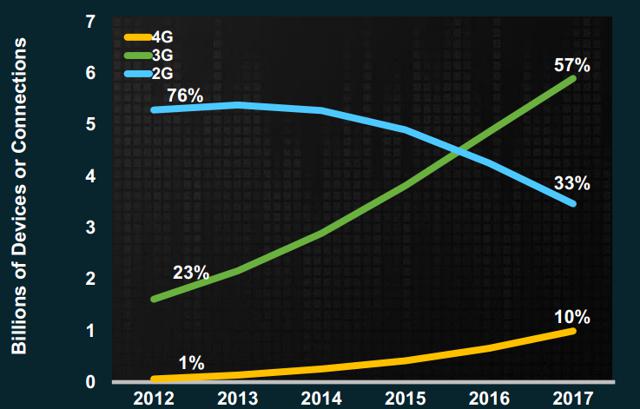 Click to enlarge
Source: Cisco VNI Global Mobile Data Traffic Forecast Update
The Industry is Becoming More Competitive
For a long time Qualcomm and Intel Corp. (NASDAQ:INTC) were market leaders in global chip manufacturing. With the rise in low priced smartphones the global market is becoming increasingly more competitive now with a number of small players entering the market. According to Strategy Analytics' estimate, the global tablet processor market grew at a rate of 32% YoY with Apple Inc (NASDAQ:AAPL) leading the market with a 37% share in revenue and Qualcomm securing second place with an 11% share in revenue.
Capitalizing on the opportunity of the demand for cheaper phones, Allwinner Technology Co has become strong competition for established players. The company became the largest tablet processor maker, pushing Qualcomm to the third place in the competitors ranking. This competition is presently limited to the developing countries where demand for cheap smart devices is on the rise selling for as low as $50. Where the demand for smart devices is already swelling internationally, availability of cheaper smart sets will drive even higher growth in the global smartphone shipments. According to the estimates provided by IDC, the sales of handsets selling for less than $150 will enhance total smartphone shipments by 22%. In fact, Allwinner alone accounted for about 21% of the total smartphone shipments worldwide.
However, one of the strengths of Qualcomm is that it is an instant responder to customers' demand. Following the new trend in low cost chips and smartphones, the company immediately started working on developing their own. Cristiano Amon, the head of Qualcomm's chip division, says the company has already launched its lower cost chips in China. China Mobile Ltd (NYSE:CHL), a leading wireless carrier in China, has recently adopted 4G technology. This opens up an opportunity for Qualcomm to distribute its 4G chips in the country.
Note that Qualcomm has been in the 4G market for the past two years and has 100% market share in devices with integrated modems. So the introduction of 4G chips by its competitors is not much of a threat to Qualcomm as they are two years behind the company in terms of market entry. Moreover, Qualcomm has the advantage of having more experience in the LTE market than any other rival firm. Building chipsets from scratch requires a lot of research, testing, and qualification work with phone-service providers so naturally phone service providers would be more comfortable with a company that has longstanding experience to guarantee its performance unlike new players. This edge over others ensures that Qualcomm will continue to lead the LTE market.
Concluding Remarks
Qualcomm maintains a strong financial position and enjoys a strong foothold in its industry. Presently, the changes taking place in the industry seem favorable for the company. The growth projected in 3G and 4G networks, the beginning of the adoption of 4G network in China and the company's advance experience compared to its rivals all points to only one conclusion: Qualcomm will grow. That aside, the company also distributes profits among its shareholders in a generous fashion. It is a definite buy.
Disclosure: I have no positions in any stocks mentioned, and no plans to initiate any positions within the next 72 hours. I wrote this article myself, and it expresses my own opinions. I am not receiving compensation for it (other than from Seeking Alpha). I have no business relationship with any company whose stock is mentioned in this article.