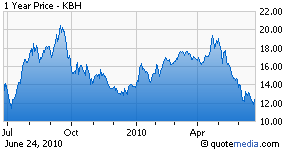 KB Home (NYSE:KBH) shares have fallen drastically heading into the Q2 earnings report. The company is expected to report Q2 earnings Friday, June 25 before the market open, with a conference call scheduled for 11:30am EST.
Guidance
Analysts are looking for EPS of (30c) on revenue of $373.02M. The consensus range is (55c)-(14c) for EPS, and $321.80M-$452.05M for revenue, according to First Call. The recent reports on the housing market have been decidedly negative, with key analyst Meredith Whitney stating that she, "unequivocally sees a double-dip in housing." The new home sales level for May was 300,000 vs. consensus of 400,000, far below April's 504,000 and more importantly, a record low. The existing home sales level for May was 5.66M vs. consensus 6.2M, and below the previous month's 5.77M. On June 16, May housing starts came in at 593K, well below the consensus of $650K. Additionally, an April 15 article in the NY Times highlighted the growing trend of defaults among loan modification participants. KB Home missed Q1 EPS and revenue estimates, but stated that it would return to profitability in the latter half of 2010.
Analyst Views
It has also been downgraded several times since its Q1 earnings report, the most recent coming on June 17 when it was initiated with a Sell rating at Guggenheim and a target price of $9. The stock has fallen approximately 35% since the beginning of May, so a wealth of bad news has already been discounted. However, with the expiration of the homebuyer tax credit, and scant evidence that the housing market has begun to stage a turnaround, the recent fall may be warranted.