Vale S.A (NYSE:VALE) is one of the biggest metals and mining companies based in Brazil. It produces and delivers iron ore, iron ore pellets, nickel, manganese ore, ferroalloys, copper, coal, phosphates, potash, cobalt and other metals from its properties and facilities that are mainly situated in Brazil.
The company's stock is currently trading at historic lows not seen since 5 years ago (see the following chart).

Click to enlarge
Source: Ycharts
Therefore I will determine whether the current situation of the stock brings an opportunity for investment.
First let us have a brief look at the current stats of the company.
Key Stats are all Sound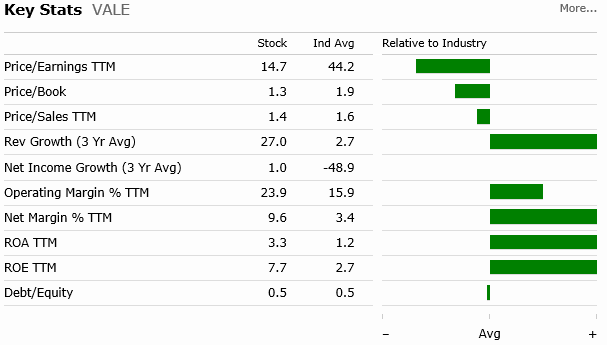 Source: Morning Star
The chart above shows that Vale's stock is currently undervalued based on its P/E, P/B and P/S ratios. The stock has a P/E of 14.7× in comparison to the industry average of 44.2×. The company has a robust 3 year average revenue growth rate of 27% in comparison to the industry's 3 year average revenue growth rate of 2.7%. As far as the company's bottom-line is concerned the net income growth and operating margins are well above the industry averages. Moreover, the company generated a healthy TTM ROA and ROE in comparison to the industry averages despite having a debt/equity ratio equal to the industry.
These stats reflect the strengths of the company as far as its historic financial performance and valuation is concerned. However, in order to determine whether the stock has found its bottom it is essential to know the main drivers that are causing the stock to decline. Factors Behind the Dip in Share Price and Looking Forward
Iron Ore Demand and China
Several investors regard the concerns of the weak Chinese economy and industrial production as the reason behind the decline in iron ore demand and prices and would prefer to sell off Vale's shares. This is because the company generated 58% of its gross operating revenue for FY 2013 from its iron ore and 12.6% of its gross operating revenue for FY 2013 from iron ore pellets. China contributed 38.6% to the total revenue earned by the company in FY 2014. China is the earth's largest buyer of iron ore, accounting for 66% of global demand for seaborne iron ore in the year 2012.
There are forecasts of an upsurge in iron ore imports from China for FY 2014. The demand for iron ore was somewhat strong in 2013 and the company recorded a 1.2% rise in its gross operating revenues from iron ore and a 4.5% rise in its gross operating revenues from iron pellets in FY 2013. Looking forward, it is anticipated that China's dependence on foreign iron, such as that exported by Vale from Brazil, is likely to reach record levels in 2014, according to industry officials. This may support upholding iron ore prices during the current year as shown in the EIU iron ore price forecast chart below.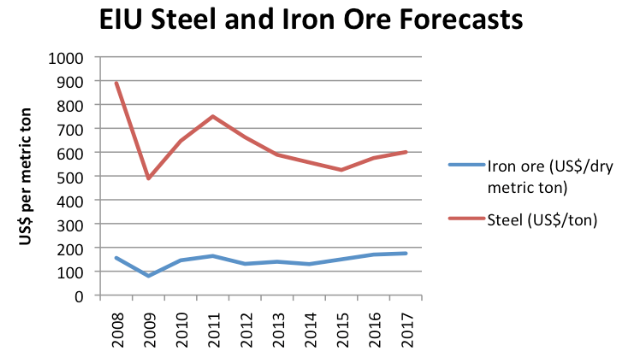 Source: Metal Miner
The maintenance of iron ore demand growth by China will mainly be due to the steel industry despite the Chinese government's efforts to curtail the industry. The government's efforts to curtail the steel industry are aimed at reducing pollution and overcapacity but are difficult to achieve due to political factors and the steel industry is a major employer of the state's population.
Additionally, iron ore exporters to China will receive a benefit from the 6% rise in Chinese iron ore imports to 870 million metric tons in 2014 due to attractive prices as China's cost of producing its own ore remains high (457 yuan ($75) per ton in comparison to $30 to $60 per ton for imported ore). As a result, Brazil is estimated to increase its iron ore export volume in 2014 by 9.1% to 352 million tons.
Now let us have a look at the company's efforts to strengthen its bottom line and offer returns to investors.
Cost-Cutting Initiatives
Vale's profitability and its stock price are heavily dependent on iron ore prices. The chart below shows the company's stock price change and the change in iron ore prices over the previous year.

Click to enlarge
Source: Ycharts
Iron ore prices are forecasted to continue decreasing in the coming months so it is essential to know whether the company has sufficient margins to sustain the fall in iron ore prices. Fortunately, the company's average realized price of iron ore was US $107.43 per metric ton in FY 2013, marginally higher than the US $105.41 in FY 2012. That is well above the company's FY 2013 cash cost of mining at $23/ton and $5 lower than the cost in FY 2012. This was due to the company's ongoing initiatives to reduce costs.
Analysts forecast that iron ore will average $100-$119 in 2014 so the company's low and declining cash cost will keep its bottom line secure from being hit hard by the declining iron ore prices.
Furthermore, the company is undertaking numerous measures to improve its profitability and its management is dedicated to reducing costs. Credit Suisse estimates that the company will reduce its costs by around $400 million in FY 2014. The company is making serous efforts to cut transport costs. To do so the company is working to develop a new marine terminal in Malaysia that is anticipated be operational by Q4 FY 2014. The company's current transportation cost is round $22/ton and is projected to fall by $4-$5/ton for shipments to China after the marine terminal in Malaysia is operational. As a result, the company will record a decline in its transportation costs that will consequently add to its bottom line. The company plans to reduce its SG&A expenses by 10% during FY 2014 after recording a 39% reduction in FY 2013. Additionally, the company is also targeting a 50% reduction in its pre-operating and stoppage expenses for FY 2014 in addition to a reduction in COGS. Accordingly, the company is expected to deliver 16% ROE in FY 2014 up from 9% in FY 2013.
Returns to Shareholders
In FY 2013, the company paid $4.5 billion as dividends to its shareholder and has committed to pay a minimum dividend of $4.2 billion in FY 2014.
At its current share price the company has a hefty 6.69% dividend yield. Looking forward, the aim is to improve its capital efficiency and reduce its capital spending for the coming years (see chart below). This will also spare funds for dividend payments as the company has disclosed its intention to use its free cash flow to suitably reduce its debt and pay additional dividends to its shareholders.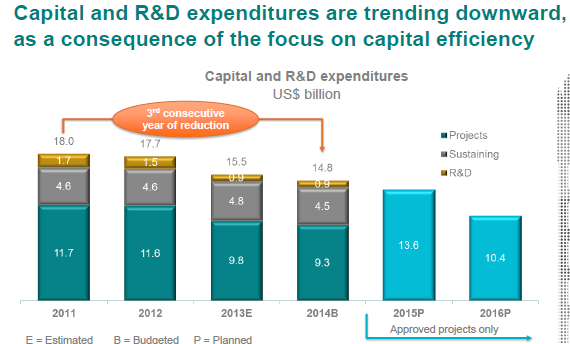 Source: Vale Presentation
Analyst Rating and Final Remarks
A few weeks ago Morgan Stanley analyst Carlos De Alba reiterated an overweight rating on Vale's stock with a $17.50 price target. The analysts have forecasted an improvement in the company's ROE for FY 2014 buoyed by management's efforts to strip non-core assets and initiatives for cost reduction.
Additionally, as per recent discussion, the prospects from the iron ore industry in China are not that dark for the company. This is because there are factors that will preserve iron ore demand from China and will prevent its price from falling too deep. Moreover, the company has sufficient margins to sustain the forecasted fall in iron ore price. So, with strong financial performance and position in the market, to date, and predictions of better returns to investors the company is a good buy at its current depressed price.
Disclosure: I have no positions in any stocks mentioned, and no plans to initiate any positions within the next 72 hours.
Business relationship disclosure: The article has been written by a Gemstone Equity Research research analyst. Gemstone Equity Research is not receiving compensation for it (other than from Seeking Alpha). Gemstone Equity Research has no business relationship with any company whose stock is mentioned in this article.