On March 28, Baidu Inc. (NASDAQ:BIDU) filed its Form 20-F with the SEC. This regulatory filing included some data and information that was not seen in Baidu's 4Q13 earnings release and conference call. Below is the data and my analysis:
Baidu's number of paid clicks grew 32.7% year-over-year. According to the 20-F filing, Baidu's number of paid clicks grew 32.7% year-over-year in 2013 (Exhibit 1). As a search engine, Baidu's total revenues can be calculated using this formula: Revenue = Cost Per Click x Number of Paid Clicks. Based on this formula, we can calculate that Cost Per Click rose 7.9% year-over-year in 2013. These data points provide investors with more clarity on what drove Baidu's 43.2% YoY revenue growth in 2013. My interpretation of the data is that Baidu's revenue growth in 2013 was mainly driven by increasing traffic.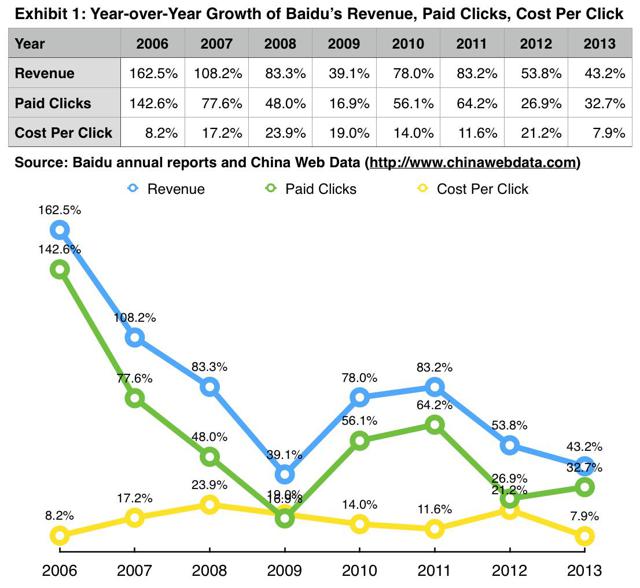 Click to enlarge
Sales and marketing headcount recorded the biggest annual growth in six years. Baidu's 20-F filing also shows the number of sales and marketing employees jumped 54.8% year-over-year in 2013, the fastest growth in six years (Exhibit 2). The share of sales and marketing staff among all Baidu employees rose to 41.6% in 2013 from 40.8% in 2012. These data points indicate that Baidu's strategy became more sales-oriented in 2013, after de-emphasizing sales and marketing in the previous three years.
Exhibit 2: Historical Trends of Baidu's Sales & Marketing Headcount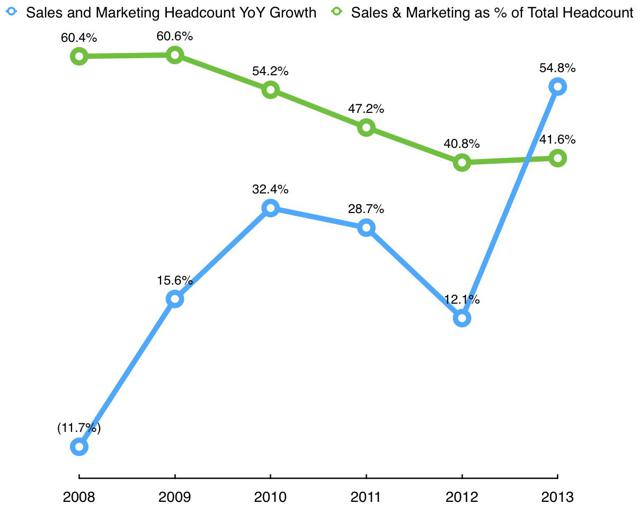 Click to enlarge
Other notable information. According to the 20-F filing, Baidu plans to add five more data centers in 2014. In the Internet industry, adding more data centers means increasing the number of servers that are available to handle website traffic. My interpretation of Baidu's plan to add five data centers is that the company is expecting healthy growth of traffic in 2014. The filing also cited a report by market research firm iResearch showing Baidu as the most used Internet search provider in China, capturing 81.6% of Internet search traffic in China in 2013.
Disclosure: I have no positions in any stocks mentioned, and no plans to initiate any positions within the next 72 hours. I wrote this article myself, and it expresses my own opinions. I am not receiving compensation for it (other than from Seeking Alpha). I have no business relationship with any company whose stock is mentioned in this article.