Volkswagen (OTCPK:VLKAY), world's third-largest automaker behind Toyota (NYSE:TM) and General Motors (NYSE:GM), has been an exceptional performer in the automotive industry, gaining 158% over the last three years. Although the U.S. is one of Volkswagen's smaller markets, it is a top seller in Europe and China. As the company aspires to become the global industry leader by 2018, here are a few reasons to back up its ambitious claim.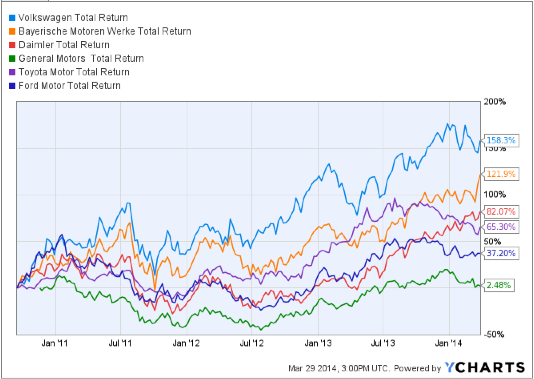 European auto industry poised for a rebound
Europe's beleaguered auto industry endured a six-year slump, with auto sales falling to the lowest level in nearly two decades, as a sluggish economic recovery and austerity-hit consumers cut back expensive purchases. However, going by the recent data trends, the industry is headed for a revival this year. European auto sales increased 7.6% in February, marking the sixth-straight month of sales increase, as steady economic recovery in Italy, Portugal and Spain spurred demand for new cars, according to the European Automobile Manufacturer's Association (ACEA). The improving consumer confidence, amid a recovering Eurozone economy, is likely to drive a 2% to 3% upside in the auto industry this year.
Volkswagen, Europe's biggest automaker, is best positioned to benefit from the rebound. As a matter of fact, it has significantly helped the region's improved sales in recent months, posting rises of 8.9% and 7.2%, respectively, in January and February this year. If demand holds up, Volkswagen can considerably outperform the regional market this year. Furthermore, global auto sales in 2014 are seen rising 3.4%, according to a report by Reuters. Needless to say the positive market sentiment augurs well for automakers like Volkswagen.
"Luxury" is what's working
Volkswagen released its 2013 annual report recently, which provided an interesting snapshot of current trends in the global auto business. The report clearly indicated the soaring demand for luxury brands of late. For instance, brands like Audi and Porsche were selling well not only in Europe but also the United States, the world's largest market for luxury cars. According to the report, Audi sold nearly 1.6 million vehicles in 2013, which yielded a little over 5 billion euros in profits. The brand is going strong this year as well. In fact, the growing demand for Audi's various models boosted its sales to a record high for the 38th consecutive month in February. While BMW (OTCPK:BAMXF) sold more luxury cars in 2013 than Volkswagen's Audi, the latter is likely to become the global sales leader for luxury cars in 2014.
Besides Audi, Volkswagen owns a number of luxury brands such as Bentley, Bugatti, Lamborghini, but the one that cannot be overlooked, in terms of 2013 performance, is Porsche.
Volkswagen Group managed to sell 9.7 million vehicles, globally, last year. Porsche accounted just 1.7% (i.e. approx. 162,00) of the total sales volume, but represented 22% of VW Group's total profits. As a result, the brand made as much profit as the VW brand did by selling nearly 6 million vehicles during the same period. Audi and Porsche together accounted for 18% of VW's sales volume, but represented nearly two-thirds of the company's total pre-tax profit last year. Unequivocally, this illustrates the profitability of brands like Porsche, which is precisely why automakers around the world are suddenly prioritizing such brands.
Sure enough, the power of luxury brands is forcing automakers to rethink their strategies, but Volkswagen has an advantage that makes its luxury brands far more profitable. The company's luxury brands benefit from economies of scale, shared engineering, R&D, and parts with the mass-market models of VW brand. For example, a lot of engineering and parts are shared between Porsche Cayenne and Audi Q7. This helps the company in keeping its costs low, thus maximizing its profits. Of course, luxury brands also provide pricing power to manufacturers, thus allowing them to maintain higher profit margins.
Driven by strong demand for Cayenne model, Porsche sales climbed to 3,232 units in February this year, not to mention Macan, the compact SUV that will soon figure in the Porsche lineup.
Emerging markets promise high growth
Emerging economies, particularly China and India, are expected to drive growth in the auto industry over the next few years. Home to 36.6% of the world's population, China and India are key markets to spearhead industry's future growth. China, the biggest and fastest growing auto market, offers a number of opportunities for automakers. The nation has a low car ownership rate of approximately 8.3% and increasing levels of disposable income. Last year, it became the first nation to surpass domestic sales of 20 million units. Not only is China VW Group's biggest market in Asia but also in the world. To put that into context, VW Group sold 3.64 million vehicles in the Asia-Pacific region last year. Of which, 3.27 million vehicles were delivered to Chinese customers. For that reason, the German automaker is investing heavily in China in order to scoop up a greater market share.
In the world's second most populated nation, India, only 0.5% of people own a vehicle. With a relatively higher economic growth and low penetration rate, India forms a key source of growth for global auto industry, along with China and Asean nations (Thailand, Indonesia, Malaysia, the Philippines and Vietnam).
Accordingly, VW Group plans to aggressively penetrate into these high-growth markets. In China, it aims to invest $25 billion and manufacture about 35 models locally over the next 4 years. Similarly, the company has multi-year plans to increase its market share in other thriving auto markets around the world.
Final thoughts
Overall, Volkswagen has been doing well, besides providing great returns to its investors. It is poised to benefit from the European auto industry revival and its strong focus on high-growth emerging markets, especially the Chinese market. In addition, the German automaker has a strong lineup of very profitable, luxury car brands that are steadily growing sales not only in Europe but also in the U.S and Asia-Pacific. With global auto industry likely to grow appreciably this year, VW's future looks bright.
Disclosure: I have no positions in any stocks mentioned, and no plans to initiate any positions within the next 72 hours. I wrote this article myself, and it expresses my own opinions. I am not receiving compensation for it (other than from Seeking Alpha). I have no business relationship with any company whose stock is mentioned in this article.