Earnings season will be coming around yet again, starting sometime right around April 7th. I love earnings - they provide a ton of useful ways to trade certain companies, and they come around four times a year. Factor in the range of time it takes some companies to report, and it's basically happening year round.
Unofficially kicking off earnings season this quarter is Monsanto (NYSE:MON), the biggest name that's reporting the earliest; it is expected to report on Wednesday April 2nd, this week.
We all know that Monsanto isn't a battleground stock - it's a battleground company. Month after month, we see headlines surrounding Monsanto's use of GMO in the products that they produce. Recently, as Jim Cramer often points out when talking about the food industry, there has been a push for GMO-free and organic food in the U.S. Monsanto argues efficiency and a means for feeding all the people of the world that otherwise wouldn't have access to food (and, of course, profit). Those opposed to the company say it's unnatural, and that the company is selling "franken-food".
Monsanto has traded rather stagnantly over the last twelve months, finding itself up just 6.3% in the last year. In 2014, the stock has been off 3.4% on unease stemming from Ukraine.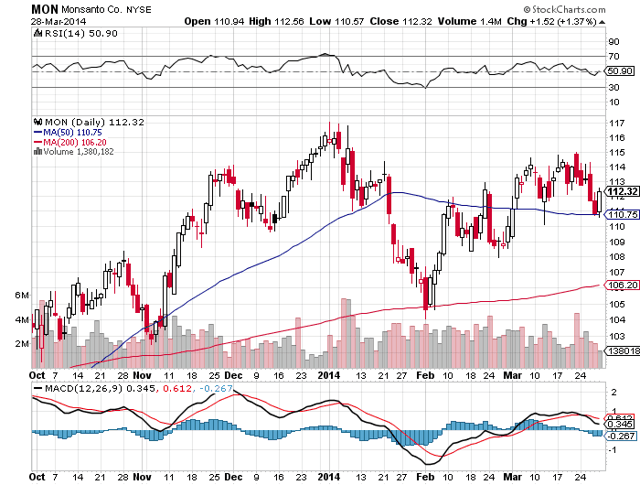 Click to enlarge
The company currently has a market cap of $58.95 billion and trades at a forward P/E of 18.66, showing the market expects modest to aggressive growth in the coming year from Monsanto.
Analysts are going to be expecting EPS of $3.08 on revenues of $5.81 billion. This represents an EPS YOY increase of 12.8% and a YOY revenue increase of 6.2%. These estimates have been pared back over the last couple of months by analysts across the board.
(source - Yahoo Finance)

The focus, heading into earnings, is going to be on seed sales that could have been potentially slowed by the violence and unease overseas between Ukraine and Russia. Monsanto is one of many companies, like DuPont (NYSE:DD) and Dow (NYSE:DOW), that have major subsidiaries of their business in this region.
Recent news behind Monsanto occurred on March 28th, when the company was upgraded to a buy at Miller Tabak:
Monsanto (+1.2%) is upgraded to Buy from Hold with a $130 price target, up from $106, at Miller Tabak, noting that the street is bracing for limited-to-no upside to FY 2014 guidance because of uncertainty over the impact of tightening credit on Ukrainian seed volumes going forward and Brazilian weather impact on Intacta supply availability for next season.
The firm sees a positive shift in underlying agriculture macro trends enabling MON to bridge the earnings hurdle between recent multi-year highs, Roundup margins, strong seed prices and the next burst of material margin uplift from Intacta and IFS products in FY 2016.
Companies like Dow and the newly split FMC will continue to keep competitive pressure on Monsanto, as well.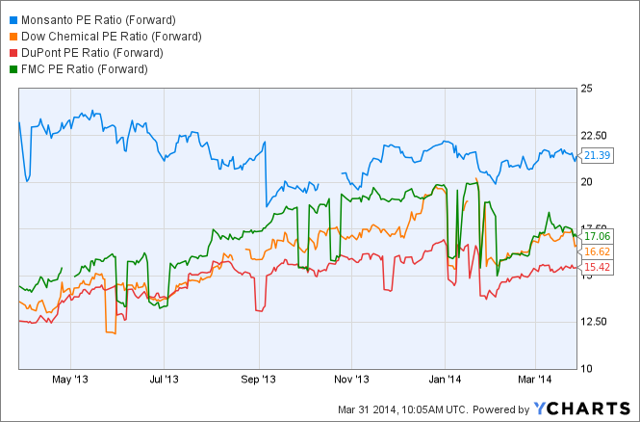 Click to enlarge
MON PE Ratio (Forward) data by YCharts
For this particular instance, QTR is staying on the sidelines and doesn't suggest jumping into Monsanto specifically for earnings. With the questions looming about how the company has been affected overseas and the perpetual negative PR against the company continuing to churn, Monsanto's multiple comps give me some caution.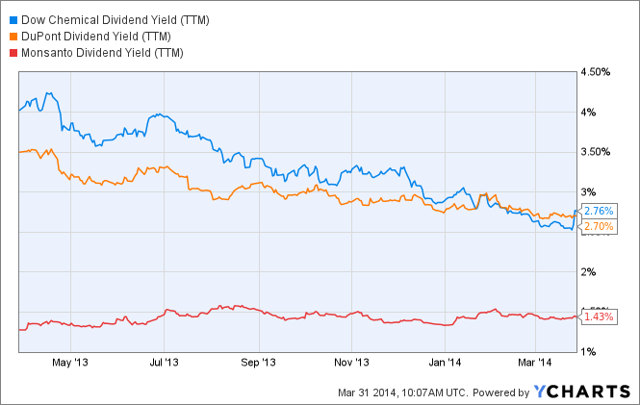 Click to enlarge
DOW Dividend Yield (TTM) data by YCharts
For those who are looking to get into this sector, Dow and DuPont both seem to present cheaper prices for the yields that they are offering.
Thusly, I'll be watching Monsanto's earnings from the sidelines, and recommend that investors do the same or, at least, exercise some pause and caution when stepping into this expensive stock.
Best of luck to all investors.
Disclosure: I have no positions in any stocks mentioned, and no plans to initiate any positions within the next 72 hours. I wrote this article myself, and it expresses my own opinions. I am not receiving compensation for it (other than from Seeking Alpha). I have no business relationship with any company whose stock is mentioned in this article.