Alcoa (NYSE:AA) is the third largest producer of aluminum in the world, based out of New York City and operating out of Pittsburgh, PA. The company has over 61,000 employees and has been around since 1888.
I couldn't believe as I was glancing down at my earnings calendar that Alcoa reports in just one week from now. The company is going to be reporting earnings on April 8th - Tuesday of next week - after market closes.
It seems like just yesterday Alcoa disappointed on earnings and then took off like a rocket ship as soon as I added to my position somewhere in the $10 range last quarter. Alcoa has been one of the best positions that I've taken since the beginning of this year.
Alcoa has traded extremely well for investors over the last twelve months, far outperforming the market indices and up 46.5% in the last year alone. In 2014, the stock has continued to move, up 17.4% in the last three months alone.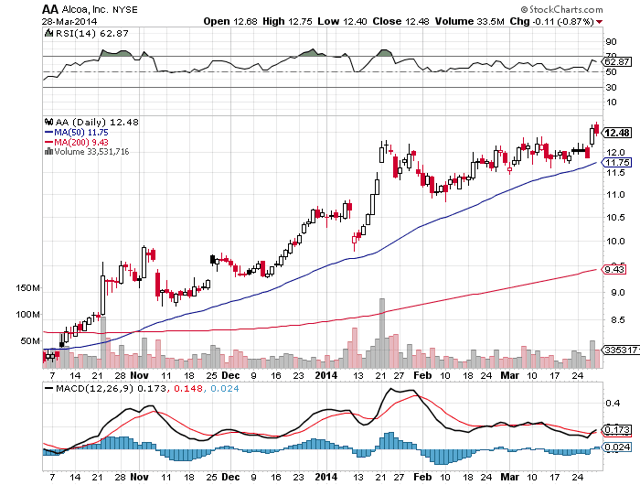 Click to enlarge
Yum - that is a fine looking chart for those of you that are bullish.
Some of the recent move upward had been catalyzed by warehouse reforms in the U.K. that were planned by the London Metal Exchange - that a court eventually ruled against. The constraints would have put some pressure on Alcoa to deliver metals to consumers quicker.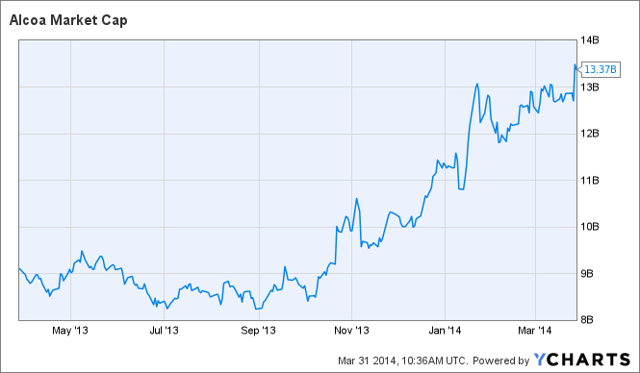 Click to enlarge
AA Market Cap data by YCharts
The company currently has a market cap of $13.45 billion, is barely trading off its 52 week high of $12.75, and yields about 1% on its dividend.
Analysts are going to be expecting EPS of $0.05 on revenue of $5.58 billion, which represents a 4.4% decline YOY. Aluminum prices, which many have argued have bottomed, are going to be the culprit for a decline in revenue. Additionally, certain parts of Alcoa inventory have also been excessive.

The company had recently got some help from analysts, with Sterne Agee and Morgan Stanley both publishing positive reports on the company in the first two weeks of March. These reports have helped fuel the company's current stock run in the midst of questionable fundamentals.
Aluminum prices have been on the decline over the past couple of years, but are forecasted to bottom and rise in the coming year. When they do, companies like Alcoa, who are taking on tons of new business (like Ford), stand to benefit in a major way - as do their shareholders.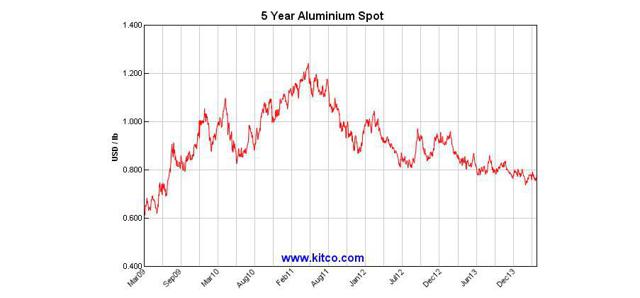 Click to enlarge
While definitely not a sure thing, I consider Alcoa a strong hold into, and through, earnings. I'm contending that the company is a hold based on a couple of factors: first, the eventual rise in aluminum pricing. Second, Alcoa has strong footholds in both aerospace, and now in the auto industry with its recent Ford (NYSE:F) and GM (NYSE:GM) partnerships. Third, Alcoa is a dividend payer - for those skittish about the short-term performance of the company's stock, you can consider a DRIP program to take advantage of the stock dipping lower, which - in turn - raises the company's yield.
Disclosure: I am long AA, F, GM. I wrote this article myself, and it expresses my own opinions. I am not receiving compensation for it (other than from Seeking Alpha). I have no business relationship with any company whose stock is mentioned in this article.