A few days ago, I wrote an article on Capstead Mortgage (NYSE:CMO), and although I got a little "push back" from some of the readers, I'm encouraged that I was able to voice my opinions about this Mortgage REIT. I summarized by viewpoint on Capstead as follows:
CapStead's common dividend yield of 10.48% does not compensate for the higher risk that impedes the dependability of the dividend stream. Given my risk-tolerance level, I cannot justify this opportunity and more importantly, I cannot stomach the potential for loss.
I started that article (on Capstead) by explaining that the mREIT business model looks attractive (to me) based upon "an increased opportunity to benefit from the securities that are guaranteed by Fannie and Freddie with backing of the U.S. government".
One reader pointed out that Capstead has outperformed a number of Equity REITs and that the company has a proven track record of performance. The snapshot below illustrates the Total Returns (since June 15, 2005) for Capstead, Realty Income (NYSE:O), National Retail Properties (NYSE:NNN), and W.P. Carey (NYSE:WPC). (Source for chart: SNL Financial)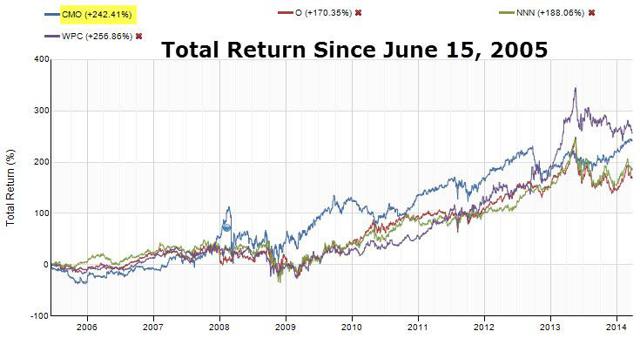 Click to enlarge
Now we all know that mREIT dividends are more volatile than most Equity REITs, and during the same period (referenced above), Capstead's dividend yield was much less consistent. Conversely, it's important to recognize that many investors purchase REIT shares for dependable and reliable income - a durable revenue stream that can be relied upon over a series of years.
The reason that I used these three Equity REITs (as a comparison) is because they NEVER have cut a dividend, and accordingly, investors relied upon the income for safety and consistency. During the time period referenced above, all three of these Equity REITs boosted their dividends annually, indicative of a company with consistent profit margins over a long span of time. (Source for chart: SNL Financial)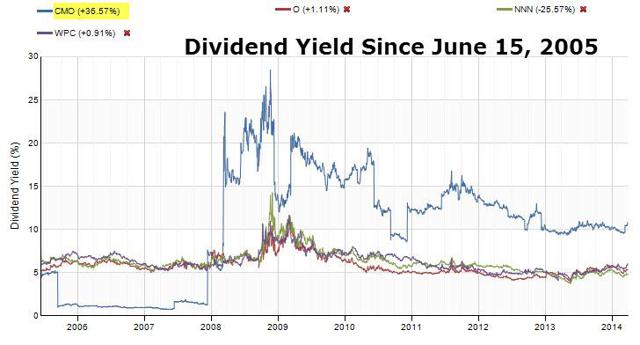 Click to enlarge
Clearly, a dividend payment is the ultimate sign of corporate strength, and although Capstead has paid the highest dividend yield, it does not necessarily mean it's the safest. When you examine a company's pattern of dividend payments, you can find valuable clues that provide meaningful insight. Specifically, a company that has raised its dividend consistently represents a commitment to shareholders by management that the income is dependable and can be counted on.
As I learned from my latest article, Capstead has defied the odds of most mREITs by outperforming the dividends paid to investors. In order to be the leader (based on Total Return), Capstead has had to endure a highly unpredictable dividend history, and investors have had to tolerate a very inconsistent revenue model. For some investors, that's perfectly fine, and for others, it could be disastrous.
When you boil it all down, there is risk in owning shares in companies with unpredictable income. That's not to say that Capstead is a bad stock; however, an investor should assess the risk and determine whether or not he or she can afford the dividend cut. After all, there is an opportunity cost, and each investor should distinguish his or her tolerance level for controlling the necessary level of dividend income. (Source for chart: SNL Financial)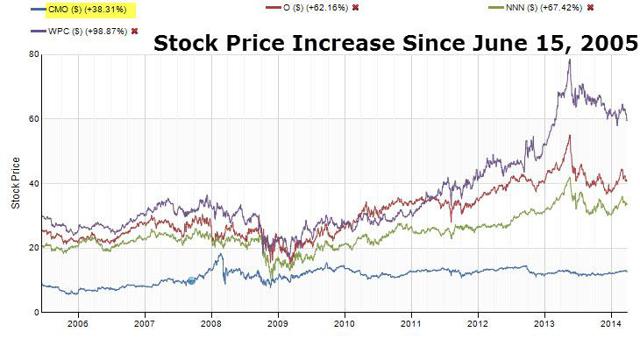 Click to enlarge
Most of Capstead's profitability has been attributed to the high dividends paid, and over a long period of time, it's clear that on a risk-adjusted basis, I find these three Equity REITs more attractive. However, for those that enter the market at the right time, Capstead can also be an excellent income and capital appreciation alternative. However, I consider myself a more "defensive investor", where I confine myself to "the shares of important companies with a long record of profitable operations and in strong financial condition". As Benjamin Graham explained:
It is the consistency in the products that creates consistency in a company's profits. Consistency and durability are attributes for competitive advantage.

Click to enlarge
I Focus on Dividend Safety
As Josh Peters wrote in The Ultimate Dividend Playbook:
Don't look at yield until you've analyzed the safety of the dividend, the ability for the dividend to grow, and the overall merit of the stock.
Admittedly, I'm not an expert in the mREIT sector, and it's impossible for me to provide you with intelligent recommendations that involve more complicated trading strategies. Most mREITs are financially engineered to payout high dividends, and the risk profile really boils down to accurate market timing.
Recently, Eric Parnell wrote an excellent article comparing Dividend Aristocrats that increased dividends with ones that cut them. I thought his content was spot-on and so was his summary:
The good news for dividend growth investors is that all is not lost if a company with a long history of steadily increasing its dividend opts either to stop raising it or cut its payout to shareholders. For it has been a roughly even split in the post crisis period between those companies whose share prices have held up well and those that have struggled.

This does not at all mean that dividend growth investors should have their portfolios on autopilot, however, as continued oversight and active management has the potential to add meaningful value in this context. For those investors conducting continued and in depth fundamental analysis on the dividend growth stock space would have likely been able to identify in many cases the advance warning signs that resulted in the dividend cuts and subsequent struggles among those that have performed particularly poorly from the list above.
Bingo! There is no right or wrong answer, and Parnell's article proved that point. However, my research and investment approach is centered on a more strict strategy of long-term investments that result in superior results. There is simply no substitute for this self-disciplined approach and the magnificent power of compounding effect. As Marc Lichtenfeld explains in Get Rich with Dividends:
Compounding takes a while to get started, but once it does, it's like a runaway train going downhill, picking up momentum each year.
Reinvesting dividends can allow you to "super-size" your portfolio - something like owning shares in a free ATM machine. As Lichtenfeld explains:
If you're an investor who doesn't need the income right now and can put off instant gratification for long-term benefits, reinvesting your dividends can generate the kinds of returns you probably thought were possible.
REITs with DRIPs
Dividend reinvestment plans, or DRIPs, allow investors to buy stock directly from the company, instead of going through a stockbroker. There are virtually no barriers to opening a DRIP account. All you need, in most cases, is a single share of the company stock. What's more, once your account is open, you can invest as little as $25 at a time to buy shares or fractions of shares. You can also make much larger investments, generally up to $10,000 a month.
According to directinvesting.com, there are 81 REITs that offer the DRIP option, and 51 of those companies do not charge any fees for investing or reinvesting the dividends. You can find out whether a REIT you are interested in offers a DRIP by entering the company symbol or the company name at the directinvesting.com website. I spoke with Vita Nelson, Editor of The Moneypaper's Guide to Direct Investment Plans and co-manager of The MP 63 Fund (MUTF:DRIPX) - a fund made up entirely of companies that offer DRIPs - and she explained (in a telephone interview):
DRIPs make it easy to establish a strategy for investing. Without a strategy, you are probably speculating. That strategy is to build holdings in a widely diversified portfolio, buying more shares at relatively low prices and fewer shares when prices are relatively high. Wealthy investors are likely to "average down," when a stock price tanks. With DRIPs, even small investors can take advantage of such strategies.

That's because DRIPs accept very small investments and don't charge fees. Even if you can only afford to put $25 a month into a stock, you can build substantial holdings over a period of years in no-fee DRIPs. In effect you would be saving in stock instead of the bank (where you would earn little, get taxed more, and would not participate in the growth of the economy).

Many of our customers have dollar-cost averaged into what has become $ million portfolios. The dividends continue to compound, accelerating the growth, and they end up with real wealth-starting with virtually nothing (not even enough to buy a round lot of one company!).
In December (2013), I introduced a new portfolio (for my newsletter subscribers) called the "Disciplined and Durable Dividend Portfolio" (The 3D REIT Portfolio). This list of REITs in the portfolio include a few Dividend Aristocrats (an S&P rating system, whereby companies must have at least 20 years of paid and increased dividends), Dividend Champions (as defined by DRiP Resource Center as a company that has raised its dividends for at least 25 consecutive years), Dividend Contenders (as defined by Drip Resource Center as a company that has raised its dividends for 10-24 straight years), and REITs that maintained dividends (never cut).
Recognizing that past performance is no guarantee of future success; however, when it comes to the top dividend-paying stocks, a company's dividend history can give investors some hints about the future. By filtering out this select group of REITs, I have been able to model a durable income portfolio that has returned 11.7% since December 15th. To date, the "3-D" portfolio has produced an excellent balance - 4.9% average dividend yield and 6.8% share price appreciation.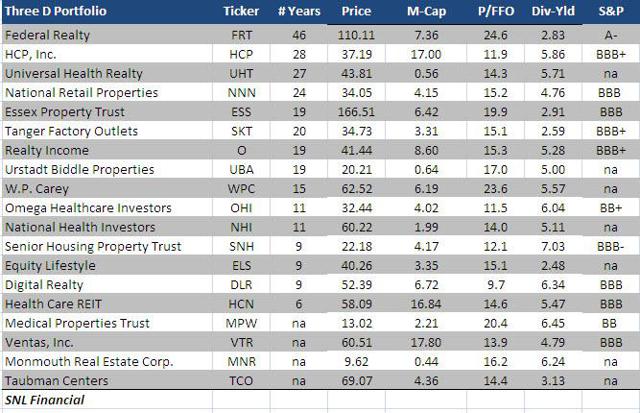 Click to enlarge
I believe that now is a good time to take a more tactical REIT approach to REIT investing, based upon the premise that rising rates are indicative of an improving economy. So as rates begin to rise, the profits and cash flow will also rise. One way to stave off the effects is to own companies that have a habit of boosting dividends.
Accordingly, an income investor should take advantage of the market opportunity to increase dividend income - recognizing that now is a terrific time to put money to work, and although REIT prices are down, fundamentals are strong and the economy is improving. As Lichtenfeld explains:
Typically, a company with an established trend of increasing their dividends will raise them again next year and the year after that and the year after that… unless it becomes impossible to do so.
In closing, having a disciplined approach is critically important for all investors, no matter what type of investment strategy they use. Dividend investors are no different, and that's why it's important to educate yourself, develop a strategy, and stick to it. However, at the end of the day, REITs provide one of the best and lasting forms of dividend differentiation - a powerful model of repeatability that can enhance your investment portfolio by providing sustainable growth utilizing the power of compounding. In the words of John B. Rockefeller:
Do you know the only thing that gives me pleasure? To see my dividends coming in.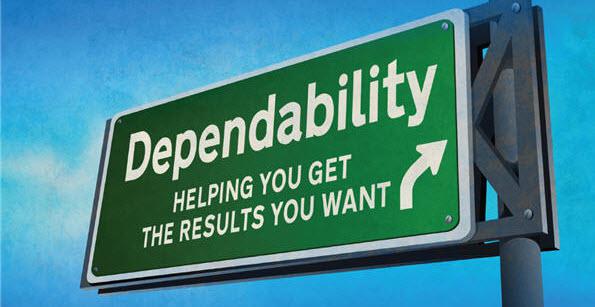 Disclaimer: This article is intended to provide information to interested parties. As I have no knowledge of individual investor circumstances, goals, and/or portfolio concentration or diversification, readers are expected to complete their own due diligence before purchasing any stocks mentioned or recommended.
Disclosure: I am long O, DLR, VTR, HTA, STAG, UMH, CSG, GPT, ARCP, ROIC, MPW, HCN, OHI, LXP, KIM. I wrote this article myself, and it expresses my own opinions. I am not receiving compensation for it (other than from Seeking Alpha). I have no business relationship with any company whose stock is mentioned in this article.