A few days ago Gramercy Property Trust Inc. (NYSE:GPT) announceda net loss to common stockholders of $7.7 million, or $0.11 per fully diluted common share for the three months ended December 31, 2013 and net income to common stockholders of $377.7 million, or $6.14 per fully diluted common share, for the full year ended December 31, 2013.
For the quarter, Gramercy generated negative Funds from Operations (or FFO) of $0.947 million, or negative $0.01 per fully diluted common share, and for the year ended December 31, 2013, FFO was $394.3 million, or $6.41 per fully diluted common share. FFO and net loss to common stockholders include a contingency of approximately $4.4 million, or $0.06 and $0.07 per common share for the quarter and year ended December 31, 2013, respectively, related to a transfer tax assessment for a joint venture interest sold by the company in 2010.
For a company with a market cap of around $360 million, the $4.4 million transfer tax assessment was not small potatoes. Gramercy believes the transaction was exempt from transfer taxes and intends to vigorously defend against the assessment. The contingency is recorded in discontinued operations.
For the quarter, Gramercy generated Adjusted Funds from Operations (or AFFO) of $3.4 million, or $0.05 per fully diluted common share, and for the year ended December 31, 2013, AFFO was $5.8 million, or $0.09 per fully diluted common share. For the fourth quarter of 2013, Gramercy recognized total revenues of approximately $17.7 million, an increase of 32% over total revenues of $13.4 million reported in the prior quarter. Total revenues for the year ended December 31, 2013 were approximately $56.7 million as compared to $36.8 million for the prior year. (Source for chart: recent press release).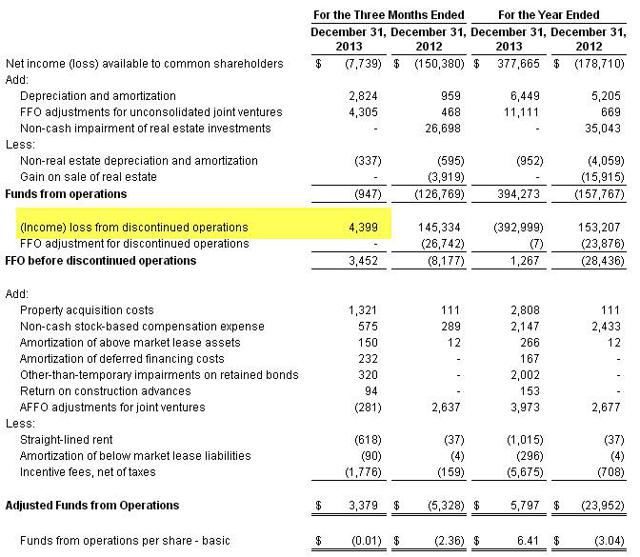 Finally Dividends!
After a hiatus of more than five years, Gramercy announced that the company was resuming its dividend payment to common stockholders (beginning with the first quarter of 2014). The board of directors authorized and declared a dividend of $0.035 per common share for the first quarter of 2014, to be paid on April 15, 2014 to holders of record as of March 31, 2014. The current dividend yield is 2.71%.

I was hoping to see more "meat on the bone" for Gramercy's new dividend; however, it's plain to see that this Triple Net REIT is in growth mode and that's the reason that Gramercy was my "best REIT pick in 2013". Here's what I said in a December 2013 article:
The Gramercy bet paid off. In 2013 the company was my best performer. While many of my other Triple Net REITs declined in value, Gramercy didn't. In fact, most other Triple Net REITs sold off severely in 2013, yet Mr. Market gave Gramercy a much better valuation. Since my first recommendation in December 2012, Gramercy has returned over 92%.
In that same article I suggested that Gramercy was likely to payout 85% of AFFO and a dividend yield of 5.7%, more aligned with the peer group. However, Gramercy opted to maintain a more conservative payout ratio (likely less than 50% of AFFO), as the company has positioned itself as a high-growth REIT.
Evidence of that growth can be seen in the rapid expansion, as the REIT acquired 11 properties (total price of $164.9 million) during the fourth quarter of 2013. In addition, Gramercy recently closed on a $6.3 million deal in Des Plaines, Illinois. (source: press release).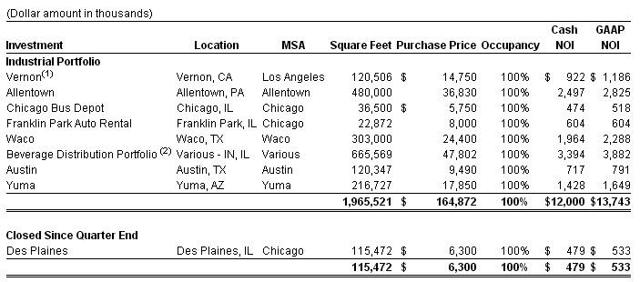 To facilitate that growth, Gramercy recently announced the successful closing of a $115 million convertible bond (3.75%) issue, utilizing the proceeds to pay off its credit facility (paid off $68 million leaving the $150 million line with a zero balance). Gramercy has around $43.3 million of unrestricted cash.

Gramercy shares have fallen off sharply over the last two weeks as news of the unfavorable tax treatment and lower-than-expected dividend payout surfaced. Shares have fallen by around 11% over the last 30 days.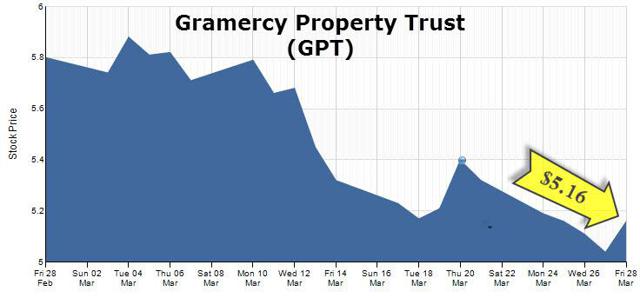 As a result, Gramercy has also been the worst performing Triple Net REIT over the last 90-day period.

Over 17 million shares have traded over the last two weeks - around 12 million shares between March 18-21 and approximately 5 million shares last week. (source for chart below: SNL Financial).

Can Gramercy Move the Needle?
Although somewhat disappointed by the tax treatment issue and the sub-par dividend payout, I am remaining bullish. Remember, I signed up for the growth potential - and Gramercy delivered in 2013. Gramercy has stated that it expects to close around $400 million of "one-off" deals in 2014 and possibly another $200 million if there's a portfolio worth buying. Gramercy has already invested significantly in human resources, which should provide substantial savings as the company brings more assets on-line.
Also Gramercy has strong sell-side support with four analyst BUY ratings. Given its small size, Gramercy has strong institutional support - likely due to the company's experienced and well-respected CEO, Gordon Dugan (former CEO at W.P. Carey).

Gramercy's Price to Funds from Operations (P/FFO) multiple is 15.3x. That's not a bargain; however, I believe that DuGan and company can move the needle and produce significant shareholder value. Gramercy is the smallest Net Lease REIT and given the strong reliance on external growth opportunities, this REIT should be able to boost its dividend at an incredible scale.

As illustrated below, Gramercy's management team has strong incentive to grow the stock price to at least $9 per share by June 30, 2016. The chart below summarizes the value that would be awarded to Dugan if the stock price reaches $5, $7, pr $9 over the periods below:

In a recent press release, Gordon Dugan explained the potential for Gramercy:
We are very pleased with the significant milestones achieved in the fourth quarter of 2013. Furthermore, the initiation of a common dividend for the first quarter of 2014 is another important step forward for Gramercy. We are currently focused on Gramercy's growth trajectory and therefore our dividend policy will be based upon a low payout ratio for the time being. Finally, we are very excited about our prospects for significant growth in 2014.
Gramercy looks like a small cap REIT that can continue to grow its footprint, possibly doubling in size in one year. I believe that this REIT compliments the other Net Lease REITs that I own as I get the added benefit of accelerated capital appreciation (with GPT) and higher than average dividends (with the other Net Lease REITs).
I believe Gramercy is prudently managing the balance sheet in a manner that will allow the company to grow fast, while also maintaining conservative capital distributions. My BUY Target is $5.00, although I cannot invest more in this stock given the fact that I will not have more than 5% allocation in a small cap company.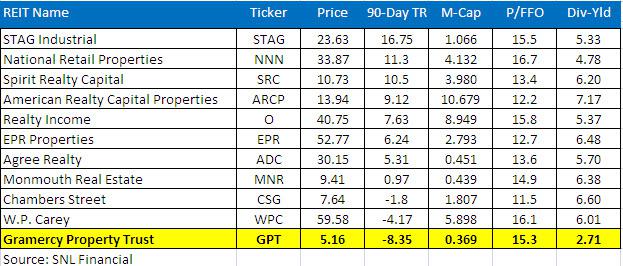 For more information on my "sleep well at night" ("SWAN") REIT picks, check out my newsletter HERE.
Other REITs mentioned: (NYSE:STAG), (NYSE:NNN), (NYSE:SRC), (NYSE:O), (NYSE:EPR), (NYSE:ADC), (NYSE:MNR), (NYSE:CSG), (ARCP), and (NYSE:WPC).
Sources: SNL Financial.
Disclaimer: This article is intended to provide information to interested parties. As I have no knowledge of individual investor circumstances, goals, and/or portfolio concentration or diversification, readers are expected to complete their own due diligence before purchasing any stocks mentioned or recommended.
Disclosure: I am long O, DLR, VTR, HTA, STAG, UMH, CSG, GPT, ARCP, ROIC, MPW, HCN, OHI, LXP, KIM. I wrote this article myself, and it expresses my own opinions. I am not receiving compensation for it (other than from Seeking Alpha). I have no business relationship with any company whose stock is mentioned in this article.