Right now, I'm a bear. I think we're about to see a 5-10% correction in the short term which could be the prelude to a longer term downturn. This article concerns the 3 main pillars of my bear thesis; psychological, technical and fundamental based analysis.
Fundamental
We're a month into the 6th year of the latest bull market. Bull markets last on average 4 years. Of the 12 bull markets since 1942, only 4 have made it into their 6th year. Consider also that it's been 27 months since the last market correction, a worryingly long time when you consider that the average time span between corrections is 16 months. It's been a great run so far since 2009's lows and everybody from professionals to your shoe shiner have been trying to get a piece of the pie, driving margin debt to record levels as they borrow to invest, whilst also driving the market to all-time highs.
But now money is starting to flow from growth stocks - biotech stocks for example have been crashing hard over the last 5 weeks. Growth stocks are seen as riskier than value stocks due to future earnings expectations underlying the price of the former while current assets are underlying the price of the latter. Concerns abound that the momentum shift seen here will spread to the market as a whole. A record number of IPOs and acquisitions in the biotech and tech sectors in the last 3 months have only added fuel to the bear case, with cautious investors pointing to Facebook's (NASDAQ:FB) eye-popping $19 billion acquisition of WhatsApp and the market's lackluster response to King Digital's (BATS:KING) (maker of online game Candy Crush) IPO last week as signs of companies and buyers going into overdrive trying to make a quick buck.
One also has to consider where we are on the political calendar right now - it's a midterm election year. The 2nd and 3rd quarters of midterm election years tend to be the weakest two out of the full 16 quarters of a presidential term. Check out this graph, which shows the market's average action during a midterm year: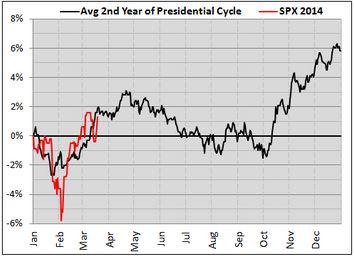 This calendar-esque concern is further compounded by our proximity to the month of May - a mere 4 weeks, which brings me to my next point.
Psychological
The majority of investors may like to think that they are rational, objective players in the game, but the fact that sunny days see more returns than overcast days blows this delusion out of the water. In reality, the herd mentality of the human mind plays a large role in how markets fare. A more impressive behavioral psychological assertion is the "Sell in May and Go Away" strategy. This is based on the premise that the May - October period returns less than the October - May period. Since 1950, the former has returned an average of 0.3% on the Dow Jones Industrial Average, while during the latter cycle, the DJIA has seen an average gain of 7.5%. This is a difference not easily blamed on randomness that should be seriously considered, given that we're also in a midterm election year.
Technical
The S&P 500 closed at 1857 last Friday 28th March. A look at its daily chart shows a clear double top reversal forming (highlighted circle), where the market set a new high, then failed to break through it. Recent price action has now pulled back to support right around the 1840-1850 range. This needs to hold for the next week or two, and reinforce itself as the new "floor" (made by the 2 peaks in Dec./Jan. and built on by the drop earlier this month).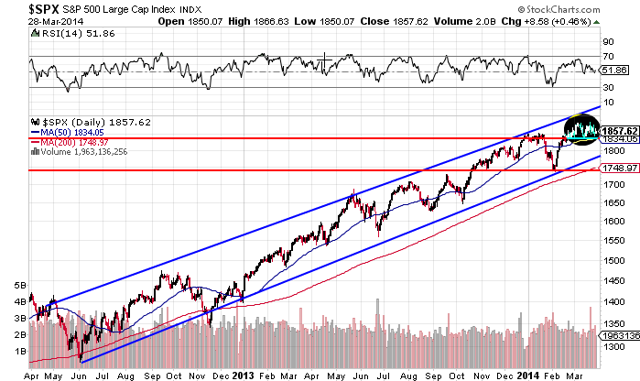 Click to enlarge
If it doesn't and this week sees sustained selling, we could easily see a pullback towards the 1750 level, right where the 200 MA is. This would be a 6% drop, which isn't exactly impossible - we saw it in February the second the market got jittery about the crisis in Ukraine. However, a 6% drop now, to the 200 MA, just as we enter the May -October period and the notorious 2nd and 3rd midterm quarters, could be enough to confirm the end of this 6 year+ bull market, which is already starting to show signs of old age. For more technical insight into other indicative and telling charts, check out another recent bear article.
Disclosure: I have no positions in any stocks mentioned, and no plans to initiate any positions within the next 72 hours. I wrote this article myself, and it expresses my own opinions. I am not receiving compensation for it. I have no business relationship with any company whose stock is mentioned in this article.