Today (Monday, March 31, 2014) Wix.com (NASDAQ:WIX) announced that it has withdrawn its filing for a share offering due to "adverse market conditions." I consider this press release one of the early official signs recognizing that "something" fundamental may have changed in market sentiment.
WIX is a small Internet-related company based in Israel with a market cap of $788M. The company provides a platform for developing web sites that includes a free offering among a wide variety of premium products. WIX went public on November 6, 2013 with little fanfare. Almost eight million shares were offered at $16.50. The stock opened at $18.50 - a nice 12% pop - but proceeded to fade under the IPO price at the close of that first day of trading. Trading volume was 11M shares that day but volume has since only broken the million mark once (on December 20, 2013). That retreat in trading volume did not prevent WIX from riding the wave of momentum stocks to $28.49 on December 26th. WIX ended the year with an eye-popping 65% gain from its lowly first close. The chart below shows the trading action. Note that trading has been rougher in 2014 with the stock "eking" out about an extra 10% through a lot of churn before peaking in late February.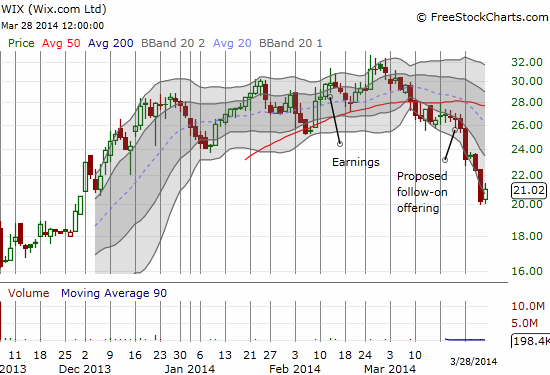 WIX has now returned half of 2013′s incredible gains
Source: FreeStockCahrts.com
I am guessing that the management at WIX is afraid that the announcement of its share offering is largely responsible for the 21% drop in share price since then. However, as is well-recognized now, momentum stocks in general, and tech/internet stocks in particular, have taken a beating in this time period. The NASDAQ (NASDAQ:QQQ) is down 3.8% since then - a small loss but in a market used to buying at every dip, this loss sticks out now. High-flying internet stock Google (NASDAQ:GOOG) is down 6.4%. The beating has been so thorough that as of the close on Friday, March 29, the NASDAQ lost all of its 2014 relative strength against the S&P 500 (NYSEARCA:SPY).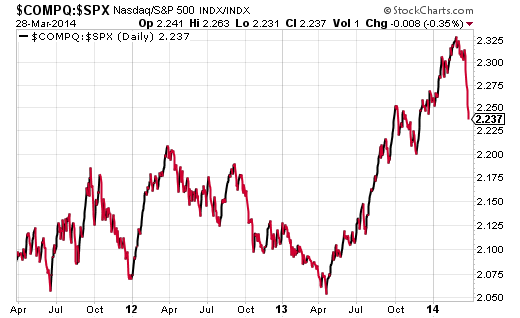 The NASDAQ is reversing an extended period of relative strength against the S&P 500
Source: StockCharts.com
The divergence of performance in momentum stocks also shows up in PowerShares S&P 500 Low Volatility (NYSEARCA:SPLV) versus PowerShares S&P 500 High Beta (NYSEARCA:SPHB). SPLV has churned throughout March and remains just below its all-time highs. SPHB has churned throughout March and rests near its lows for the month.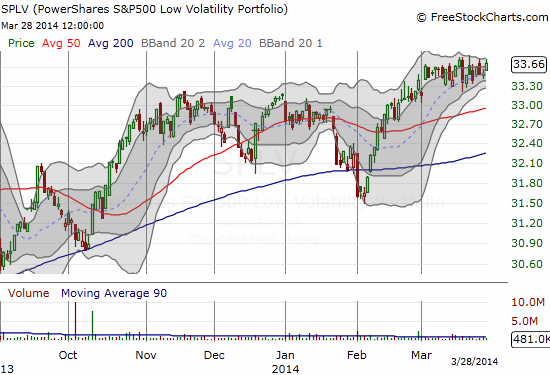 SPLV remains resilient and trades near all-time highs ...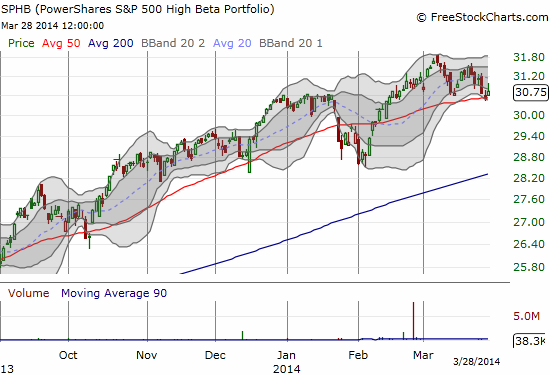 … while SPHB falters a bit and trades at lows for the month of March
Ordinarily, I would interpret the weakening of momentum/tech/high beta stocks as confirmation of my call for some kind of market top in mid-March. However, there are some key divergent signals. The three that have my closest attention are:
The volatility index has yet to respond and remains below its 15.35 "pivot" point.
Emerging markets are experiencing a sharp rebound, partially led by Brazil (NYSEARCA:EWZ). iShares MSCI Emerging Markets (NYSEARCA:EEM) is up 5.2% since March 20th.
I have pointed out the likely importance of the Australian dollar versus the Japanese yen (AUD/JPY) in several posts in recent months, in particular in confirming market sell-offs. The current breakout has me wondering whether it is a non-confirming signal for the sell-off in high risk stocks or whether it is just a lagging indicator. An upcoming monetary decision by the Reserve Bank of Australia (RBA) may provide a key turning point.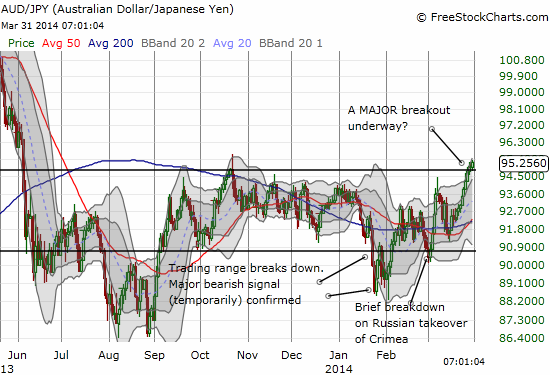 Is a major breakout underway for the Australian dollar?
Source for charts unless otherwise stated: FreeStockCharts.com
I am currently positioned assuming the apparent non-confirming signals are lagging or experiencing "lasts gasps." The reaction of companies seeking funding from the stock market, like WIX, may be the clearest tells of all. Withdrawals and postponements indicate a belief that sentiment will turn around in due time. A rush to grab the last of the musical chairs might indicate a belief that the punch bowl is draining …
Be careful out there!
Disclosure: I am short EEM, SSO. I wrote this article myself, and it expresses my own opinions. I am not receiving compensation for it (other than from Seeking Alpha). I have no business relationship with any company whose stock is mentioned in this article. I am short through put options. Also long EWZ. In forex, I am net short the Australian dollar.