Taiwan's central bank shocked investors on Thursday by announcing the first interest rate hike in nearly two years, a move reflecting increased confidence in country's economic outlook. The Central Bank of the Republic of China (Taiwan) raised key rates by a modest 12.5 basis points, moving the benchmark discount rate to 1.375%. "Guiding market rates to normal levels is our main concern," said central bank Governor Perng Fai-nan after announcing the rate hike. The decision comes as a surprise to many investors; with relatively high unemployment and concerns that euro zone woes could weigh on demand for electronics, many economists had been expecting rates to remain low until the third quarter at least.
The move to raise interest rates in Taiwan may have been driven in part by Beijing's announcement over the weekend that China would allow its currency to fluctuate more widely against the U.S. dollar. A stronger yuan would make Chinese goods more expensive to international consumers, thereby benefiting other major exporters such as Japan and Germany. Taiwan also stands to benefit from a more flexible yuan, as the economy depends heavily on the export of electronics throughout the world.
Taiwan joins a number of other Asian economies that have taken steps to unwind emergency measures put in place to combat the recent recession. Australia, New Zealand, Malaysia, Vietnam, and India have all raised interest rates; China and Singapore (among others) have tightened monetary policy in other ways. With Europe scrambling to slash spending in an effort to avoid a full-blown debt crisis and limited growth prospects in the U.S., Asia has emerged as the growth engine of the global economy, expected to account for a significant portion of GDP expansion this year and next.
Taiwan ETF Options
Historically, unexpected interest rate hikes have sent stock markets plunging, as investors sell off equities amidst concerns that higher borrowing costs will limit growth. But in the post-recessionary environment, investors often view rate hikes as positive developments, reflecting the confidence of the central bank in the country's economic prospects. For investors looking for exposure to Taiwan equities, there is no shortage of ETF options. Most funds in the Asia Pacific Equities ETFdb Category maintain moderate exposure, and there are two pure play ETFs focusing exclusively on Taiwanese stocks:
iShares MSCI Taiwain Index Fund (NYSEARCA:EWT): This ETF tracks the performance of the MSCI Taiwain Index, a benchmark that is made up of the largest and most liquid Taiwanese equities. EWT has about 120 holdings, with the top ten accounting for nearly 50% of assets. Reflecting the composition of Taiwan's economy, EWT has a heavy tilt towards the technology sector; hardware stocks make up about 43% of assets.
click to enlarge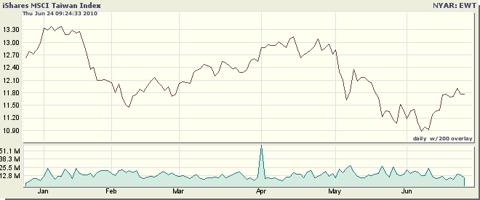 Click to enlarge
IQ Taiwan Small Cap ETF (TWON): This ETF also focuses on Taiwanese stocks, but the exposure offered differs significantly from EWT. As its name suggests, TWON focuses on small cap stocks, whereas EWT tends to invest in large cap companies. Because small cap companies are often more dependent on growth in the local economy, many investors believe these products offer more "pure play" exposure to the local economy.
Disclosure: No positions at time of writing.
Disclaimer: ETF Database is not an investment advisor, and any content published by ETF Database does not constitute individual investment advice. The opinions offered herein are not personalized recommendations to buy, sell or hold securities. From time to time, issuers of exchange-traded products mentioned herein may place paid advertisements with ETF Database. All content on ETF Database is produced independently of any advertising relationships. Read the full disclaimer here.