Marijuana companies are the future. Public sentiment on marijuana is relaxing. Medical marijuana is legal in 20 states, with legislation in the works for 13 others. It has become a $1.5 billion a year industry, with expectations to triple within a few years. Colorado and Washington are essentially test cases for the Federal Government, and they are passing with flying colors.
While full legalization and taxation on the same level as alcohol may be a stretch in the short term, decriminalization and a federal green light for medical marijuana show strong signs of happening.
The medical marijuana industry in the United States is going to come hard and fast, possibly with high regulatory entry barriers, at least for startup US companies. The companies that are going to be able to seize the profit opportunities are the already well-established companies with strong financials and substantial business experience. They will be able to quickly act upon opportunities as the regulatory climate of marijuana in the United States becomes more apparent.
GW Pharmaceuticals plc (NASDAQ:GWPH)
GWPH is the darling of the green rush. If you don't know much about this company, read this article for a primer.
This company is way ahead of the curve in terms of position to capitalize on the green rush, and most importantly, they have substantial marijuana business experience and strong financials.
Probably most intriguing about the company is that they post consistent revenue ($44.2 million as of their year-end September 2013 annual report), which is derived from the international sales of their flagship product, Sativex. Good news about its efficacy is available (although further testing is continuing) and it currently sells in several countries such as Canada, Germany, Spain, and the United Kingdom.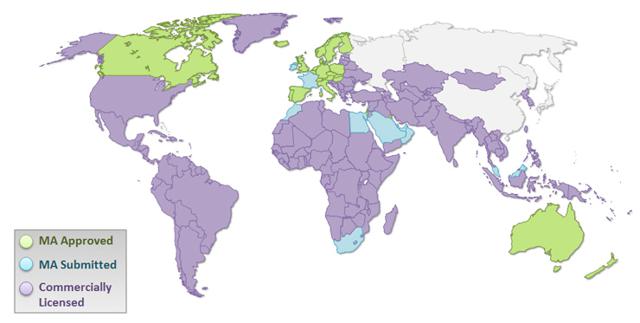 An FDA approval to sell in the US market would be a huge win for them, and information straight from the White House FAQ (which uses Sativex as an example), shows that the government has open ears for the clinical trial results. Notice the stark contrast of government sentiment between GWPH's already well-established research progress and the red tape of US startup research cited in the Washington Post article above.
While GWPH currently has an operating loss, investors should take note that the vast majority of expenses are related to R&D of new products that are currently in the testing phase. This company really has the ball rolling, and while they might hit some clinical dead ends (like with any biotech company), a few more successful products means even more revenue on top of their already tried-and-true flagship medication. Here is their most updated cannabinoid pipeline. Below is an abridged graphical version: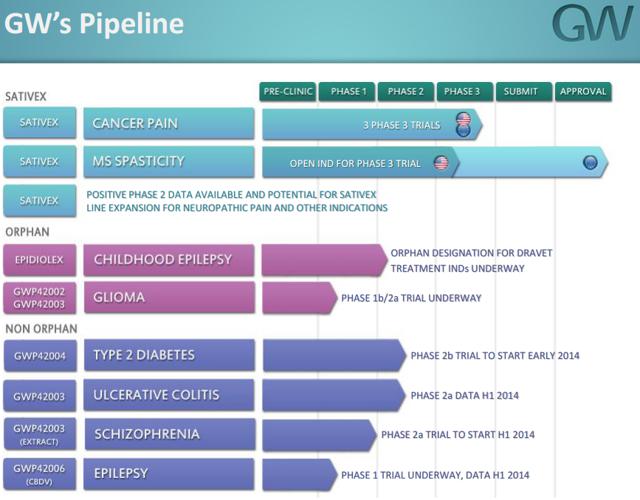 The story only gets better on the balance sheet side of things. Cash is king, especially in an industry where companies may need to nimbly deploy capital at a moment's notice to take quick advantage of opportunities (such as say, rapidly deploying a product throughout the legalized states or opening US-based facilities).
The company's current assets include $58.4 million in cash, and a healthy mix of $13.8 million receivables and $8.9 million inventory (indicating the company can move their product). These figures compared against total assets of $100.8 million is very impressive.
The liability side looks even better. Short-term debt is $24.6 million, easily coverable by their liquid assets, and long-term debt is $21.5 million, creating a very healthy stockholder's equity of $54.9 million.
It also helps to see the high-profile pedigree of mutual fund holders, only further assurance that this company is the future.

Marijuana stocks have been dropping in recent days. This may be short-term investors looking to sell off the profits they made on investments in late 2013/early 2014 and/or a correction from the over-valuation created by speculators. This is even more of a reason to invest in stronger companies that have a more stable, long-term future.
I would strongly suggest visiting the Marijuana Index and analyzing the different players, which is sortable by price, market capitalization, and volume. See below for a graph of the MJ index.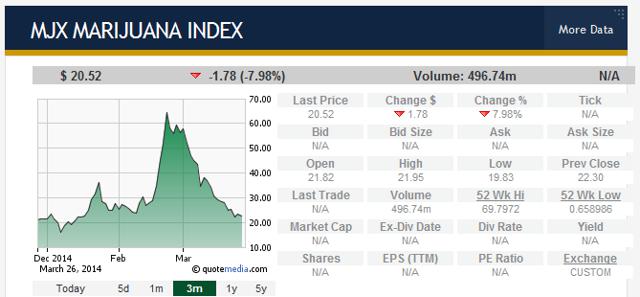 A note on recent criticism:
A previous article criticized GWPH's relatively high price-to-book and LTM revenue multiples, which is fair and applies to most if not all marijuana companies, but those ratios alone do not account for the company's future revenue potential and strong position to make big moves when they need to be made.
Conclusion:
I hope that this article helps investors begin to view marijuana companies from a more fundamental standpoint, and avoid trying to time swings in a volatile market.
Financially stable companies are poised to be the big winners, such as GW Pharmaceuticals based on their liquid balance sheet, proven business experience, and medication pipeline.
I caution all marijuana investors. Read the annual reports. Do the fundamental analysis. Don't just follow message board hype. Take the information you hear/read from official press releases and reconcile that with the 10K/Q financials. The market is going to eventually start pricing these companies based on their quantitative fundamentals, and you don't want to get caught holding an illiquid company that never had earnings potential, that had only shot up because of speculation and media hype.
Disclosure: I have no positions in any stocks mentioned, and no plans to initiate any positions within the next 72 hours. I wrote this article myself, and it expresses my own opinions. I am not receiving compensation for it (other than from Seeking Alpha). I have no business relationship with any company whose stock is mentioned in this article.