Leidos Holdings, Inc. (NYSE:LDOS) plunged more than 18% after releasing its earnings on Thursday (03/27/14) though it announced better than expected results for fiscal 2014 fourth-quarter but provided weaker guidance for fiscal 2015. Furthermore, the company announced that its COO (Chief Operating Officer) "Stu Shea" left the company. John Jumper, Leidos Chairman and Chief Executive Officer did not sugar-coat any negativity and flat out issued the following statement:
"In our fourth quarter, we continued to encounter headwinds from sequestration, unclear funding on awarded programs, delayed award decisions, high levels of protest activity, and continued commercial health and engineering revenue declines."
However he went on to say the following:
"Despite these challenges, we were able to generate over $100 million of cash flow from operations in the fourth quarter and we are confident that our track record of robust cash flow generation will continue. Also in the quarter, we executed a $300 million accelerated share repurchase program. We continue to focus on strategies that increase returns and deepen our market penetration, especially in markets where we no longer face organizational conflicts of interest. Our commitment of returning capital to shareholders remains steadfast."
From the press release by the company, here is the breakdown of the revenue:
Diluted earnings per share from continuing operations for fourth the quarter of fiscal year 2014 was $0.56, as compared to $1.73 in the fourth quarter of fiscal year 2013. However it should be noted that the prior year quarter contained an income tax benefit of $96 million, or$1.12 per diluted share, as a result of an issue resolution with the IRS with respect to the tax treatment of the CityTime settlement.
Fourth Quarter Segment Operating Results

Three Months Ended

January 31,

Revenue Contraction (%)

2014

2013

Total

Internal

($ Millions)

Revenues:

Health and Engineering

$

355

$

484

(27) %

(27) %

National Security Solutions

941

1,097

(14) %

(14) %

Corporate and Other

(1)

-

N/A

N/A

Intersegment Elimination

-

(1)

N/A

N/A

Total

$

1,295

$

1,580

(18) %

(18) %

Operating Margin

Operating Income (Loss):

2014

2013

Health and Engineering

$

19

$

33

5.4 %

6.8 %

National Security Solutions

83

82

8.8 %

7.5 %

Corporate and Other

(20)

(24)

N/A

N/A

Total

$

82

$

91

6.3 %

5.8 %
Cash flow provided by operating activities of continuing operations for the fourth quarter of fiscal year 2014 was $110 million. The company's future outlook for fiscal 2015 (which began Feb. 01, 2014) calls for revenues in the range of $4.9B to $5.1B and Non-GAAP diluted earnings per share in the range of $2.35 to $2.55. This is significantly less than what analysts were expecting (about $2.85 per share). The company currently has $430M in cash and about $1.33B in total debt.
For those of you new to Leidos, here is a brief over-view of the firm. Leidos Holdings ("Leidos", "the firm" or "the company" for the purposes of this article) provides services in three markets.
National Security:
The company provides various services to US Dept. of Defense (DOD), the intelligence community (CIA), US Dept. of Homeland Security and other US Government civil agencies. Since the company provides sensitive mission critical solutions to the US Government, over 78% of its total revenues are generated from US Government contracts.
Health & Engineering:
Again major customers in this area are US Federal government, state and local governmental agencies and some commercial enterprises. Health and Engineering represented 30%, 28% and 28% of total revenues for fiscal 2014, 2013, and 2012, respectively.
Corporate & Other:
This segment covers the smallest portion of the revenue (less than 7%) and includes the operations of various corporate activities.
Some History about "Leidos" and "SAIC":
Leidos used to be known as SAIC ("Science Applications International Corporation"). On September 27, 2013, Leidos completed the spin-off of technical services and IT services business into an independent, publically traded company and as a result, two companies were formed.
Leidos
SAIC
Leidos is traded under ticker symbol LDOS and SAIC under symbol ((NYSE:SAIC)). The main reason for the spin-off was to increase governmental business since the US Government does not allow a conflict of interest among multiple segments of the same corporation and thus it generally prohibits companies that supply the same products to commercial/industrial interests while supplying the same products/services to the government. When the US Government engages a contractor to develop technologies, it requires secrecy and no conflict of interest with selling the same product/service to other suppliers or worst yet, other governments. Since Leidos has been involved in providing highly specialized and most advanced services to the government, its spin off of SAIC would allow it to become a more government focused organization. Thus the business arrangement would much more mimic the kind of relationships that other contractors such as Raytheon (NYSE:RTN), Lockheed Martin (LMCO), General Dynamics (NYSE:GD) and Northrop Grumman (NYSE:NOC) have with the government.
Another important aspect to note is that when Leidos divided into two companies, all the upper management moved along with Leidos since this was deemed to be a more strategic move for top brass.
New Business in Pipeline:
One negative aspect of military contractors is that they continuously have to fill their pipeline with new projects from the government. For Leidos, net business bookings totaled $623 million in the fourth quarter of fiscal year 2014 and $4.95 billion for the fiscal year. This is representative of a book-to-bill ratio of 0.9 for the fiscal year, so it seems that pipeline of the company is pretty full.
Here are most notable awards just in the fourth quarter of its fiscal year 2014:
-Defense Threat Reduction Agency: This contract is from the U.S. Defense Threat Reduction Agency (DTRA) to conduct research and development to combat weapons of mass destruction. Leidos is one of seven contractors eligible to compete and the contract has a total value of approximately $4 billion for all awardees.
-National Guard Bureau: This is to provide professional and technical environmental engineering support services. The contract has a total value of approximately$243 million and there are 10 beneficiaries.
-U.S. Federal Government: Leidos was awarded $156 million, though the specific nature of these contracts may be classified, they all encompass mission-critical services that help to counter global threats and strengthen national security.
-LSB Industries: The Company was awarded three prime contracts to provide construction management services engineering, procurement, and construction services. The latest three awards are a hybrid of firm fixed price and cost plus components and are collectively valued at $83 million.
-Department of Veterans Affairs. The Company was awarded two prime contracts and one subcontract from the U.S. Department of Veterans Affairs to help the agency maximize operational efficiencies, reduce healthcare costs, and improve veteran care. The awards are collectively valued at $16 million.
Here is the list of upcoming obligations and none of which should be of any cause of concern for investors.

Valuation:
When compared to its peers, the company appears to be a much better bargain, especially at the given price. The company has broad range of competitors ranging from direct competitors such as CACI (NYSE:CACI), ManTech (NASDAQ:MANT) and L-3 (NYSE:LLL) but Leidos also among indirect competitors such as Accenture Ltd (NYSE:ACN), BearingPoint, Inc., Booz Allen Hamilton (NYSE:BAH) and Electronic Data Systems Corporation. These companies are sometimes competitors to Leidos in bidding for mostly non-governmental contracts and occasionally on the ones from the government.
But for all practical purposes, we will only do comparison with the companies against which Leidos compete in more direct governmental space (as more than 78% of business is derived from the government).
| | | | | |
| --- | --- | --- | --- | --- |
| | Leidos | CACI | ManTech International | L-3 |
| Market Cap (USD) | 2.77B | 1.73B | 1.08B | 10.08B |
| P/E (TTM) | 17.86 | 12.57 | -175.54 | 13.75 |
| P/E (fwd) | 12.88 | 12.08 | 17.1 | 13.24 |
| Price / book | 1.77 | 1.36 | 0.96 | 1.66 |
| Price / sales | 0.49 | 0.49 | 0.47 | 0.79 |
| Operating Margin % | 4.85 | 7.7 | 6.09 | 6.16 |
| ROE | 3.99 | 12.01 | -0.54 | 13.52 |
| Debt / equity | 83.57 | 113 | 17.64 | 59.77 |
| Dividend Yield (%) | 3.7 | n/a | 2.9 | 2 |
| PEG Ratio | 2.16 | 1.28 | 3.02 | 3.47 |
Comparison of Leidos with Peers
As you can see from above, Leidos compares favorably with its competitors. Company is cheaper than CACI on PEG basis and has more favorable debt/equity ratio. By the same token, both ManTech and L-3 look expensive on PEG basis at current price levels not to mention less favorable P/E ratios. Thus it might be prudent to take a position in Leidos based on current valuation, especially in the light of recent pull back in the stock price.
Risks:
Leidos shares the same risks as any other company that is heavily reliant on the US government. Its chief risks include.
Continued head winds from government's "Sequester" program.
Any further slow down in government spending or cancellation of contacts in company's pipeline from the government would be detrimental to its future
Leidos competes in governmental services space and its much larger competitors might have more muscle to win recent upcoming governmental contracts
The company has recently become a separate but more focused entity after breaking off from SAIC ("Science Applications International Corporation"). The government might view the smaller size in negative light especially in awarding relatively larger contracts.
Recent acquisitions such as maxIT Healthcare holdings, Vitalize Consulting Solutions & Cloudshield Technologies might present integration risks for the company and challenges associated with retaining top talent of the acquirees if company cultures do not align
Since company derives about 50% of revenue from US Army/ US Navy alone (78% total from governmental), the planned pullback of US Armed forces from Afghanistan is an immediate headwind for the company since it is trying to replace this revenue with other contracts from the government.
Conclusion:
Leidos is a high quality company that has been a generator of free cash flows for years. Since the company is involved mostly in services business, it has minimal ongoing Capex requirements that bode well for its business model. The company is facing headwinds due to Sequester and concerns over slow-down in military spending but no company in military space is immune to such cut-downs from the government. Furthermore, many military contractors' stocks have soared in the recent past even though Sequester headwinds have not complete abated. Please take a look at stock performance of the following companies in the last two years when compared to Leidos - these companies are Lockheed Martin (NYSE:LMT), General Dynamic and L-3 .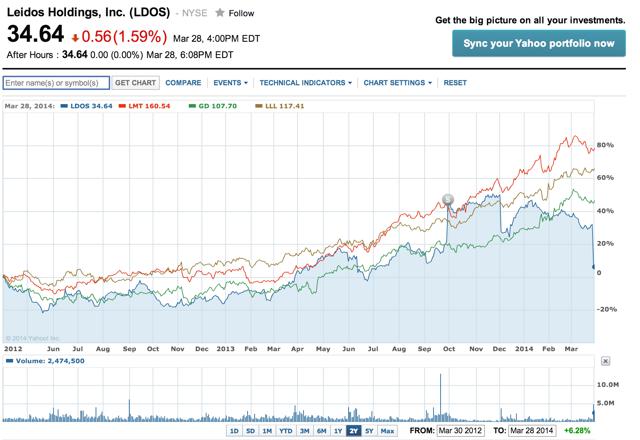 Leidos has a healthy contract pipeline for upcoming years and is positioned to benefit even more should government spending improve in the future. Furthermore the company develops mission critical solutions for military and intelligence agencies, so relationships with government officials are often "sticky" with high levels of secrecy. Therefore, US government is typically very reluctant to move from contractor to contractor to save a few extra bucks. Due to this fact, we are of the opinion that the firm has a built a "moat" around its business, which is hard for competitors to replicate. Thus Leidos is poised to provide healthy returns to a patient investors in coming years.
Notes & Disclosures:
This is not an investment advice. Please perform your own due diligence before making an investment.
This article was written by "Syed Saqib," a portfolio manager at Netwall Investments LLC. I don't intend to portray that Netwall Investments LLC is either invested in above securities or going to invest in the future. Investing or not investing in any security is solely upon our discretion and it can change without notice. Furthermore, we can get out of a position at any time as we deem fit. This is our foremost fiduciary duty to our clients who have invested their capital with us.
Disclosure: I have no positions in any stocks mentioned, but may initiate a long position in LDOS over the next 72 hours. I wrote this article myself, and it expresses my own opinions. I am not receiving compensation for it (other than from Seeking Alpha). I have no business relationship with any company whose stock is mentioned in this article.