There is little doubt that Linn Energy (LINE) and LinnCo (LNCO) unitholders have been in for a wild ride over the past two weeks or so. The stocks were decimated earlier in the month when long-time bull Jim Cramer turned bearish. Last week, the company lost its coveted "overweight" rating from JPMorgan, with the firm downgrading the stock to neutral. This downgrade followed a similar thesis to the one by Howard Weil, with both firms worried about Linn Energy's 2014 DCF generation and subsequent coverage ratio.
However, these downgrades may offer an opportunity for investors, especially if Linn Energy is able to meet or beat its Q1 projections and is able to convert its Permian Wolfcamp position into more DCF rich properties.
An overview of the recent downgrades
What is quite telling about Linn Energy's downgrades is that these firms continue to highlight the same issues. As an example, the JPMorgan and Howard Weil downgrades all noted the following:
Higher than expected capital spending
A tight coverage ratio (1.00x for 2014)
Uncertainty regarding the Permian asset sales
These issues are all somewhat interconnected. Linn Energy needs to increase capex spending in order to increase DCF from its Permian assets. As a direct result, the company has less cash left over to pay distributions, hence the tight coverage ratio. The solution here is quite simple: A sale of the Permian assets.
Permian Basin assets: The key to higher DCF?
It should be noted that upstream MLPs such as Linn Energy normally acquire mature producing wells, with low and steady decline rates. This also allows for the hedging of future production, which in essence captures the current production margins.
The problem with the Permian Basin assets is that while they do offer a growth platform, they involve horizontal drilling techniques, which is both rather expensive and outside Linn Energy's core focus. In addition, any production from these assets will face higher than normal decline rates, as is typical for any new wells.
As shown below, Linn Energy is looking to either sell these assets outright or trade them for more mature production. In total, the company may sell or trade up to 17 MBOE/D of production, including over 1,000 Wolfcamp drilling positions with various working interests rate.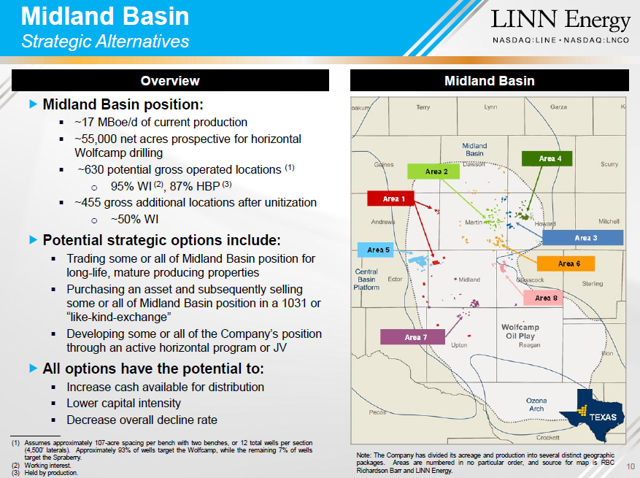 The net effect for the company will be that its growth capex requirements, capital intensity, and decline rate will fall, while its DCF will likely increase. The only question investors really need to ask is if Linn Energy will be able to achieve a decent sales price and/or trade.
Berry debt refinancing: Can Linn Energy get better rates?
One positive development Linn Energy may be able to achieve short-to-medium term is the refinancing of some of the legacy Berry debt. In particular, Berry's $205 million 10.25% senior notes due June 2014 seem like a prime target for a refinancing.
Assuming the company is able to get its interest rate down 300 basis points to 7.25%, this will result in about $6.15 million in annual interest expense savings. While hardly game breaking, every little bit helps, especially as this may result in a direct increase to DCF per unit.
Is Linn Energy too big for its own good?
Finally, let me touch on a topic which I think deserves more attention. It seems as if Linn Energy may be suffering from being too big a fish in too small a pond. As shown below, Linn Energy is by far the largest upstream MLP by EV, dwarfing all of its peers by a huge margin.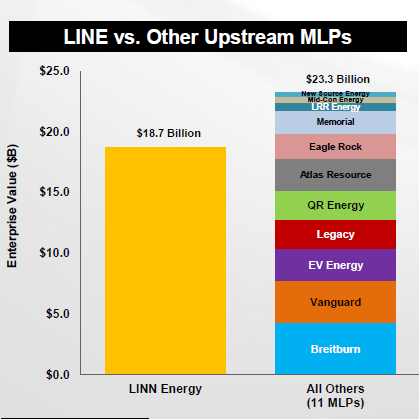 While I am not saying that the upstream MLP sector cannot continue to grow, Linn Energy may have just grown too big, too fast. The company is now the 10th largest publicly traded MLP and has thusly garnered the attention of many, such as Hedgeye, Barron's, Bloomberg, with both good and bad implications.
Conclusion
In my opinion, Linn Energy should take it slow and sell the Permian assets piecemeal. One large buyer for the whole lot seems unlikely to emerge given the glut of high-quality production available in the Eagle Ford, Bakken, and Marcellus.
That being said, a sale of these assets needs to eventually pan out. The stock is now down 15% from its February highs and is unlikely to rebound without either an asset sale announcement or good quarterly results.
Disclaimer: The opinions in this article are for informational purposes only and should not be construed as a recommendation to buy or sell the stocks mentioned. Please do your own due diligence before making any investment decision.
Disclosure: I have no positions in any stocks mentioned, and no plans to initiate any positions within the next 72 hours. I wrote this article myself, and it expresses my own opinions. I am not receiving compensation for it (other than from Seeking Alpha). I have no business relationship with any company whose stock is mentioned in this article.