As a value investor, I find myself scouring the markets looking for irrationally beaten-down stocks and sectors where I can find not only attractively priced growth in the future, but a margin of safety in the present. Recently, the broad sell-off of the biotechs has caught my eye. There are several highly profitable companies in this sector currently trading at prices significantly below recent 52-week highs.
When you think biotech, you might think volatility - I know I do. In the recent past, this industry within the healthcare sector has offered investors great reward, coming at a great risk. The majority of the stocks in this sector do not operate with a profit, investors have flocked to the biotechs due to their massive growth potential. In the recent weeks, it seems as though the markets have determined that the premium paid for such growth was too much, and the biotechs have sold off. Since hitting its 52-week high of $275.40 on February 25th, the iShares Nasdaq Biotechnology ETF (NASDAQ:IBB) is down 16.71%, finishing the trading day on Friday, March 28th priced at $229.38.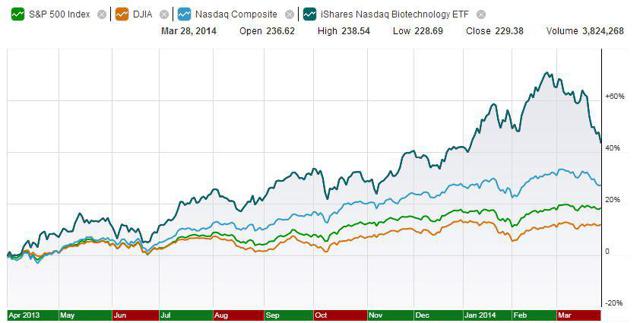 (Source: Scottrade)
This sell-off was triggered by congress questioning the pricing of Gilead's (NASDAQ:GILD) next-generation hepatitis C drug, Sovaldi. The drug has shown to be very effective against multiple forms of the hepatitis C virus, a breakthrough in the industry, but the drug's treatment cost in the U.S. is $84,000. This questioning by Congress has sparked fear of overreaching government policy changes in regard to drug companies and their pricing strategies in the U.S. market. If this were to happen, it could mean disaster for an industry where massive R&D costs are necessary for drug development, putting these companies in heavy financial strain before their product is ever brought to market. So, before I go on, it is important to understand that the sell-off in biotechs is justified, the question remains: How much risk does the threat of legislation bring to the table, and how should this variable be considered in an equation where growth potential has pushed fundamental metrics to levels that many conservative investors feel comfortable with.
When looking at forward earnings projections, it seems clear that such high pricing multiples are also justified. As a conservative value investor myself, I typically shy away from companies priced at over 20x earnings, usually setting my sights at those priced below 15x. However, I do allow for exceptions to this rule, and when you look several years into the future within this industry, especially at the major players who seem to be more predictable, you realize that current prices after this pullback represent sub-15x earnings projected in 2015.
The four major players that I speak of are Amgen (NASDAQ:AMGN), Biogen (NASDAQ:BIIB), Celgene (NASDAQ:CELG), and Gilead Sciences. Each of these companies has a market cap above $50B, established earnings, and in my opinion, the widest moats in the industry. They each offer investors growth opportunities through their upcoming pipelines, and seem like they all could be potential sound investments after a very baseline analysis of their business structures, fundamentals, and their fair value calculations. According to S&P Capital IQ, Amgen is trading in line with its fair value calculation of $119.50; however, it should be noted, especially for those investors who do not demand a dividend from their holdings, GILD is currently trading at a 80.4% discount to fair value, CELG is trading at a 34.7% discount to fair value, and BIIB is trading at a 6.5% discount to fair value. Discounts aside, in this piece, I will be focusing on only one of the four major biotech players: Amgen, because of the fact that this is the only company of the four that pays shareholders a dividend.

(Source: Amgen annual report)
Dividend Fundamentals
Because I am an investor focused on dividend health and growth potential, I will begin my analysis with the company's dividend. Amgen began paying a dividend in August 2011, and has since raised its payment in Q1 of every ensuing year. Since 2011, AMGN has increased its quarterly dividend from $0.28 to $0.61, an increase of 117% in 3 years. Its most recent increase took place Dec. 17th, 2013; a 29.8 increase from $0.47/share to $0.61/share. I believe that an investor interested in dividend growth should be interested in AMGN due to its management's recent trend in returning wealth to shareholders, as well as its low payout ratio of 27.9. Both revenues and earnings are expected to increase in 2014 and 2015, which should enable management to continue to increase its dividend without putting unhealthy pressure on the balance sheets. When Amgen instituted a dividend in 2011, management stated that it has the "intent to increase it meaningfully over time." When reading through annual earnings reports, you get the sense that the company wants to be careful with its dividend growth because it respects the potential volatility of its industry. Taking this into consideration, alongside the projected EPS of $8.65/share in 2015, and what I deem to be a conservative estimation of payout ratio of 32.0, which seems to be in line with its willingness to grow the ratio in the low single-digits, I wouldn't be surprised to see another double-digit dividend increase for 2015 (32% of $8.65 equates to a $2.77/share dividend, a 13.5% increase from the company's current payment). I do expect this above average double-digit dividend growth to slow down at some point in the short/medium term. I say this because of the importance of R&D and M&A spending for a company like AMGN, I wouldn't want to see the company slow down activity in these aspects of business, potentially sacrificing future growth and competitiveness, just to maintain its DGR.
Returning Wealth to Shareholders via a Responsible Buyback Program
Outside of its dividend, Amgen has been returning wealth to its shareholders through a substantial buyback program. The company has repurchased $8.3B, $4.6B, and $832M in 2011, 2012, and 2013 respectively. The company has $1.6B left under its current approved buyback program; however, the company states that it does "not expect to make significant repurchases of our common stock during 2014 and 2015." I see this as a prudent move by the management team, they recognize the fact that their stock is trading in line with fair value (see the graph below, only recently has AMGN's share price risen above the orange P/E=Growth line on the F.A.S.T. Graph), whereas in the past, they've been able to repurchases shares at discounted prices. It is also assumed that the company will be using the profits that may have been dedicated towards a buyback to help pay off debt that recently rose due to the acquisition of Onyx Pharmaceuticals, for which it paid $10.4B for last August. This also seems like a prudent use of cash to me, especially due to the fact that the Onyx acquisition will likely lead to significant EPS accretion in the upcoming years.
Company Fundamentals
Amgen currently trades at a TTM P/E ratio of 18.2, a forward P/E ratio of 16.3, and a 13.9 P/E based off a 2015 projected EPS of $8.65. AMGN's pricing multiples are much lower than the other aforementioned major players in the biotech industry: GILD (TTM 37.7x, forward 19.8x), CELG (TTM 41.3x, forward 23.9x), and BIIB (TTM 37.6x, forward 28.6x). AMGN boasts respectable TTM margin numbers; an 82.08% gross margin, a 31.41% operating margin, and a 27.21% net profit margin. These margin numbers outpace its peers by nearly double-digits in every category. AMGN does have a higher TTM P/Sales ratio than its peers: 4.9 to 3.5. AMGN's LT Debt/Equity (1.3) and Total Debt/Equity (1.5) are right in line with its peer average, though significantly higher than the industry average of 0.4/0.4. AMGN has a 3.5 short ratio, which represents 1.47% of the float.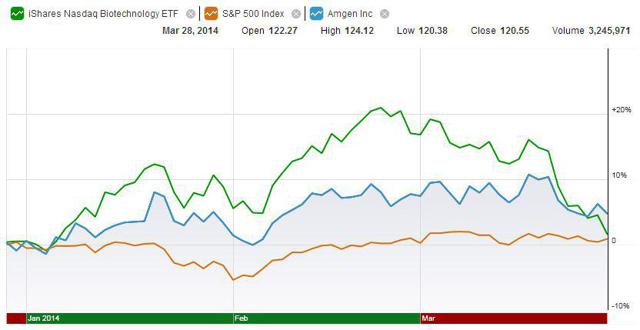 (Source)
Technical Analysis
Unlike IBB or GILD, AMGN is not trading near its 200-day moving average, but between its 50-day and its 100-day. Amgen has not been hit as hard as its peers during this sell-off. Looking at the RSI, AMGN is sitting right below the mid-line. The stock hasn't reached the over-sold level that it did during the late January market-wide sell-off. At that time, the 100-day moving average served as strong support. I am hoping to enter into a long position in the stock around this 100-day support at $118-$119/share. If the stock continues to fall, this price point would mean that the stock would be trading at a 14.5x forward P/E and a dividend yield of 2.06%. Personally, I feel safe entering the stock at this point and would continue to monitor the stock if it continued to fall, possibly adding more shares at the 200-day support range of $113, which represents a 13.8x forward P/E ratio. It would surprise me if the stock fell that far, though; AMGN hasn't tested its 200-day support for more than 2 years.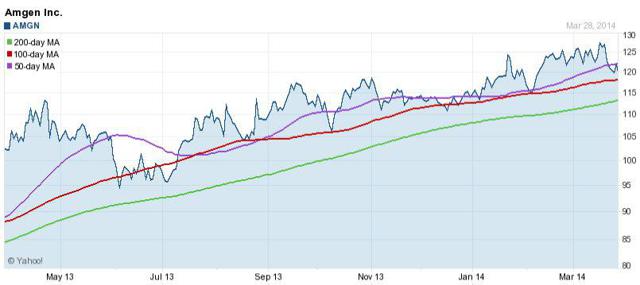 Source: Yahoo Finance
Growth Catalysts
One of my favorite things about Amgen as an investment is the wide scale of its product portfolio. Neulasta and ENBREL make up nearly 50% of the company's sales, but outside of these two powerhouses, AGMN boasts a balanced assortment of products that it can rely on for revenue. This isn't always the case in the biotech industry, it is not uncommon to see a company rely on one or two drugs for its well-being; I prefer owning a company with a more diversified moat. Not only does Amgen have its 7 primary sales drivers, but it currently has 16 drugs in its late-stage pipeline, giving the company positive growth catalysts for years to come.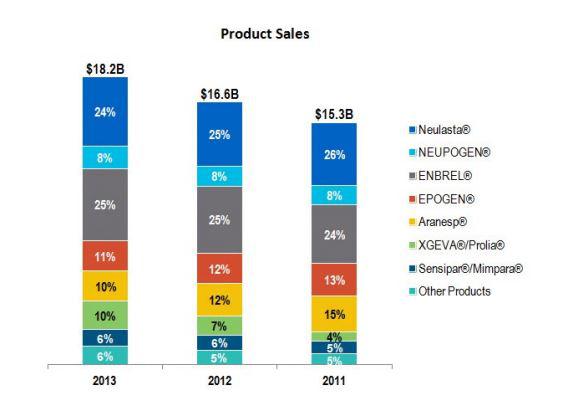 Source: AMGN 2013 Annual Report
Not only does Amgen have an impressive product portfolio addressing health needs across a wide spectrum, but the company has delivered on its plan to develop a stronger international presence. Due to measures taken in 2013, the company gained a presence in more than 75 markets, arriving at this goal two years ahead of schedule. Building a stronger base in specifically China and Japan (currently the world's second-largest pharmaceutical market) were important goals for AMGN. The company has taken large steps to achieve this goal with strategic partnerships by opening a research and development facility at ShanghaiTech University in China and by forming an alliance with Japan's second-largest pharmaceutical company, Astellas Pharma Inc., which should enable Amgen to continue to take steps towards an independent base in Japan. By furthering its international growth, Amgen is distancing itself from possible issues with possible pricing policy changes in the U.S., although, admittedly, domestic sales still dominate this company's balance sheet.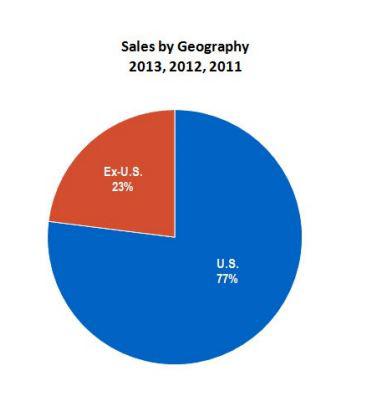 Source: 2013 AMGN Annual Report
Conclusion
As previously stated, this is a company that I would like to own. I hope to enter into a position at a price point slightly lower than it closed on Friday. I'm worried about the very negative trend that the biotech industry is in as a whole, and how this could affect AMGN, whether rationally or not. However, if there is breaking news that convinces me that the stock will go higher in the near term instead of lower, I may enter into a position at any point with the stock yielding 2% or more, as I think the stock offers fair value at its current price. Personally, I think that Amgen will fit well into my portfolio for many years to come. I say this with dividend growth and the fact I have very little exposure to healthcare in my portfolio (I would like to change this) in mind. If I do make a purchase, I will be sure to update any readers/followers via the StockTalks platform here on SA.
Disclosure: I have no positions in any stocks mentioned, but may initiate a long position in AMGN, GILD, CELG, BIIB over the next 72 hours. I wrote this article myself, and it expresses my own opinions. I am not receiving compensation for it (other than from Seeking Alpha). I have no business relationship with any company whose stock is mentioned in this article.