Markets are moving higher today as Federal Reserve Chairman Janet Yellen has made rather dovish comments in Chicago, which have many believing that her comments from a few weeks ago were either a rookie mistake or misunderstood by the market. We are still awaiting news from China, but for the time being the Chairman's remarks shall carry the market forward.
We have some key economic data being released this week, and the second half of the week will be heavily impacted by this news. Our thinking is that investors want to own the industrials heading into the end of the week as this is an area we believe will benefit this year from an improving economy. We think the economic data is going to improve throughout the year and that portfolios should be overweight energy, financials and industrials (with industrials being our latest addition to the overweight allocation).
Chart of the Day:
The Nasdaq has been in focus due to those stocks and sectors, which had led us higher began to falter, but today the focus needs to be on the index as a whole as it looks to reclaim the 4,200 level. To be more specific, watch the 4,205 level, which was the support level, which gave way earlier this week and caused a sharp decline in the Nasdaq Composite.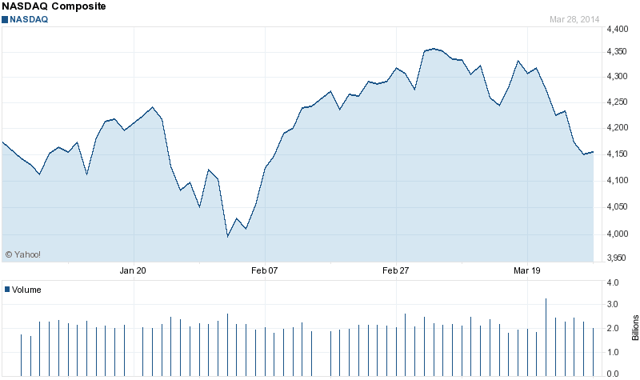 Source: Yahoo Finance
We have economic news today, and it is as follows:
Chicago PMI (9:45 a.m. EST): Est: 60.1 Act: 55.9
Asian markets finished mixed today:
All Ordinaries -- up 0.52%
Shanghai Composite -- down 0.41%
Nikkei 225 -- up 0.90%
NZSE 50 -- down 0.06%
Seoul Composite -- up 0.23%
In Europe, markets are trading higher this morning:
CAC 40 -- up 0.14%
DAX -- up 0.07%
FTSE 100 -- up 0.08%
OSE -- up 1.27%
IPO Market
We are having a flurry of IPOs as of late, but today we want to focus on the CBS Outdoor Americas (CBSO) IPO. The plan here is to convert to a REIT, with parent company CBS (NYSE:CBS) offering its investors the opportunity to exchange their CBS shares for shares in the new outdoor spin-off. So although the shares traded higher on the debut, and could still trade higher in the months ahead, there will be arbitrage players involved here and they will look to profit from the transaction in a short period of time as CBS looks to wrap up the transaction in the next 6-8 months.
With that said, we think investors might instead look at Lamar Advertising (NASDAQ:LAMR), which trades on the Nasdaq and is the largest US outdoor advertising company. There is no overhang of shares that will hit the market for Lamar shareholders, so this might be a decent way to play the CBS Outdoor Americas IPO over the next half year or so.
Lamar is everything that CBS Outdoor hopes to be, and it has a larger footprint around the country. Investors might find this a better play than CBSO in the coming months, especially with about 80% of the float set to hit the market sometime in the 4th Quarter.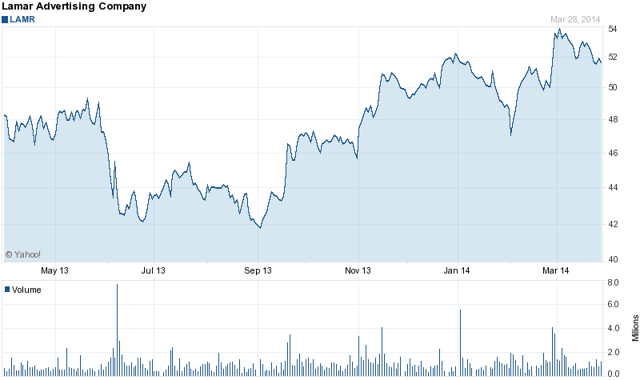 Source: Yahoo Finance
Now some might say that Clear Channel Outdoor (NYSE:CCO) is the better comp to CBS Outdoor Americas, but due to the structure of that company and some of the financial issues we would avoid taking that route. The two companies do indeed share characteristics of their target markets, but the financial picture is quite different and we do not view it prudent to try to participate on the upside via Clear Channel Outdoor which we view an inferior play.
Tesla OK... For Now On Two Fronts
There are two news events for Tesla (NASDAQ:TSLA) that happen to be big news for investors. The first being that the company has reached an agreement with New York that will allow the company to keep their current store fronts open, but in the future any new stores will have to be within the franchise framework that the state and its auto dealers association appear to be strengthening. The settlement appears to be a win-win for all parties involved at this time as it frees up Tesla to fight in other states where battles are further along.
The US National Highway Traffic Safety Administration, or NHTSA, said Friday that they were closing an investigation into Tesla's Model S after they could not find any across the board defects during their investigation. This closes, for the time being, many of the questions, which were raised after three high profile fires involving the Tesla Model S after wrecks which were caused by the batteries catching fire. The NHTSA, in their actions today, appear to agree with Elon Musk that the fires were the result of events other than a failure in Tesla's design.
Elon Musk also announced that Tesla has been installing titanium shields under the Model S since March 6th. Although he maintains that they are not necessary, the company is taking this action to lower the probability that debris could create further fires moving forward (road debris is what caused two of the three fires involving the Model S).
Disclosure: I have no positions in any stocks mentioned, and no plans to initiate any positions within the next 72 hours. I wrote this article myself, and it expresses my own opinions. I am not receiving compensation for it (other than from Seeking Alpha). I have no business relationship with any company whose stock is mentioned in this article.