The purpose of this article is to use the dividend discount model to determine a five-year price target for IBM for the year 2018. The company is currently trading at $190.75 (at the time of writing), and the author calculates a target price of $255 for the year 2018. This represents a 34% upside from the current price, and a 6% annual forecasted return.
Methodology and Assumptions
Since 2009, IBM has succeeded in growing dividends and earnings per share at an average annual rate of 14.55% and 12.99% respectively.


However, it is notable that while IBM has continued to increase its yearly dividend payout from 2009 to the present, the rate of increase has dipped slightly over the five years. In addition, while IBM has succeeded in growing earnings at a rate of 12.99%, the rate of earnings growth slowed down significantly in 2013 at a rate of 6.75%. According to the CNBC website, the analyst's 3-5 year EPS Growth Rate is estimated to be 15%.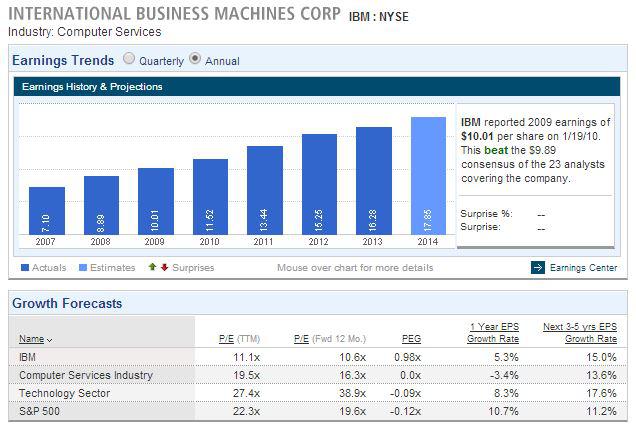 Given the possibility of a decreasing earnings growth trend based on past performance, the author determines that this estimate is not conservative enough and uses an assumed growth rate of 10% for both dividends per share and earnings per share. As per the formula below, the author calculates the present value of the forecasted DPS and EPS figures for each year to determine a target price for 2018. In line with the traditionally accepted historical average return on the S&P 500, a 7% discount rate is used.

Valuation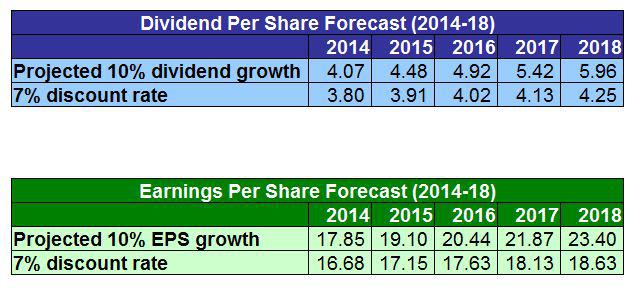 Caveats
Assuming IBM can maintain double-digit earnings growth, then the author believes that the above assumptions and calculations are a reasonable expectation of the value investors can expect from IBM over the coming years. However, it is worth pointing out the risks faced by IBM at this point, and the possibility that limited upside share price growth exists due to the company's declining revenues.
As can be seen from the below chart, the company's revenue has steadily declined since the beginning of 2012. According to CNBC, January marked the 7th consecutive quarter of decline in revenues. In addition, it is also reported that 50% of earnings growth for the company has originated from share buybacks - this is likely not sustainable and raises a significant likelihood of the company missing its long-term earnings target of $20 by 2015.

A key determinant of whether IBM can continue to raise its earnings through organic means is the company's innovation capacity over the next five years. Sales from traditional businesses such as Systems and Technology and Global Technology Services fell by 26.1 per cent and 3.6 per cent respectively. Software revenue, on the other hand, grew by a modest 2.8 per cent. The decline in growth in IBM's core businesses makes the company more reliant on increasing sales in newer industries, such as cognitive computing and cloud middleware services. Failing this, the growth projections above could prove overly optimistic.
For instance, the author calculates that if DPS and EPS growth were to be revised downwards to 7% (continuing to assume a 7% discount rate), then IBM would have a significantly lower target price of $230.03 in the year 2018, which means a 4.12% average annual growth rate over the next five years. While the author believes it is unlikely that holding a blue-chip company such as IBM subjects investors to a high degree of capital loss over the next five years, it is highly possible that alternative opportunities in the technology sector exists for more growth-oriented investors.
Conclusion
As previously stated, the author's calculations yield a target price of $255 for the year 2018, representing a 6% annual growth rate. However, investors should be mindful that revenue has been on a downward trend as of late, and the forecasts made in this article could prove to be more pessimistic if the company does not continue to deliver sustainable earnings growth.
Disclosure: I have no positions in any stocks mentioned, and no plans to initiate any positions within the next 72 hours. I wrote this article myself, and it expresses my own opinions. I am not receiving compensation for it (other than from Seeking Alpha). I have no business relationship with any company whose stock is mentioned in this article.