A couple of key elements threaten to shake up the market this week like a Colt 45 Magnum barrel lined up to your brain. Perhaps the most threatening of those is the geopolitical standoff between Russia and the West, with Ukraine held hostage in between. Major Western media sources are still talking today about the threatening Russian military presence along the Ukraine border and the lack of a deal after John Kerry met again with Sergei Lavrov for four hours Sunday. But other media outlets are today reporting a steady withdrawal of Russian forces, which would be on the demand of Kerry that no deal could be struck while those forces remain threatening Ukraine. So this week, SPDR S&P 500 (NYSEARCA:SPY) longs must ask yourselves one question, "Do I feel lucky?" Because the direction of these events will very likely direct capital into or out of the S&P 500 and stocks generally this week. Investors do not necessarily need to choose long or short, though; you can play it safe and remain long, while hedging against risk using these securities.
Somewhat Conflicting Messages from Varying Sources
On the one hand, from some media, we are hearing that Russian troops are withdrawing from the border. On the other hand, from Western major media sources early this AM, we had only been hearing that long talks between leaders have led to nothing thus far, and that Ukrainians are bracing for war. Even if Russia is withdrawing troops, it would not be the first time they had done so only to send them back in bigger numbers. Just see this story from March 4th. As I scribble here, Fox News just reported on television that Russia has announced that one battalion is withdrawing from the border with Ukraine after finishing military exercises, though according to Fox TV, Ukraine sources say they are simply repositioning. Obviously, anything is still possible, but a positive catalyst seems to have emerged this morning on such a withdrawal.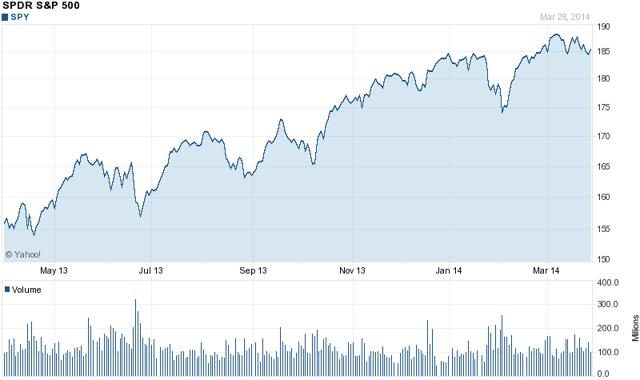 1-Year Chart of SPY at Yahoo Finance
As you can see via the chart above here, the SPDR S&P 500 reflects relative defiance of stock investors through the crisis, save for the dive marked at the start of March on the Crimea incursion. The SPY is up 1.2% year-to-date, and it maintains its strong performance of the last year, up 19% over the trailing twelve months now. That's a slower rate than was present at the close of 2013, representing a slower pace of acceleration over the last twelve months due to the aging of early 2013 gains.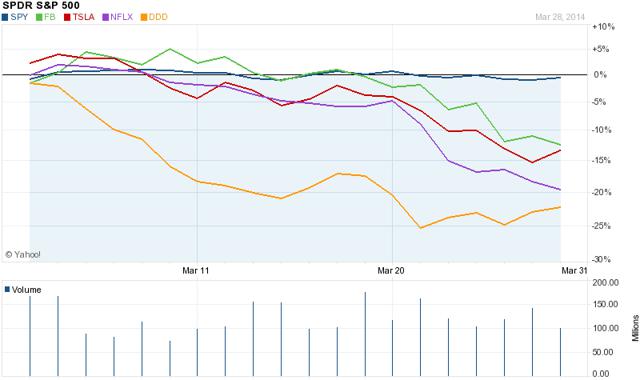 1-Month Chart at Yahoo Finance
Extended valuation momentum names, which I feel had been harmed most over the last month by macro questions about the economy, the Fed and Russia, are mostly recovering sharply today. You can see how far they've fallen with a quick glance at the one-month chart above, which compares their performance to the SPDR S&P 500 security. Still, when considering their year-to-date performance and the trailing twelve-month data, you can see just how far these stocks had run into their most recent question.
| | | | |
| --- | --- | --- | --- |
| Security | This AM | YTD | TTM |
| SPDR S&P 500 | +0.8% | +1.3% | +19.4% |
| Facebook (NASDAQ:FB) | +2.5% | +12.2% | +140% |
| Tesla (NASDAQ:TSLA) | -2.1% | +39% | +452% |
| Netflix (NASDAQ:NFLX) | +0.2% | -2.2% | +90% |
| 3D Systems (NYSE:DDD) | +1.4% | -35.6% | +86% |
Can the nearly one-point gain hold this week for the SPY? Well, there's more to worry about than just the sincerity of Russia. We will receive the latest Employment Situation data on Friday. Over the last several months, this data has been distressing, to say the least. However, economists are looking for an improvement in the report for March. The economists' consensus forecasts unemployment will dip to 6.6% from 6.7%, and that nonfarm payrolls will increase by 206K, a step up from February's 175K+. So, as we head into this week, the news and expectations so far are positive. But stocks have already recovered the ground they lost on the Crimea incursion and the Fed scare, save for the momentum names. So, in placing new long bets in stocks and the SPDR S&P 500, I think we must ask ourselves, "Do we feel lucky?"
Disclosure: I have no positions in any stocks mentioned, and no plans to initiate any positions within the next 72 hours. I wrote this article myself, and it expresses my own opinions. I am not receiving compensation for it (other than from Seeking Alpha). I have no business relationship with any company whose stock is mentioned in this article.