After Time Warner Inc. (NYSE:TWX) posted an impressive 4Q2013, I wrote an article praising the company's performance and 2014 outlook. So far in 2014, Time Warner has delivered and the company is set up to turn in a very strong 1Q2014 and beat earnings. With the stock price hovering around $65 and a P/E below its peers, the company can easily return 20% in 2014.
Warner Brother's worldwide box office
Time Warner had a pair of extremely successful movies in the first quarter with The Lego Movie and 300: Rise of an Empire. Worldwide the 2 movies brought in over $686 million, which alone is roughly a 75% increase over 1Q2013 Warner Bros. worldwide box office revenue. The company's weak first quarter in 2013, only makes the year-over-year comparison that much more attractive. Warner Brothers was able to have high revenues while keeping costs down, which resulted in an extremely high profit margin for the business segment. In total, the segment increased profit over 1000% year-over-year.
| | | |
| --- | --- | --- |
| 1Q2014 Movies ($ millions) | Budget (est.) | Worldwide Box Office |
| Lego Movie | $ 60.0 | $ 393.5 |
| 300: Rise of an Empire | $ 110.0 | $ 293.4 |
| Veronica Mars | $ 6.0 | $ 3.0 |
| Winter's Tale | $ 60.0 | $ 12.6 |
| 1Q2014 Totals | $ 236.0 | $ 702.5 |
| | | |
| --- | --- | --- |
| 1Q2013 Movies ($ millions) | Budget (est.) | Worldwide Box Office |
| Gangster Squad | $ 60.0 | $ 105.2 |
| Beautiful Creatures | $ 60.0 | $ 60.0 |
| Jack the Giant Slayers | $ 195.0 | $ 197.6 |
| The Incredible Burt Wonderstone | $ 30.0 | $ 27.4 |
| 1Q2013 Totals | $ 345.0 | $ 390.2 |
Turner Networks
Turner Sports and CBS Sports' exclusive coverage of the 2014 Men's NCAA Basketball Championship has delivered its highest viewers in 23 years. Through the first five days, the NCAA Tournament is averaging 8.8 million total viewers, up 7% through the same period last year. This bodes well for Time Warner as they own 3 of the 4 channels (TNT, TBS and TruTV) broadcasting coverage. Time Warner is also broadcasting 2 Elite Eight games and both Final Four games on TBS for the first time. The company expects this to add 200-300 basis points to total ad revenue in 1Q2014 and 300-400 basis points in 2Q2014. The 2014 Men's NCAA Basketball Championship had a big impact in 2013 first quarter revenue and with viewers already up over 7% from last year, this will also lead to a bump in earnings.
HBO
HBO aired True Detective in January 2014 which was the network's best launch since Boardwalk Empire in 2010. The series finale attracted 3.5 million viewers which was a 50% increase from its series debut. The finale of True Detective was so popular that it actually crashed HBO Go. With HBO adding 2 million subscribers in 2013, its highest increase in 17 years, the segment continues to grow. HBO will also be following up the successful True Detective series with its second most popular series ever, Game of Thrones. With Game of Thrones starting April 6, HBO will surely add some new users during the first quarter or at the very least keep subscribers.
Low P/E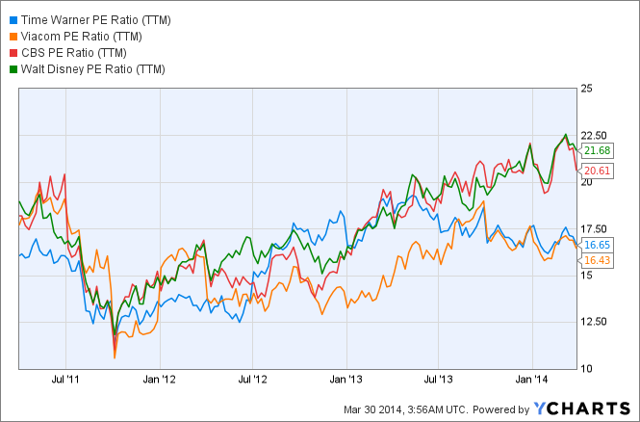 Click to enlarge
Historically Time Warner Inc., Disney (NYSE:DIS), Viacom (NASDAQ:VIAB) and CBS have all kept fairly similar P/E ratios. However, over the past 6 months a gap has started to form with Time Warner and Viacom getting lower valuations while Disney and CBS are being valued much higher. With a P/E just over 16 and multiple catalysts that will push earnings higher, Time Warner Inc. looks cheap at current levels.
Conclusion
Time Warner Inc. followed a strong 2013 with an equally impressive 1Q2014. The company has had successes throughout all of its business segments. Impressive showings at the box office and increased viewers for the Men's NCAA Basketball Championship will all add to the company's growth. However, I think continued growth in HBO can be a real driver in the company's valuation. If the company can continue adding HBO customers domestically as well as internationally the stock will be viewed as a more dynamic growth story and its valuation will creep up to levels similar to Disney. Short-term the stock can easily go to $70 (10% gain) with a solid first quarter report and by the end of the year it could be in the $75-$80 range (15-25% gain).
Disclosure: I have no positions in any stocks mentioned, but may initiate a long position in TWX over the next 72 hours. I wrote this article myself, and it expresses my own opinions. I am not receiving compensation for it (other than from Seeking Alpha). I have no business relationship with any company whose stock is mentioned in this article.