The Sun is Shining for Oracle
Oracle (NASDAQ:ORCL) closed its fiscal year 2010 with announcements of nearly 40% year-to-year revenue growth to over $9.5 billion (see Q4 earnings call transcript here). Looking under the covers, the $1.8 billion in Sun-related revenue lifted Oracle's calendar 4Q10 up from $7.8 billion, which would have driven a respectable, but lower, 12% year-to-year revenue growth rate. Oracle exceeded its conservative guidance for its Sun business and also drove significant revenue growth in its flagship Technology business, where new license revenue grew at 18% and outpaced support revenue growth at 13% year-to-year. The strength of the new license business will drive a pull-through support contract business in coming quarters. Oracle's Applications and Services businesses grew 7% and 4% year-to-year.
The Software Pipeline is Healthy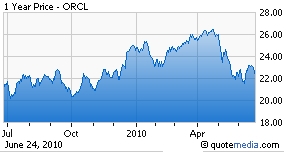 As the software business remains healthy, Oracle is in a position to continue accelerating growth with releases of integrated products between hardware and software, like its newest integrated release of Enterprise Manager 11g. As Oracle works to reassure customers of Sun's vitality and strategic significance, Oracle met its conservative guidance, which will continue to encourage new customer growth while staying the installed customer base. Over the course of fiscal 2011, Oracle will begin to slowly drive the costs out of the hardware business as the company works to learn the business and use its competencies in running businesses efficiently to boost margins and create scalable profitability.
Oracle Misses the Boat for Partners on Public Cloud Opps
Oracle will work to create opportunities in cloud by providing an integrated hardware and software platform, while leaving partners to fill the "white space" in services. As Oracle pursues mainly private cloud opportunities, we believe Oracle is missing opportunities to drive public cloud growth, especially with partners, as Oracle sees private cloud as a more profitable cloud model. Our interviews with partners reveal that partners are eager for more public cloud opportunities, but Oracle has yet to articulate a program or roadmap that includes partners. As Oracle chases the private cloud domain, we believe Oracle will leave partners unsatisfied as they become boxed out of cloud opportunities. Oracle partners shared the common complaint that "getting certified is costly" as higher-tier partner pay a premium for the differentiation, which does not include the cost of training, certification, and specializations.
Disclosure: No positions