It was announced last week that specialty retailer Metropark USA Inc. withdrew its shelf registration for an IPO (originally filed June 13, 2008) due to "changed circumstances regarding the securities markets." But we suspect that the true circumstance change is a deceleration in comps. We believe that sales have gone south of late due to a significant fashion shift over the past year due to a dying trend.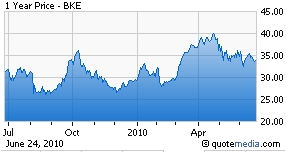 In our view, Los Angeles based Metropark has largely been the inspiration for The Buckle (BKE – $33.74) over the past several years. Both concepts enjoyed strong sales via trendy "bling" fashions and Mix Martial Arts (e.g. Affliction/Sinful brands) t-shirts during a period when most apparel retailers posted negative comps.
Metropark has struggled to find a trend to replace the differentiated fashion that drove stellar sales for several years. Therefore, management may have missed their IPO window.
We believe that The Buckle is next in line with a continuation of decelerating comps for the same slowing "bling" trend.
Disclosure: No positions