The momentum tech stocks have been getting crushed lately and this has taken down many other tech stocks in the past few days. This has created some significant new buying opportunities that investors should consider now. Since the tech sector and many NASDAQ listed stocks have dropped sharply, I am currently focused on this sector. More specifically, I have been researching tech stocks that appear to have significant takeover potential. A recent article details why analysts at Ernst & Young are predicting that the wave of buyout deals could continue and that 2014 could be a "blockbuster" for mergers and acquisitions in the tech sector. For many major tech companies, it makes sense to pursue acquisitions that could lead to growth and also compliment the current range of product and service offerings. Established tech companies like International Business Machines (NYSE:IBM) have the financial resources and the need to make acquisitions in order to remain dominant. With this in mind, here is a closer look at International Business Machines and some tech stocks that are considered by some analysts and investors to be very strong candidates for acquisition by IBM and other firms
International Business Machines has massive scale in the tech sector, with a very wide range of products and services. It offers business and IT services, software, consulting, hardware and so much more. IBM has a solid balance sheet with about $11 billion in cash and around $39.7 billion in debt. IBM also brings in about $100 billion in annual revenues. IBM shares look cheap when compared to the average stock in the market, and even more so when compared to many tech "high-flyers". Analysts expect IBM to earn about $17.85 per share in 2014 and $19.88 per share in 2015. That puts the price to earnings ratio at just around 11 times earnings. IBM also offers a solid dividend yield of nearly 2%; however, the growth prospects for the dividend at IBM might be the best part. It currently pays a dividend of $3.80 per share and with earnings of nearly $18 per share, the payout ratio is very conservative. That means IBM can continue to increase the dividend, as it has been doing for many years. For example, IBM was paying a quarterly dividend of 55 cents per share in 2010. Thanks to regular increases, it now pays a quarterly dividend of 95 cents per share. That means the dividend has nearly doubled in just 4 years or so, making IBM an ideal dividend growth stock.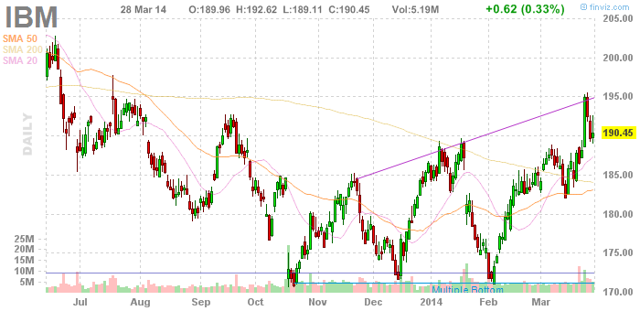 Click to enlarge
As the chart above shows, IBM shares have been in an uptrend since February. At that time it bottomed out at about $172 per share and has since done well, which is probably due to the fact that it offers value at current levels. Investors looking to buy IBM now should consider buying dips to around the $184 level, which is close to key support areas, including the 50 and 200-day moving averages.
International Business Machines is a highly acquisitive company and it is not unusual for it to regularly announce new deals. For example, in 2013 alone it acquired many companies, including the following and others:
Star Analytics, which provides business analytics;
UrbanCode, which provides software delivery automation;
SoftLayer Technologies, which provides cloud computing infrastructure;
Trusteer, which provides cyber security;
Aspera, Inc., which provides data transfer technology.
Clearly, the IBM acquisition spree appears likely to continue into 2014. With this in mind, let's take a closer look at some companies that could be on the IBM shopping list. (Along with many stocks in the tech sector, these stocks also have declined in recent days, which is providing investors with an even more ideal entry point.)
I recently wrote about Jive Software, Inc., (NASDAQ:JIVE) which appears to be considered as a potential takeover target not just for IBM, but for a number of other tech and social networking giants. Jive Software provides a number of cloud solutions for social networking firms and it is a leader in the industry. You might not know that by looking at the cheap share price of just around $8, but even though many investors seem to have given up on this stock, industry watchers and analysts remain very bullish. On March 13, 2014, analysts at B. Riley put out a buy rating and set a $17 price target for Jive Software. This is more than double the current share price, but it would only put the stock back around the 52-week high. A Bloomberg article summarizes the views of a few analysts who believe Jive Software is an ideal takeover target and it states:
"Jive is really one of the very few players that's independent with a really great product platform that can fit neatly into any larger company," Michael Nemeroff, an analyst with Credit Suisse in New York, said in a phone interview. "The two natural suitors that come to mind are IBM and Oracle (NASDAQ:ORCL)."
Kirk Adams, founder and director of equity analysis at Denver-based, Wedge Partners Corp., also sees IBM and Oracle as potential suitors for Jive.
Another reason why a deal could be coming soon for Jive Software is because the company has recently hired investment bankers and also because the CEO has successfully sold two other tech companies. For more details on the upside and potential downside risks on Jive Software, read this article.
Palo Alto Networks, Inc. (NYSE:PANW) is a fast-growing provider of network security and has been considered to be an ideal takeover target ever since it went public. In a world full of data breaches and computer hacking, the need for network security is huge and probably only growing over time. With a market capitalization of over $5 billion, this potential takeover target won't come cheap, however, there are many leading tech companies like IBM that could snap up this company. Palo Alto Networks has a strong balance sheet with about $438 million in cash and no debt. Analysts expect the company to earn about 42 cents per share on revenues of roughly $574 million for 2014. However, sales are expected to jump to nearly $762 million in 2015 and that is expected to produce a profit of 76 cents per share. While the shares look expensive when considering the price to earnings ratio, the premium valuation seems more reasonable when you factor in the fast growth, which could continue for many years.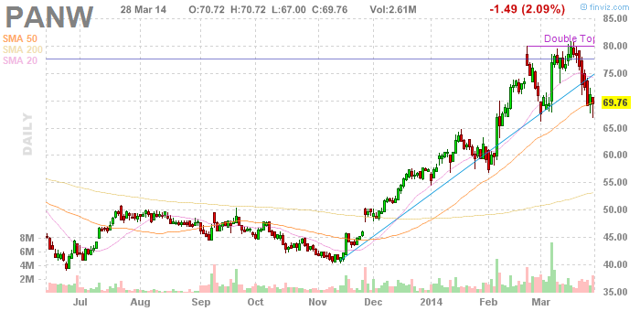 Click to enlarge
As shown in the chart above and by its valuation, Palo Alto Networks has been a high-flying stock. However, the recent pullback in many tech stocks has pushed this stock down from a 52-week high of nearly $81, to just about $69 per share. This gives investors a far more ideal buying opportunity. Many tech stocks are now oversold and shares of Palo Alto Networks could be poised to rebound sharply and even lead the rally. Analysts at FBR Capital recently upgraded this stock to outperform and set a $90 price target. One IBD article points out that analysts believe IBM could be a likely suitor for this company. However, Palo Alto Networks is involved in an ongoing legal battle over firewall patents and this is a potential downside risk for investors to consider. This litigation might also put a takeover deal on hold for now, however, a settlement or some other clarity on this issue could come at any time and that might accelerate a buyout deal.
Here are some key points for International Business Machines:
Current share price: $190.45
Earnings estimates for 2014: $17.85 per share
Earnings estimates for 2015: $19.88 per share
Annual dividend: $3.80 per share which yields 1.9%
Data is sourced from Yahoo Finance. No guarantees or representations
are made. Hawkinvest is not a registered investment advisor and does
not provide specific investment advice. The information is for
informational purposes only. You should always consult a financial
advisor.
Disclosure: I am long IBM, JIVE. I wrote this article myself, and it expresses my own opinions. I am not receiving compensation for it (other than from Seeking Alpha). I have no business relationship with any company whose stock is mentioned in this article.