Silver these days is closely mirroring the movements of gold. And just as gold miner ETFs are reveling in the wider profit margins, so are silver miners. And, hey, there's an ETF for that.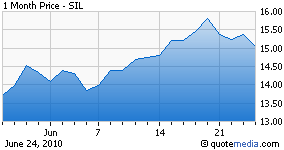 Global X Silver Miners ETF (NYSEARCA:SIL) is that fund – it invests in silver mining companies from around the world: Canada, Mexico, the United States, Russia and Peru. This fund only launched in April, but in the last month, it's up 13.5% (1-month chart on right).
Since it holds equities, though, silver miners should not be expected to track the spot price of silver.
Geoff Candy for MineWeb reports that the demand for silver is expected to move higher in the next decade, and the fundamentals over the medium- to long-term for the metal are bullish.

Businessreport says that price support has increasingly come to depend on investment demand more than industrial demand. Silver is heavily used by industry, which makes it a more volatile and sensitive metal. It can do well when times are good, thanks to its many uses: solar energy, medical, textile, radio frequency identification, water purification, and food hygiene.

Tisha Guerrero contributed to this article.
Disclosure: None