Gold rallied in the beginning of 2014, due to the impact of cold weather on the U.S. economic activity, the Ukraine tensions, and Chinese credit concerns. In March 2014, gold prices fell below $1,300 per ounce or oz. Goldman Sachs has reiterated its current year end price target for gold to $1,050 per oz. The reasons cited include recovery in the U.S. activity with weather improvement, and the $10 billion cut in the bond repurchase program by the U.S. Federal Reserve. This is a matter of concern for Barrick Gold (NYSE:ABX). The company's gold production guidance for FY 2014 is as follows:-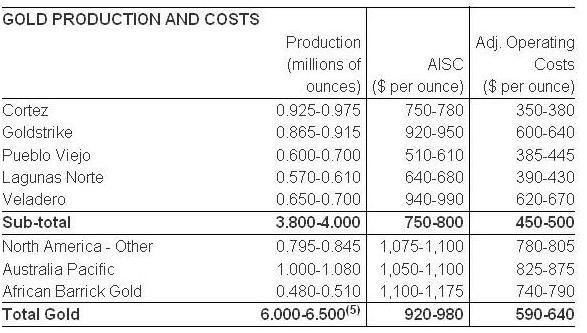 Source: Barrick Gold
The company plans to produce 6.0 to 6.5 million ounces of gold at all-in sustaining costs (or AISC) of $920 to $980 per oz in FY 2014. About 60% of the company's production will be from Cortez, Goldstrike, Lagunas Norte, Pueblo Viejo, and Veladero mines with AISC in the range from $750 to $800 per oz. The production guidance of the remaining gold mines is below:-
1) North America - Other
| | | | | |
| --- | --- | --- | --- | --- |
| Ownership | Mine | Gold reserves in ounces (2013 end) | Gold production in ounces (2013) | AISC per oz (2013) |
| Barrick Gold | Golden Sunlight, Montana, USA | 196,000 | 92,000 | $906 |
| Barrick Gold | Bald Mountain, Nevada, USA | 2.5 million | 94,000 | |
| Barrick Gold (75%), Newmont Mining (25%) | Turquoise Ridge, Nevada, USA | 5.1 million (Barrick Gold share) | 167,000 (Barrick Gold share) | |
| Barrick Gold | Ruby Hill, USA | 140,000 | 91,000 | |
| Barrick Gold | Hemlo, Ontario, USA | 1.02 million | 204,000 | $1,216 |
| Barrick Gold (50%), Kinross Gold Corporation (50%) | Round Mountain, Nevada, USA | 919,000 (Barrick Gold share) | 156,000 (Barrick Gold share) | |
The Bald Mountain, Round Mountain, and Hemlo mines produced gold at high AISC in FY 2013. The gold mines in this region produced 0.23 million ounces in the fourth quarter of FY 2013 with AISC of $1,195 per oz. In 2014, Barrick Gold expects to produce 0.795-0.845 million ounces from this region at AISC of $1,075-$1,100 per oz.
2) Australia Pacific
| | | | | |
| --- | --- | --- | --- | --- |
| Ownership | Mine | Reserves in ounces (2013 end) | Production in ounces (2013) | AISC per oz (2013) |
| Barrick Gold (5%), Papua New Guinea Government (95%) | Porgera, Papua New Guinea | 3.1 million | 482,000 | |
| Barrick Gold (50%), Newmont Mining (50%) | Kalgoorlie, Western Australia | 3.7 million(Barrick Gold share) | 315,000(Barrick Gold share) | |
| Barrick Gold | Cowal, Central New South Wales, Australia | 1.8 million | 297,000 | |
In 2014, gold production from Australia Pacific is expected to decline to 1.00-1.08 million ounces due to the sale of four mines and the divestiture of Kanowna. In the current year, mines in this region are expected to produce gold at AISC of $1,050-$1,100 per oz, due to waste removal expenses at Porgera, and higher open pit mining costs at Cowal and Kalgoorlie.
3) Africa
The production from African Barrick Gold was 0.12 million ounces at AISC of $1,171 per oz in fourth quarter of FY 2013. In FY 2014, production is expected to be 0.48-0.51 million ounces with AISC of $1,100-$1,175 per oz due to higher grades at Bulyanhulu, and Buzwagi. The commissioning of new carbon in each plant at Bulyanhulu is scheduled to commence production in May 2014.
Analysis
In February 2014, Barrick Gold reported a net loss of $10.37 billion, including after tax impairment charges of $11.54 billion for fiscal year (or FY) 2013. Gold prices corrected 28% in 2013. Barrick Gold used a conservative approach, and lowered its gold price assumption from $1,500 per oz to $1,100 per oz. This led to the decrease in its estimated gold reserves from 140.2 million ounces last year to 104.1 million ounces this year.
If gold prices touch $1,050 per oz by the end of 2014, then there is a possibility that operational mines with AISC above $1,050 may become uneconomical. Further, the company has a total debt (mrq) of $13.08 billion. If gold prices are not supportive or head downwards, then Barrick Gold may lower its gold price assumption, which could reduce the company's estimated gold reserves. Lower gold prices will also affect the profit margins of mines with low AISC. This could impact Barrick Gold's earnings in FY 2014.
Conclusion
I would conclude by saying that 2014 appeared to be a promising year for gold producers as gold prices were moving upwards. If gold prices are not supportive in remaining 2014, then this could be a challenging year for Barrick Gold.
Disclosure: The author has no positions in any stocks mentioned, and no plans to initiate any positions within the next 72 hours. The author wrote this article themselves, and it expresses their own opinions. The author is not receiving compensation for it (other than from Seeking Alpha). The author has no business relationship with any company whose stock is mentioned in this article.